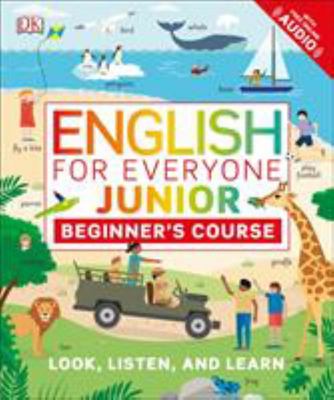 $29.99
AUD
Category: Dictionaries | Series: English for Everyone Ser.
Children around the world are increasingly starting to learn English at a young age. This fully illustrated ELT book provides the perfect introduction for children as they start their English-language journey. Equally effective for home study or the classroom, English for Everyone Junior Course is a ca refully levelled English-language course that assumes no previous knowledge of English. Covering UK and US English, it takes children through the basics of the language, helping them use and understand elementary English clearly and confidently. The book is carefully aligned to the pre-A1 of the internationally recognized CEFR framework, and covers all the material necessary to prepare for the extremely popular Cambridge YLE (Starters) and Trinity GESE (Grade 1) exams - a combination of teaching and practice exercises provides the perfect preparation for these tests, which are recognized worldwide. Vocabulary is taught through attractive illustrations, and reinforced with audio resources. Each language/grammar point is explained in a dedicated panel and accompanied by clear examples of how it's used. At the back, there are handwriting and pronunciation guides, and a glossary of language terms used throughout the book. English for Everyone Junior Course builds on the worldwide success of the English for Everyone series, containing everything a child needs to acquire a firm grasp on the basics of the English language in a fun and interactive way. ...Show more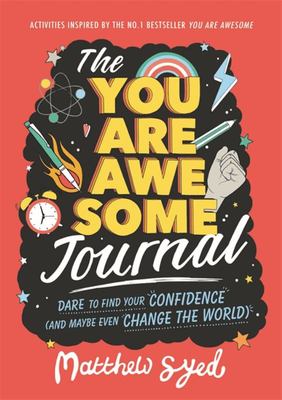 $16.99
AUD
Category: Writing
Find your way to awesome with this brilliant toolkit of goals, plans and challenges! Boys and girls everywhere have been discovering that they can be awesome thanks to bestselling author Matthew Syed. Now he's created an interactive journal full of life hacks, challenges and activities to give kids the confidence to come up with their own plan of action to be the best they can be. Because, with the right mindset, you really CAN do (almost) anything, whether you want to supercharge your maths, try out for the team or be the first person to walk on Mars. Whether setting out their goals, planning the best practice ever, keeping calm with breathing exercises or making paper aeroplanes to understand marginal gains, readers will love the brilliant activities in The You Are Awesome Journal. This is the perfect toolkit for anyone who dreams big - and who wants to make those dreams come true. Praise for YOU ARE AWESOME: 'Great book for young children about determination, resilience, self-confidence.' - Phil Neville, former England footballer and head coach of England Women 'I have lost track of the number of people recommending YOU ARE AWESOME by Matthew Syed. An accessible, practical approach to helping kids develop a growth mindset.' - The Bookseller 'An awesome book about becoming awesome. How inspiring it is to know that there's a path to awesomeness and that anyone - absolutely anyone - can go down that path. This book shows you how.' - Professor Carol Dweck, Professor of Psychology, Stanford University 'Grab yourselves a copy folks, this is wonderful and insightful.' - Author Giles Paley-Phillips 'I read YOU ARE AWESOME in one go, and then read it again! It answered so many questions I had about how to get better at some of the things I struggle with. It has stories of how others have been successful and makes you feel that you can do it too. After reading YOU ARE AWESOME I've changed how I approach difficult things. I've told all my friends to read it!' - Freddie, age 10 'I loved this book. YOU ARE AWESOME really builds your confidence and shows you how the right mindset can help you achieve your dreams. It shows that you have to be brave, prepare for failure and have self-belief. I will definitely be using some of the principles in this book to tackle some everyday challenges and other bigger ones too. A definite must read for anyone who wants to achieve more with their lives and build their confidence.' - Ella, age 13 ...Show more
$15.99
AUD
Category: Writing
Write your legend, draw your destiny, and take flight! The legend starts with you! Do you love to draw or write? Do you have your very own dragon stories to tell? In this official Wings of Fire journal, you'll design awesome characters, imagine new adventures, and forge YOUR fantasy world! With examples from Wings of Fire graphic artist Mike Holmes, Tui T. Sutherland guides you through the #1 New York Times bestselling Wings of Fire series in a more interactive and exciting way than ever before. Spread your wings with your very own graphic story creation! ...Show more
$12.50
AUD
$49.99
(74% off)
Category: Writing
This is the book for everyone who loves modern Gothic and wants to know where the vampires, ghouls, haunted houses and zombies all began. It takes each element of the Gothic, from the settings of castles and forests to the werewolves and ghosts who infest them, and uses extracts from the original classi cs as illustrations - and to encourage readers to go on and explore these wonderful works. It is an ideal primer for those studying the Gothic in Key Stages 3 or 4 or A-level: but it is also to be read for the sheer enjoyment. Editor Richard Bayne has included a dozen complete Gothic stories - some familiar, some found mouldering in the crypts - so forming an anthology of some of the best chilling tales of all time. To complete the fun, the Guide is illustrated by award-winning graphic novelist Richard Sala. Enter if you dare.......! ...Show more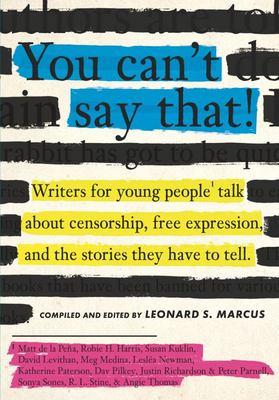 $34.99
AUD
Category: Writing
What happens when freedom of expression comes under threat? In frank and wide-ranging interviews, historian and critic Leonard S. Marcus probes the experience of thirteen leading authors of books for young people. A powerful photo essay on transgender teens is called anti-religious and anti-family. A me ticulously researched primer on sex education stirs up accusations of pornography and child abuse. Picture books about two mommies (or two penguin daddies) set off a hue and cry. Two hugely popular children's series run afoul of would-be censors, one for its scatological humor, the other because it's deemed too scary. Kids' books that touch on race, sex, LGBTQ matters, the occult, "coarse language," and more have found themselves under the scrutiny of those who challenge First Amendment rights. Tune in as thirteen top children's and young adult authors speak out about what it's like to have your work banned or challenged in America today. Prompted by Leonard S. Marcus's insightful questions, they discuss why their books have faced censorship--both blatant and "soft"--how the challenges have or haven't affected their writing, and why some people feel they have the right to deny access to books. In addition, Leonard S. Marcus puts First Amendment challenges in a historical context and takes a promising look at the vibrant support network that has risen up to protect and defend young people's rights. Authors interviewed include: Matt de la Pe aRobie H. HarrisSusan KuklinDavid LevithanMeg MedinaLesl a NewmanKatherine PatersonDav PilkeyJustin Richardson and Peter ParnellSonya SonesR. L. StineAngie Thomas. ...Show more
$21.99
AUD
Category: Dictionaries
A new edition of the Oxford Junior Illustrated Dictionary in paperback with additional entries and over 7000 words from across all school subjects to support the higher vocabulary expectations in the new curriculum. Entries are simple and clear, and include numbered meanings, word classes,inflections an d relevant child-friendly example sentences. Topic word lists help with key subject vocabulary and a new feature section provides support for tricky spellings, punctuation terms and activities to help children check and edit their writing. Easy-to-use and brightly illustrated, it isthe perfect dictionary for developing dictionary skills, boosting word power and building confidence. Also available in durable hardback format and an ideal companion to the new updated edition of the Oxford Junior Illustrated Thesaurus. Go online at www.oxfordschooldictionaries.com for theaccompanying free downloadable activities. ...Show more
$19.99
AUD
Category: Writing
Kapow! Boom! An awesome activity book for budding comic artists to imagine and draw their own comic strips. Simple step-by-step instructions, with lots of handy tips and hints, show children how to create graphic stories using all the devices employed in 'real' comics.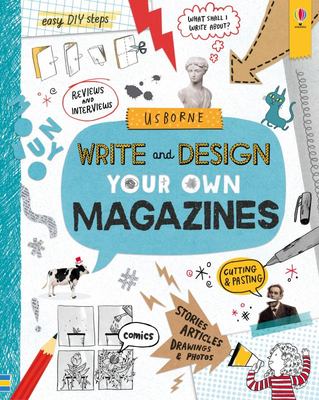 $19.99
AUD
Category: Writing | Series: Write Your Own
A new addition to Usborne's popular Write your own series, this book explains how to make homemade magazines or 'zines' from scratch. With step-by-step instructions and tips on everything from making comics or writing advice columns to printing magazines and finding readers.
$19.99
AUD
Category: Writing | Series: Write Your Own
Whether you want to dash off a limerick, ponder a sonnet or plot an epic poem, this write-in activity book is here to help. Each page is bursting with tips and inspiration for writing all kinds of poems - and inventing brand new styles too. With links to websites where you can listen to the poems in thi s book, and find more helpful writing tips. A write-in book filled with a wide range of poetry writing activities, tips and advice to inspire a new generation of young poets. Aims to make poetry accessible and exciting for beginners ...Show more