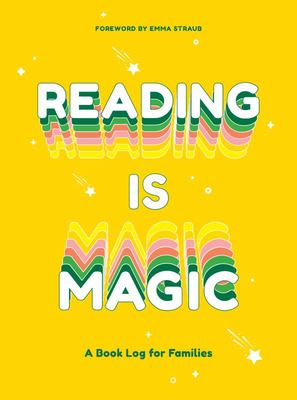 $29.99
AUD
Category: Writing
A family keepsake journal for parents and children to record the magic of reading together   Reading Is Magic is a guided journal in which families can capture that magical period when parents and children read together. It begins with a foreword by bestselling author and independent bookstore owner E mma Straub and contains recommended reading lists, entry pages for logging each book as you read it, and superlative pages for noting a child's favorite authors, illustrators, and characters. There are also entry pages where parents can reminisce about their own childhood reading memories. A wonderful gift to give at a baby shower or for any special occasion (along with a few books, of course ), Reading Is Magic is a unique way for parents to record memories with their children. ...Show more
$27.99
AUD
Category: Writing
You don't need to be an adult to break news and change the world. You can start your career as a young reporter right now. In Kid Reporter you'll learn how to: * research, investigate and interview * write, produce, photograph and record * fact-check and edit * start a school newspaper, create a TV-styl e news show, or a current affairs website or podcast. Kid Reporter will also help you navigate the daily deluge of media, information and 'fake news' and grasp the tools to become a responsible creator yourself. Packed with inspiring stories from young people who've already started their reporting careers, and tips from some of Australia's and the world's leading journalism experts, this fun, easy-to-use guide gives kids the scoop on how to become a junior journalist. ...Show more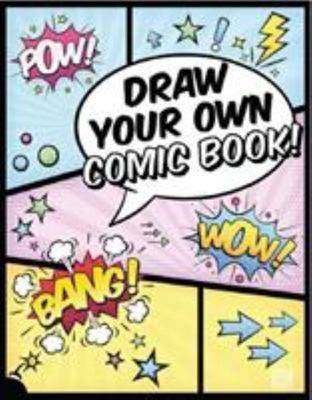 $21.95
AUD
Category: Writing
Draw Your Own Comic Book! is full of blank squares and speech bubbles of different sizes, waiting for you to release your imagination and create your own fun and exciting stories. Draw and colour your squares to give your stories life. You can fill the hundred pages with on long, continuous series or ma ny short action-packed strips. This is the perfect source of inspiration for creative children and young people with their heads full of ideas. What are you waiting for? Get your markers and create your own cartoon! ...Show more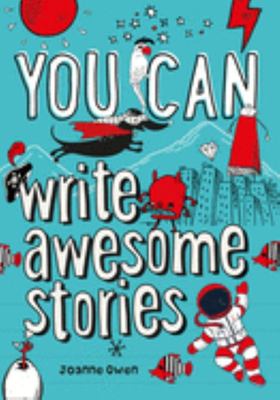 $22.99
AUD
Category: Writing | Series: You Can... Ser.
Get thinking, get scribbling and get inspired! Always wondered if you could be the next best-selling author? This book is what you need to get great at writing in no time at all. It's easy to understand and tells you exactly what you need to know step-by-step. * Easy-peasy tips on how to create charact ers, set the scene, and design the perfect ending * Space to write - make notes, keep track of what you have written and make the book your own * Packed with fun writing projects guaranteed to spark your imagination! Kids can try lots of brilliant stuff with the fun You Can series from Collins - write awesome stories, draw brilliant pictures, grow your own food, take amazing photos, have an outdoor adventure, save the planet - there's something for everyone! ...Show more
$24.99
AUD
Category: Reference - Primary & Secondary | Series: Reference Ser.
A fresh new edition of this highly acclaimed and strong selling dictionary. This book allows students to use phonic attack to find both regular and irregular spellings. Students can look up a word as it sounds - if they are correct, they will find it in black, if they are wrong they will find it in red, with the correct spelling in black alongside. Designed for use from Key Stages 1 to 3, the School Spelling Dictionary is ideal for improving spelling and writing. ...Show more
$24.99
AUD
Category: Writing | Series: Big Fat Notebook Ser.
Everything You Need To Ace English Language Arts In One Big Fat Notebook takes students from grammar to reading comprehension to writing with ease, including parts of speech, active and passive verbs, Greek and Latin roots and affixes; nuances in word meanings; textual analysis, authorship, structure, a nd other skills for reading fiction and nonfiction; and writing arguments, informative texts, and narratives.The Big Fat Notebook series is built on a simple and irresistible conceit -- borrowing the notes from the smartest kid in class. Each book in the series is the only book you need subjects taught from grades 7 to 9: Maths, Science, English, and World History. Inside the reader will find every subject's key concepts, easily digested and summarised: Critical ideas highlighted in marker colours. Definitions explained. Doodles that illuminate tricky concepts. Mnemonics for a memorable shortcut. And quizzes to recap it all. ...Show more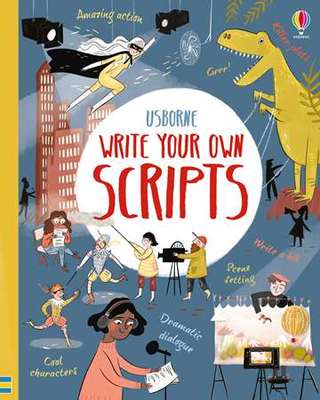 $19.99
AUD
Category: Writing | Series: Write Your Own
A write-in book filled with a wide range of script-writing activities, tips and advice. The book will inspire a new generation of scriptwriters and playwrights to write and perform their own shows. Simple exercises at the beginning introduce all the key concepts in imaginative ways. Later exercises prov ide the framework to put them together in complete scripts. A lively DIY aesthetic inspires the book. Children are encouraged to produce shows and films of their own work. The book will be a leaping-off point for lots of amazing shows and awesome imaginative play. Lively illustrations, writing prompts and story ideas will fire writers' imaginations. ...Show more
$27.99
AUD
Category: Writing
Do you ever think about the structure and arrangement of what you say and write? And why it's said and written like that and not some other how? Has anyone ever asked you to catch a red big ball? No. Because in English we would say 'big red ball'. Why is that? After the success of her bestselling The Au stralian Schoolkids' Guide to Debating and Public Speaking, Claire Duffy turns her hand to helping students write well. In this easy-to-use and fun guide to writing and grammar, children (aged 12+), their parents and teachers will learn all they need to know about the elements of grammar, punctuation, spelling and sentence construction. With practical tips and helpful step-by-step examples, this book will help students master everything from apostrophes to essay writing. ...Show more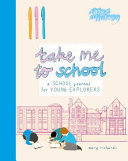 $4.50
AUD
$17.99
(74% off)
Category: Writing | Series: Take Me To Ser.
The third book in an exciting new series of guided journals for young children aged 6-11 Take Me To School is the third book in an exciting new series of guided journals for young explorers. With its stylish design, zingy illustrations and handy size to pop in a schoolbag, it's a fun, lively way to reco rd time at school, engage with friends and remember favourite moments forever! This innovative, interactive book is divided into five 'adventure' chapters. Children can start the book at any point in the school term. Each chapter is designed to be completed in one week (though it not prescriptive), and is divided into themes that encourage them to explore their surroundings, record their thoughts and draw what they see. As they complete lists, create pictures and answer questions they are prompted to think carefully about their surroundings, engage with their friends and look at their everyday school environment with fresh eyes. With a 'thoughts and feelings' section in every chapter, the book encourages positive thinking and a growth mindset. Quirky, easy to navigate and brimming with interesting facts about schools throughout history and around the world, this book is a must-have for every primary school age student - don't leave home without it! ...Show more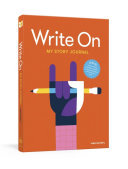 $24.99
AUD
Category: Writing | Series: Wee Society Ser.
In this approachable and fun learning tool, children are prompted to observe, record, and express their experiences creatively through writing and telling stories. With fun and thought-provoking prompts for kids ages 6-11, Write On! My Story Journal is the learning companion that kids can take anywhere- -from vacation, to school, to their pillow fort. With two sheets of stickers that turn into bookplates kids can put inside their favorite books. ...Show more
$19.99
AUD
Category: Biography | Series: Little People, Big Dreams
What is your big dream? Will you be a singer, a runner, an artist, a scientist, an activist--or something else? Explore all this and more in this beautifully illustrated guided journal and keepsake, from the creators of the critically acclaimed, multimillion-copy best-selling Little People, BIG DREAMS s eries. "Every great dream begins with a dreamer" --Harriet Tubman With quotes from the inspirational characters from the series and confidence-boosting activities, now you can put your own dreams to paper. Explore what makes you you and what you aspire to accomplish with drawing completion projects, fill-in-the-blank exercises, brainstorming prompts, and more. When you're done, you'll have a record of all your amazing strengths and step-by-step plans to live out your dreams! Little People, BIG DREAMS is a best-selling series of books and educational games that explore the lives of outstanding people, from designers and artists to scientists and activists. All of them achieved incredible things, yet each began life as a child with a dream. This empowering series offers inspiring messages to children of all ages, in a range of formats. The board books are told in simple sentences, perfect for reading aloud to babies and toddlers. The hardcover versions present expanded stories for beginning readers. Boxed gift sets allow you to collect a selection of the books by theme. Paper dolls, learning cards, matching games, and other fun learning tools provide even more ways to make the lives of these role models accessible to children. Inspire the next generation of outstanding people who will change the world with Little People, BIG DREAMS! ...Show more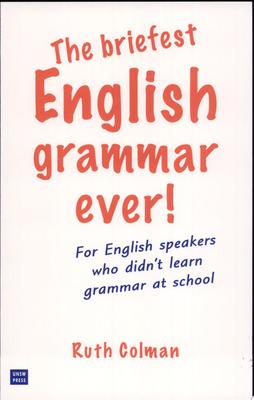 $16.95
AUD
Category: Writing
Readers have eaten, shot, and left Lynne Truss's bestselling book on punctuation, suddenly realising how little they really know about grammar from their school days. Enter Ruth Colman and The briefest English grammar ever!. Originally handwritten and stapled together, Ruth says this concise no-nonsense guide is "designed for those who didn't learn grammar at school, particularly those now learning another language". It is also an essential reference in teaching English as a second other language (TESOL). ...Show more