$24.99
AUD
Category: Picture Books
Whatever you fear, come close my dear You're tucked in safe for always here And I will never not be near Because of our love umbrella. From this award-winning creative duo comes a stunning celebration of the joy and comfort that love can bring - wherever we roam in the big, wild world. 'The 'love um brella' is a sweet analogy for invisible, protective, omnipresent love, and the story is simple- no matter what challenge children may face, they can always rely on the love umbrella above them.' - Bookseller & Publisher (FOUR STARS) ...Show more
Don't Forget
by Jane Godwin; Anna Walker (Illustrator)
$19.99
AUD
Category: Picture Books
Don't forget to make your bed, and wear socks that fit your feet... Don't forget to care, to play, To run, to laugh... Sometimes, we need to remember all the things we can do to be part of the world. Small things, like offering a smile. And bigger things, like hoping, dreaming, imagining...  
$19.99
AUD
Category: Picture Books
Tides will rise and moons will fall,I'll be beside you through it all.  Filled with love, hope and possibility, here is the perfect gift for new babies everywhere. A delightful story to share and treasure from one of Australia's brightest picture-book stars.  
$16.99
AUD
Category: Picture Books
This fun, inclusive board book celebrates the one thing that makes every family a family . . . and that's LOVE. Love is baking a special cake. Love is lending a helping hand. Love is reading one more book. In this exuberant board book, many different families are shown in happy activity, from an early- morning wake-up to a kiss before bed. Whether a child has two moms, two dads, one parent, or one of each, this simple preschool read-aloud demonstrates that what's most important in each family's life is the love the family members share. ...Show more
$14.99
AUD
Category: First Nations Stories
Welcome, child! is Sally Morgan's beautiful and heartfelt celebration of the love we feel for a new child. Simple, elegant and adorable, this stunning board book is the perfect story to share as a family and the sweetest way to welcome a little one to the world. Sally Morgan's colourful and beautiful ar twork depict love using a bright colour palette of happy birds, dancing stars and hearts that shine and the gentle lilt of her text echoes the deep joy of new life.  Full of unconditional affection that will stand the test of time, this book is the perfect gift for a newborn and an absolute joy to read over and over again.       Birds sing songs of delight to greet you.    Flowers dance with joy to celebrate you. ...Show more
$19.99
AUD
Category: Welcome to Our World
An adorable picture book that celebrates the arrival of a new baby, with gorgeous illustrations by the bestselling illustrator of It's Not Scribble to Me.
$16.99
AUD
Category: Board Books
As everyone knows, nothingis sweeter than tiny baby fingers and chubby baby toes...From two of the most gifted picture book creators of our time, here is a celebration of baby fingers, baby toes and the joy they - and the babies they belong to - bring to everyone, everywhere, all over the world!
$24.99
AUD
Category: Picture Books
Baby Business tells the story of the baby smoking ceremony that welcomes baby to country. The smoke is a blessing -- it will protect the baby and remind them that they belong. This beautiful ritual is recounted in a way young children will completely relate to. Jasmine Seymour is a Darug woman and a des cendant of Maria Lock, daughter of Yarramundi, the Boorooberongal Elder who had met Governor Phillip on the banks of the Hawkesbury in 1791. It is Jasmine's wish that through her books, everyone will know that the Darug mob are still here, still strong. Jasmine is a primary school teacher in the Hawkesbury area of NSW. ...Show more
$24.99
AUD
Category: Picture Books
With a strong message of hope, interconnectedness, and empowerment, This Small Blue Dot features a little girl explaining the world to her baby sister. She hits on small wonders, big lessons, and everything in between, from sharing the joy of silly dances to contemplating the nature of this "small blue dot" we all live on. Author and illustrator Zeno Sworder, who hails from a multicultural background, wrote this story when his daughter was unable to find picture books with characters who looked like her. His precocious young narrator has opinions on plenty of things: nature and the environment, embracing difference, the power of imagination--and the trouble with broccoli. Rich pencil and crayon illustrations conjure up memories of childhood in this celebration of who we are, where we come from, and where our dreams may take us. In This Small Blue Dot, Sworder captures not only life lessons but also the fun, often strange experience of being a member of the human family on planet Earth.   ...Show more
$17.99
AUD
Category: Board Books
Whatever you fear, come close my dear You're tucked in safe for always here And I will never not be near Because of our love umbrella. From this award-winning creative duo comes a stunning celebration of the joy and comfort that love can bring - wherever we roam in the big, wild world. 'The 'love umbr ella' is a sweet analogy for invisible, protective, omnipresent love, and the story is simple- no matter what challenge children may face, they can always rely on the love umbrella above them.' - Bookseller & Publisher (FOUR STARS) ...Show more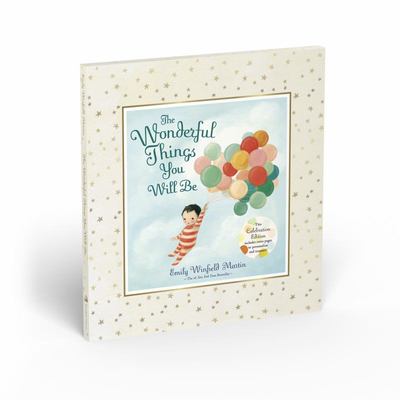 $39.99
AUD
Category: Picture Books
A gorgeous slipcased edition of the essential New York Times bestseller--perfect as a gift for anyone beginning something new! This gorgeous gift edition of Emily Winfield Martin's modern classic poem will elevate any special occasion! With extra pages designed to be personalized with notes from friends and family, this volume is sure to be treasured and revisited often. From brave and bold to creative and clever, Emily Winfield Martin celebrates all personalities and their potential. With a beautiful gatefold, gorgeous and moving illustrations, and a rhyming text, this is a book that parents will love reading over and over to their kids--both younger and older. It's a great gift for any occasion, but a standout for birthdays, baby showers, and graduation with its loving and inspiring message- Then I'll look at you, And you'll look at me, And I'll love you, Whoever you've grown up to be. ...Show more
$14.99
AUD
Category: First Nations Stories
Age range 0 to 3 What do you call a baby...? is an entertaining way for all children to learn the nouns that describe some of our iconic Australian baby animals. Baby frogs are called tadpoles, but what do we call a baby goanna, a baby eagle, or a baby echidna? This stunning title introduces young child ren to their amazing names — hatching, eaglet and puggle.  Bin Salleh's exquisite illustrations and pastel colour palette captures the tender bond of an animal 'parent and baby' and makes this little book a truly delightful journey of discovery. ...Show more