$12.99
AUD
Category: Toilet Training
What happens after you flush the toilet? Discover the amazing hidden world of underground pipes and smelly sewers in this fascinating illustrated children's book. Everyone has wondered exactly what happens to their poo after it is flushed down the toilet. It disappears as if by magic - but there's a lo t more going on than meets the eye! This book takes young readers through each stage of the sewage system, from the Sewer Flushers who unclog sewers to keep everything moving, to how dirty water is cleaned at the treatment plant. Furthermore, learn how sludge made from our poo can be recycled in many different ways - even generating electricity that powers your television! Brilliantly illustrated by acclaimed architect and illustrator Jo Lindley, this book is a must-have for kids, families, and educators interested in re-use and recycling. So journey deep underground to discover the life of poo - just don't forget to hold your nose! ...Show more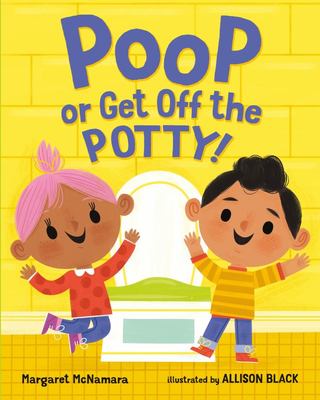 $29.99
AUD
Category: Toilet Training
When Mason and Mia were babies, they pooped a lot--always in their diapers.Now that they're big kids, it's time to use the potty. But what is the potty for?Naps? NO.Books? NO.Playing the drums? No, no, no!Mason and Mia look ahead to official big-kid territory in this hilarious, instructive story that fo llows in the tradition of Once Upon a Potty--but with special emphasis on that momentous toddler milestone: pooping in the potty! ...Show more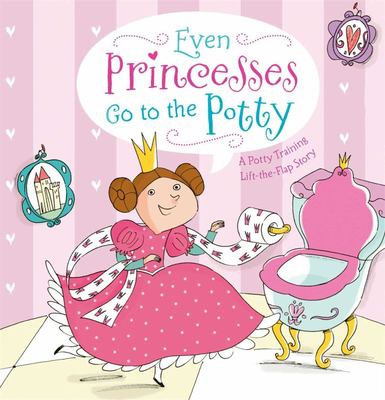 $11.99
AUD
Category: Toilet Training
This humorous, reassuring book with flaps shows toddlers that going to the potty is something that everyone does. From doctors to dog trainers, librarians to ballerinas, everyone goes to the potty--even princesses! In this humorous book with cardstock pages and gatefold flaps on every spread, toddlers w ill encounter a variety of familiar people, all of whom find time in their busy days to visit the potty. ...Show more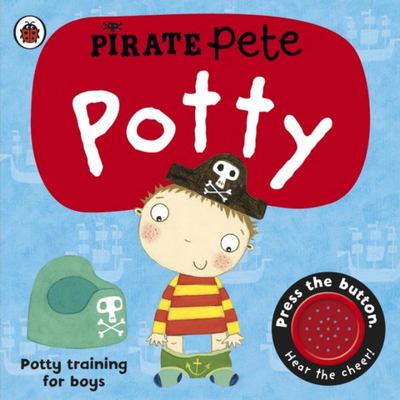 $17.99
AUD
Category: Toilet Training | Series: Pirate Pete
Pirate Pete's Potty: Hilariously useful potty training from Ladybird "Pirate Pete's Potty: Potty Training for Boys" is an entertaining picture book from Ladybird that helps parents struggling with potty training for boys aged 18+ months. Clear, informative and fun pictures are aimed at tackling the comm on anxieties that children may have about using the potty. Each page encourages parents and children to interact with the story by pressing the 'cheer' sound effect when the child has interacted correctly in order to eventually motivate their child into using the potty. Even pirates use the potty! Follow Pirate Pete on his potty training adventure and press the sound button to cheer him along! This book is perfect for helping boys feel confident and motivated about using the potty. "Pirate Pete's Potty" was written by Andrea Pinnington and illustrated by Melanie Williamson. For further advice on potty training, please visit website. "Princess Polly's Potty" is a version of the same story - including sound effects - tailored for girls. ...Show more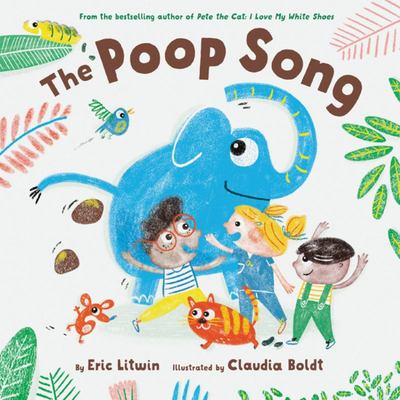 The Poop Song
by Claudia Boldt; Eric Litwin
$26.00
AUD
Category: Toilet Training
From the New York Times bestselling author of Pete the Cat: I Love my White Shoes, this book is Everyone Poops and Once Upon a Potty with a sing-along twist. From bestselling author and musician Eric Litwin comes a satisfyingly silly song about a topic kids find hilarious and parents find necessary. "E verybody's pooping all day long. That's why we sing the pooping song!" Find out how cats, pelicans, space aliens, and even dinosaurs poop in this rollicking, rhyming verse that's sure to elicit giggles and sing-alongs. With plenty of hilarious pictures and a catchy, inspiring chorus that encourages young children to use the potty, this goofy, laugh-out-loud book is the go-to potty training title that every family needs. * REAL HELP FOR POTTY TRAINING: Potty training can seem endless and difficult, and this song finds a way to talk about it to kids with a playful, light touch. * FUNNY BUT NOT GROSS: The humor in this book is silly, not disgusting, while still maintaining the giggle factor that ultimately comes from a song about poop. * LEARNING THROUGH SONG: Research shows that teaching kids through song is an effective way to help them learn and retain important concepts. * EVERYONE LOVES MR. ERIC: The author of Pete the Cat: I Love My White Shoes and other best-loved songs and stories, Eric Litwin is an award-winning musician and writer whose books have sold over 13 million copies since 2010. He's a popular performer who visits hundreds of schools every year. * CREATED WITH EARLY CHILDHOOD LITERACY IN MIND: A former elementary school teacher, Eric has a degree in early childhood literacy. All of his books interweave traditional reading methods such as sight-words and phonetics with interactive methods such as music, singing, movement, rhyme, rhythm, call-and-response, and repetition, to make reading a fun and successful experience. Perfect for: * Parents, caregivers, and grandparents * Early childhood educators * Fans of Everyone Poops, Once Upon a Potty, and other potty training books * Fans of Pete the Cat, Groovy Joe, and other books by Eric Litwin * Fans of silly picture books and stories with animals ...Show more
$14.99
AUD
Category: Toilet Training
Let's talk about POO! Some animals poo on land, some poo in water. Some stop to poo, others do it on the move. I poo and you poo too. Every living thing has to eat, so everybody poos!

$14.99
AUD
Category: Toilet Training
Princess Polly's Potty: Hilarious potty training from Ladybird Princess Polly's Potty is an entertaining picture book from Ladybird that helps parents struggling with potty training for toddlers aged 18+ months. Clear, informative and fun pictures are aimed at tackling the common anxieties that children may have about using the potty. Each page encourages parents and children to interact with the story by pressing the 'cheer' sound effect when the child has interacted correctly in order to eventually motivate their child into using the potty. Even princesses use the potty Follow Princess Polly on her potty training adventure and press the sound button to cheer her along This book is perfect for helping little ones feel confident and motivated about using the potty. Princess Polly's Potty was written by Andrea Pinnington and illustrated by Melanie Williamson. For further advice on potty training, please visit www.ladybird.com/potty. ...Show more
$14.99
AUD
Category: Toilet Training
Say goodbye to nappies girls! It's potty time! With a super-duper potty-shaped cover, this brilliant toilet training book for girls will help your child make the transition from nappies to pants in no time. Full of fun rhymes and pictures that will show your child how to use the potty, it's ideal for an y place and time, from out-and-about to just before bed. Plus there's special reward stickers too, so you can celebrate their success in style! ...Show more

$9.99
AUD
Category: Toilet Training | Series: Hey Duggee
Earn your Potty Badge with Duggee! Duggee's nephew, Duggly has come to visit the clubhouse but he looks different . . . Duggly isn't wearing his nappy because he is learning to use the potty! Join your favourite Squirrels as they teach Duggly a special potty-training song. Featuring all of your favou rite characters from the triple BAFTA-winning CBeebies show, this new board book story is perfect for helping parents with potty training and encouraging little Hey Duggee fans to use the potty with confidence. Suitable for 18+ months. ...Show more
$19.99
AUD
Category: Toilet Training | Series: Lift the Flap First Questions and Answers
An exciting addition to this popular series, using flaps, quirky questions and Dan Taylor's delightful illustrations to reveal everything you wanted to know about poo - and a little bit more. Starting with human sewage then moving on to animal poo, this surprisingly charming book explores what happens w hen we flush, what animal toilets look like, why animals don't need to flush and just how important poo is - for a myriad of fascinating (and sometimes yucky) reasons. ...Show more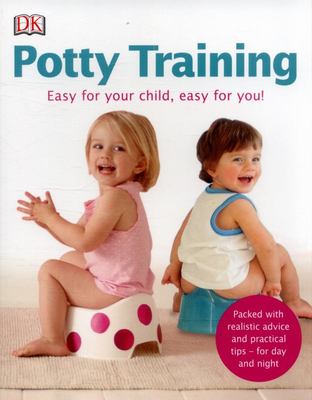 Potty Training
by Dorling Kindersley Publishing Staff
$19.99
AUD
Category: Toilet Training
Potty Training offers you a stress-free way to teach your toddler to give up nappies.This realistic, reassuring guide begins at the very beginning with recognising the signs your little one is ready to start training, then takes you through the whole process, from potty to toilet, to staying dry at nigh t. Practical tips and techniques combined with strategies for building your child's capabilities and motivation make for a winning formula.Offering objective advice with a variety of strategies while covering all aspects of the subject, from the practical to the emotional to the physical, Potty Training has everything you will need. ...Show more
$14.99
AUD
Category: Toilet Training
Now in a board book edition with a fun mirror on the final page. Lloyd-Jones's rollicking, rhythmic narration gets the party going in a book that simply rejoices in the call of nature.