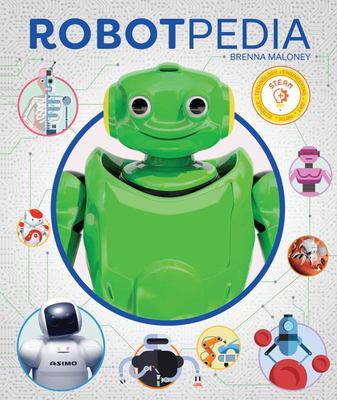 $24.99
AUD
Category: Technology
Take an in-depth look at the history and cultural impact of robots through the years in this educational and interactive guide. Robots are everywhere--building cars, driving cars, performing surgery, helping soldiers and fire fighters, even vacuuming! From high up in space to the bottom of the ocean, ro bots are an instrumental part of how humans are learning about the world. This encyclopedic guide to robotics takes kids through the evolution of robotic technology: from the ancient Greek inventors, to the first robot at the World's Fair, to nanotechnology already in use today, to D.I.Y. robotics, and even a peek into the robotic future as told by the scientists creating it. And keeping readers company along the way are many of our favorite robots from film and TV. Filled with interactive inserts, Robotpedia takes a fun approach to STEM learning. ...Show more
$27.99
AUD
Category: Technology
Transform and recycle household objects into your very own home-made toys and machines! Learn about the centre of gravity by making a balancing bird, create a toroidal vortex with a smoke-ring machine, and turn a spoon into an electromagnet. Chances are you won't need to buy the materials required for these machines because they're all in your house right now. Every child can be an engineer with the help of Mr Shaha and his marvellous machines. Written by a science teacher and dad, Mr Shaha's Marvellous Machinesis the highly anticipated sequel to Mr Shaha's Recipes for Wonder. This book gives clear, step-by-step instructions for over 15 projects. Whether you're a master engineer or a total beginner, it will spark inspiration for fun activities to engage young people in the marvels of machinery. ...Show more

$26.99
AUD
Category: Technology
Scientists often take a leaf from nature when devising inventions. Find out more and let your imagination soar: Discover how nature has inspired some great creations, from the Wright Brothers' first aeroplane to Eiji Nakatsu's bullet train. Meet brilliant birds, boisterous bats, and family trees as we celebrate the creatures of the sky. Explore the human and natural world, from bee discos to the design of outer-space cameras. ...Show more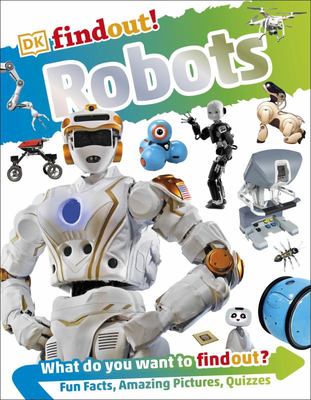 $14.99
AUD
Category: Technology | Series: DKfindout!
Kids get an up-close look at all kinds of cool robots, from cyborgs and humanoids to robots in movies, with amazing images and mind-blowing facts. DKfindout! Robots will satisfy any child who is eager to learn - and keep them coming back for more! Age Range- from 6 years to 9 years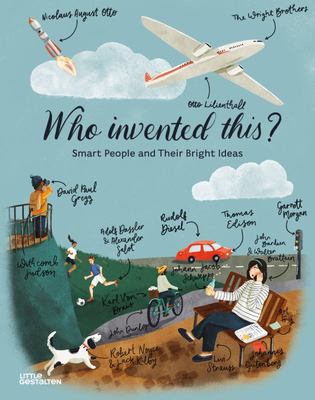 $39.99
AUD
Category: Technology
A time-tunnel trip that shows how some of history's greatest makers, creators, and ideas helped to shape the world of today. Who invented the car, different types of vaccinations, the light bulb or the microwave? The things we are surrounded by didn't just appear out of nowhere, they were conceived by t alented inventors, scientists, and engineers. While some inventions were the result of teamwork and a long time in the lab, some inventions just happened to be made by accident or by looking for something else. Unravel how classic inventions and creators paved the way for the modern tools and technology we have today. Heureka is a visual journey for children that shows how the groundbreaking masters from the past connect with the technology, culture, and medicine of today. ...Show more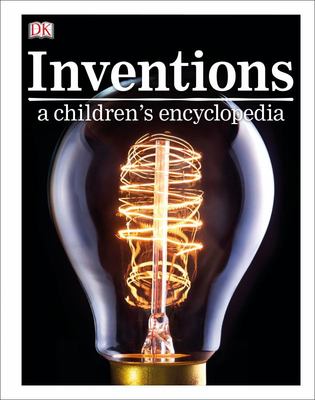 $39.99
AUD
Category: Technology
This stunning visual guide explores and explains the greatest inventions, ideas, and discoveries throughout the ages, and introduces their inventors. Discover the first inventions, from fire, stone tools, and the wheel to ploughs and paper, that shaped societies and grew mighty civilizations and empires such as those in ancient Greece, ancient Rome, and ancient China. In the centuries that followed, "Eureka" moments abounded, with James Watt's steam engine during the Industrial Revolution, Henry Ford's car assembly line at the start of the 20th century, the Wright brothers' flying machines, Thomas Edison's light bulb, John Logie Baird's television, and so much more. Read about more recent, era-defining moments during the Digital Revolution, such as the first website developed by Tim Berners-Lee, and the growth in the use of robotics in industry and at home. Inventions A Children's Encyclopediareveals the stories behind crucial and quirky contraptions, products of the world's most brilliant minds. ...Show more
$19.99
AUD
Category: Technology | Series: See Inside
We all need energy for our lives - and lots of it. Find out what energy is, how it affects our planet and the exciting new inventions scientists are creating to make energy in the future, in this fascinating introduction to an important topic. With over 65 flaps to lift and links to specially selected w ebsites to find out more. ...Show more
$24.99
AUD
Category: Technology
Perfect for introducing young plane enthusiasts to a huge variety of exciting aircraft from around the world! Includes busy scenes with lots to explore, large cut-away images and spreads filled with aircraft. Take to the skies with this fun, visual miscellany for children who love anything aircraft rel ated! Each double-page spread features a different group of aircraft to explore, such as helpful helicopters, record-breaking planes and soaring spacecraft. Discover some of the more surprising things to have flown - including flying cars and jet packs. Readers can also learn how planes fly, and pretend to be a pilot as they look at a cockpit from a pilot's eye view. Filled with hundreds of different planes, balloons, rockets and other aircraft from around the world, even the most avid young flying fanatic will discover new machines they haven't seen before! ...Show more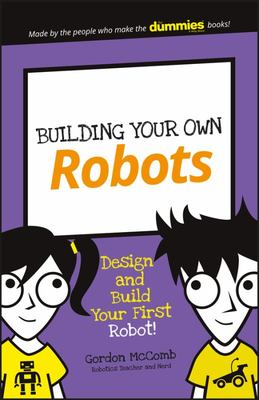 $3.99
AUD
$15.95
(74% off)
Category: Technology | Series: Dummies Junior Ser.
Fun robotics projects that teach kids to make, hack, and learn There's no better way for kids to learn about the world around them than to test how things work. Building Your Own Robots presents fun robotics projects that children aged 7 - 11 can complete with common household items and old toys. The projects introduce core robotics concepts while keeping tasks simple and easy to follow, and the vivid, full-color graphics keep your kid's eyes on the page as they work through the projects. Brought to you by the trusted For Dummies brand, this kid-focused book offers your child a fun and easy way to start learning big topics They'll gain confidence as they design and build a self-propelled vehicle, hack an old remote control car to create a motorized robot, and use simple commands to build and program a virtual robot--all while working on their own and enjoying a sense of accomplishment Offers a kid-friendly design that is heavy on eye-popping graphics Focuses on basic projects that set your child on the road to further exploration Boasts a small, full-color, accessible package that instills confidence in the reader Introduces basic robotics concepts to kids in a language they can understand If your youngster loves to tinker, they'll have a whole lot of fun while developing their creative play with the help of Building Your Own Robots. ...Show more
$19.99
AUD
Category: Technology | Series: See Inside
A new addition to the See Inside series about how things - from the most mundane household objects to most complicated machines - work and operate. Lifting the flaps reveals the insides and machinations of machines and devices, explaining in simple, clear language exactly how they work. Machines includ e: diggers, cars, cranes, toilets, taps, microwave ovens and cinema projectors. Ages: 6+ ...Show more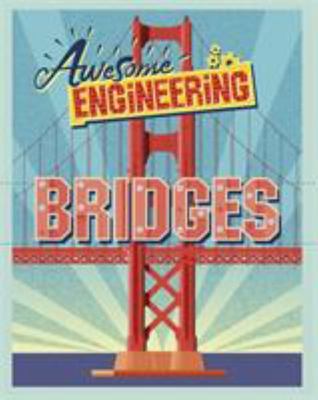 $19.99
AUD
Category: Technology | Series: Awesome Engineering Ser.
Get a grip on the nuts and bolts of awesome engineering!, Beautiful bridges stretch across the world connecting people and places together. But how do we make them so long and sturdy? Bridges presents landmark structures through beautiful illustrations, diagrams, photographs, and explanations that make these awesome feats of engineering easy to understand. Book jacket. ...Show more
$24.99
AUD
Category: Technology
This DK children's book aged 9-15 is brimming with exciting, educational activities and projects that focus on electronics and technology. Keep your siblings out of your room with a brilliant bedroom buzzer, power a propellor motorboat, build your own phone charger, make a set of speakers, and construct a crane by following step-by-step instructions and using affordable equipment. Inventor Lab will engage budding scientists and engineers as they experiment, invent, trial, and test technology, electronics, and mechanics at home. Simple steps with clear photographs take readers through the stages of each low-cost project, with fact-filled panels to explain the science behind each one, and to fascinate them with real-world examples. With an increasing focus across school curricula on encouraging children to enjoy and explore STEM subjects (science, technology, engineering, and maths), Inventor Lab is the perfect companion for any inquisitive child with an interest in how the worlds of science experiments and technology work, and why. ...Show more