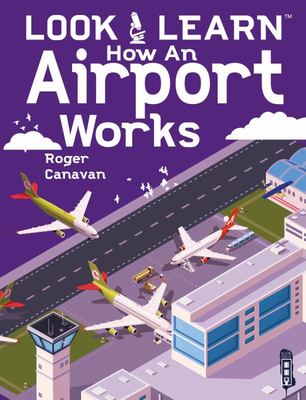 $18.99
AUD
Category: Technology | Series: Look and Learn Ser.
Each title in the Look and Learn series explores a man-made structure layer by layer, looking at how science, technology, engineering, art and mathematics (STEAM) have been employed to make them function. Each spread focuses in on one aspect of the structure, with stunning artwork, bite-sized text, pane ls, labels and diagrams providing multiple entry points into the subjects, making the books appealing and accessible for reluctant readers.How An Airport Works looks at the scientific innovations that have helped airports to fly millions of passengers safely around the world, including how airports are designed to guide travellers to their destination, how air traffic control monitors planes in the air and how technology is being used to offset carbon emissions caused by air travel. ...Show more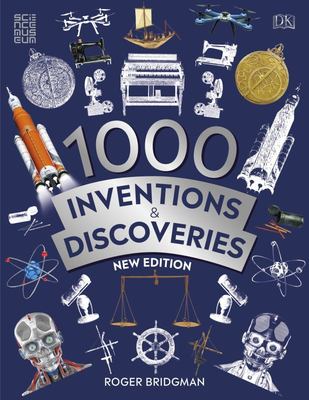 $24.99
AUD
Category: Technology
Showcasing 1,000 groundbreaking moments in history and telling the whole story behind each discovery. This family reference delves into the inner workings of the world's greatest inventive minds and shows how they made their discoveries and what trials they faced along the way.
$24.99
AUD
Category: Technology
Coming about From dinghies to freight liners, pirate ships to submarines, across oceans and up rivers, set sail on a fascinating journey through the world of ships in this new book from illustrator James Gulliver Hancock. In this companion to How Airports Work and How Trains Work, young readers travel t hrough history and around the world to find out everything they ever wanted to know about ships. Lift the flaps to unfurl papyrus sails on an Ancient Egyptian ship sailing up the Nile, tour a historic Spanish galleon, zoom across the water at almost 320 miles per hour in a speedboat, and much more. See how ships stay afloat, cultivate wind power, and navigate using the stars . Learn all about how the first simple boats carved out of tree trunks evolved into the giant super yachts and cruise liners of today, and take a look at the limitless possibilities of the ships of the future. How Ships Work is jam-packed with amazing facts and awesome illustrations, and was created in consultation with the National Maritime Museum, UK. About Lonely Planet Kids: Lonely Planet Kids - an imprint of the world's leading travel authority Lonely Planet - published its first book in 2011. Over the past 45 years, Lonely Planet has grown a dedicated global community of travelers, many of whom are now sharing a passion for exploration with their children. Lonely Planet Kids educates and encourages young readers at home and in school to learn about the world with engaging books on culture, sociology, geography, nature, history, space and more. We want to inspire the next generation of global citizens and help kids and their parents to approach life in a way that makes every day an adventure. Come explore ...Show more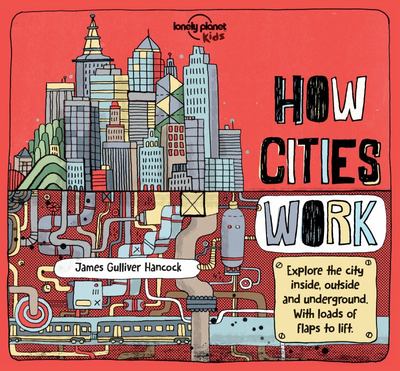 $24.99
AUD
Category: Technology | Series: Lonely Planet Kids
Get ready to explore the city in a whole new way. This innovative book for younger readers is packed with city facts, loads of flaps to lift, and unfolding pages to see inside buildings and under the streets. Children aged 5+ can learn about skyscrapers, subway systems and stinky sewers. Discover where people live and peek behind closed doors to see what's going on in houses and apartments, or why not find out about what goes on underneath the streets you walk on every day? Each page is stylishly illustrated by James Gulliver Hancock, creator of theAll The Buildings That I've Drawn So Far series (Universe Publishing) and there are loads of quirky details to spot. How many giant cowboy hats can you find through the book? Created in consultation with Jill Sterrett, lecturer with the department of Urban Planning at the University of Washington. Contents: The birth of a city In and out of the city City living Build, build, build! High-rise life Green spaces Going underground City hall Emergency services Recreation and culture Night and day Cities of the future About Lonely Planet Kids: From the world's leading travel publisher comes Lonely Planet Kids, a children's imprint that brings the world to life for young explorers everywhere. With a range of beautiful books for children aged 5-12, we're kickstarting the travel bug and showing kids just how amazing our planet can be. From bright and bold sticker activity books, to beautiful gift titles bursting at the seams with amazing facts, we aim to inspire and delight curious kids, showing them the rich diversity of people, places and cultures that surrounds us. We pledge to share our enthusiasm and love of the world, our sense of humour and continual fascination for what it is that makes the world we live in the diverse and magnificent place it is. It's going to be a big adventure - come explore! ...Show more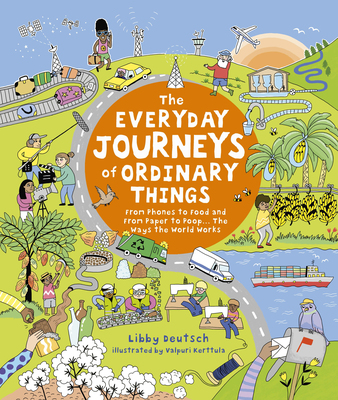 $24.99
AUD
Category: Technology
Young children are full of questions about how the world works; the processes and machinations behind the scenes. Why does a light come on when you flick a switch? How can cheese from the supermarket have come out of a cow? What happens when you send a text? Where does your poo go when you flush?(!) All very good questions, and all explained - along with many more - in The Everyday Journey of Ordinary Things. With graphic, flowing illustrations and clear, colloquial chunks of text, each process is explained from its early beginnings to a satisfying conclusion. Alongside physical processes, readers are also introduced to the journeys of more abstract concepts such as information and money, as well as ecologically important processes including recycling and the water cycle. Visually arresting, informative and accessible, this is the book for every child who ever wondered, 'How?' ...Show more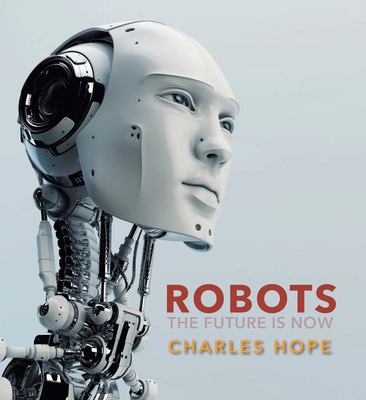 $24.99
AUD
Category: Technology
Robots are a fascinating and divisive subject. Many people believe they are destined to make our lives easier, while some believe they could be misused with terrible consequences. Take an in-depth look at this amazing technology and how it is already being used in Robots: The Future is Now!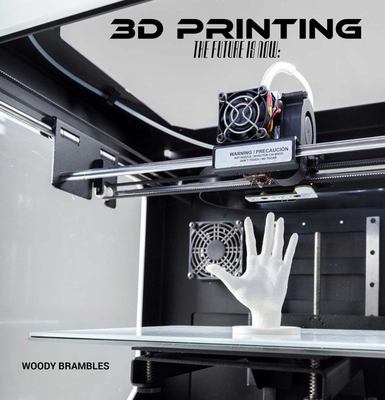 $14.99
AUD
Category: Technology
3D printing is a fascinating and divisive subject. Many people believe it is destined to make our lives easier, while some believe it could be misused with terrible consequences. Take an in-depth look at this amazing technology and how it is already being used in 3D Printing: The Future is Now! The sec ond in an exciting new series, which looks at the technologies of today that are shaping our future. Previous title Artificial Intelligence will be followed by planned titles Robots, Chips, Phones and Virtual Reality. ...Show more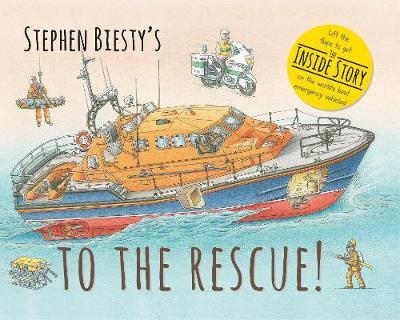 $24.99
AUD
Category: Technology
The bestselling, award-winning master of cross sections presents a selection of well-loved emergency vehicles in this brilliant lift-the-flap book, To the Rescue. Look inside an ambulance, police car, fire engine, rescue helicopter, waterbomber, lifeboat and more to find out their inner workings. With o ver 40 flaps to lift, Stephen Biesty brings his fantastic immersive artwork to a new younger age group in this interactive title. ...Show more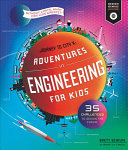 $35.00
AUD
Category: Technology
Adventures in Engineering for Kids (Design Genius Jr) teaches creative problem solving, design thinking, and multiple facets of engineering to expands kids' understanding of the world today and the possible worlds of the future.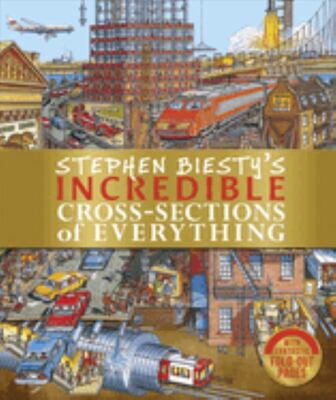 $29.99
AUD
Category: Technology | Series: Stephen Biesty Cross Sections
Step inside the extraordinary world of Stephen Biesty and find out how a wide variety of curious things are made, from tower blocks and underground tunnels to the milk, chocolate, and doughnuts on your table, via matches, diamond rings, and sports shoes - not to mention racing cars, planes, and rockets. The incredible artwork will have children and adults alike poring over every detail, whether it's following the production line of a factory making nails or newspapers, or exploring the insides of a Boeing 777 plane and the Saturn V rocket. Taking you through every stage of each process is Chester the Tester, a character who helps explain how things are made, along with his sidekick Hector the Inspector. This brilliant book is also packed with unbelievable information. Did you know that dinosaur skeletons in museums are not real fossils? Or that the Boeing 777 has slam-proof toilet lids so the noise doesn't disturb passengers? Written with humour and fascinating facts to guide you through the intricate illustrations, this book is a glorious way to learn about the world around you. First published 25 years ago, Stephen Biesty's Incredible Cross-Sectionsseries has been updated for the silver anniversary, bringing delight to a whole new generation of curious young readers. ...Show more
$9.99
AUD
Category: Technology | Series: It's All About... Ser.
It's All About... Cool Cars gives young readers everything they want to know about about cars, from the earliest automobiles to speedy supercars, rally racers and even cars that fly. Packed with detailed photography, the latest bite-size facts, and a bonus audio download, this book has everything a car- crazy kid could need.It's All About... is a collectable series filled with up-to-date stats and facts about a wide range of hot topics, including animals, history, technology, and vehicles. Each book comes with a bonus audio download so children can take their book wherever they go, as well as a glossary that's perfect for teaching and learning.Check out the other titles in the It's All About... series, including Speedy Trains, Dangerous Dinosaurs and wild Weather, and see if you can collect them all! ...Show more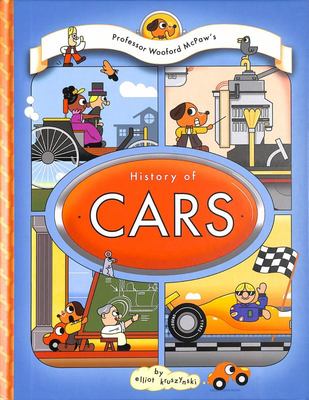 $29.99
AUD
Category: Technology | Series: Professor Wooford Mcpaw's History of Things Ser.
The first in a series of books explaining the history of modern technologies (upcoming titles will include astronomy and computers), introduced and explained by a helpful (if somewhat arrogant) dog called Professor Wooford McPaw.In this title, Professor McPaw explores the history of the car, starting wi th the steam engine in the early 1800s, the advent of the combustion engine in 1872, the popularisation of the car by Henry Ford in the early 1900s, the evolution of motor racing, luxury cars of the 1950s, the Japanese innovations of the 1970s, and finally the new technologies of electric and self-driving cars today.The book is engagingly illustrated by Elliot Kruszynski, whose bright, clean, informative style appeals to children across a broad age range. The Professor and his sidekick (in this case a car, but changing with each book), discuss the intricacies of historical episodes along the way, lending a humorous, personal touch. Comic strip interludes capture key moments, like the first cross-country road trip by the wife of Karl Benz, inventor of the first gas-powered car; or the advent of Ford's assembly line.Striking a refreshing balance between authoritative, clearly conveyed information, and witty, bright commentary, Professor McPaw will be a captivating tour-guide through the fascinating developments of the modern world. ...Show more