$32.99
AUD
Category: Sustainability
From a #1 New York Times bestselling illustrator, and the creator of The Pink Hat, comes a timely picture book about a young girl's mission to inspire others to help the planet Celebrate young climate change activists in this charming story about an empowered girl who shows up, listens up, and ultimatel y, speaks up to inspire her community to take action against climate change. After attending a climate march, a young activist is motivated to make an effort and do her part to help the planet... by organizing volunteers to work to make green changes in their community, from cleaning a lake, to planting trees, to making composting bins, to hosting a clothing swap and more Here is an uplifting picture book that is an important reminder that no change is too small--and no person is too young--to make a difference. With simple text and lively illustrations, Andrew Joyner has given young children a timely story about activism, community, and hope. ...Show more
$24.99
AUD
Category: Sustainability
The Earth's climate is changing. It's getting hotter. In Australia over the past 50 years, maximum temperatures have been creeping higher. There have been record droughts, floods and bushfires. Why is this happening and what can we do to stop it getting worse?
$16.99
AUD
Category: Sustainability
The most authoritative book yet about climate change for teenagers, written by internationally bestselling expert Naomi Klein. Warming seas. Superstorms. Fires in the Amazon. The effects of climate change are all around us. Reforestation. School-strikes for climate change. Young people are saving the wo rld and you can join them because you deserve better. Are you ready to change everything? Forget everything you think you know about climate change. This book explains why the planet desperately needs our help and how you can use your power to change the world through climate activism. Klein presents her urgent message about saving the environment by asking three simple questions: Where are we? How did we get here? What happens next? From the Great Barrier Reef to Hurricane Katrina to school environmental policies to Greta Thunberg - climate change impacts every aspect of the world you live in and you have the power to lead the way by enacting change. Internationally bestselling author of The Shock Doctrine, Naomi Klein, with award-winning children's science writer Rebecca Stefoff, gives a powerful picture of why and how the planet is changing, providing effective tools for action so that YOU really can make a difference. Includes notes on the COVID-19 pandemic, 2020, and how you can get involved to make the world a safer and better place. ...Show more
$16.99
AUD
Category: Sustainability
* Be inspired by 10 children from around the world taking action against climate change in this non-fiction picture book * Read their stories, and discover how they became campaigners for the future of our planet* Meet 11-year-old Shalise from Australia, the world's youngest ocean activist; or 9 year ol d Fink Feinbeiner, a rainforest activist from Germany* Features practical back matter on how to save the planet at home and at school ...Show more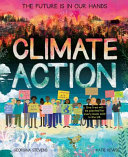 $39.99
AUD
Category: Sustainability
This is a book about climate change. In this book, we share the facts, but we also share hope. Learn about the causes of climate change and how it is affecting our world. Explore the human impact and what it means to have a carbon footprint. Read about creative ideas for tackling the climate crisis. Be inspired by the positive stories from young changemakers around the globe. Get tips on how to take actions and reduce your carbon footprint. Our planet needs us, and we need our planet. One tree will be planted for every book sold in the UK. ...Show more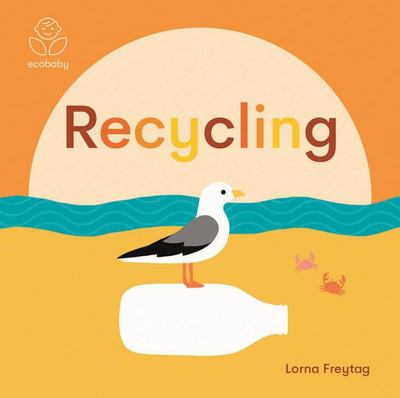 $14.99
AUD
Category: Sustainability
Introduction to recycling for the very youngest of eco warriors.
$27.99
AUD
Category: Picture Books
A young girl's nature diary is a joyful journey of discovery. From the multi-award-winning creator of Rivertime and Rockhopping comes another celebration of the world around us.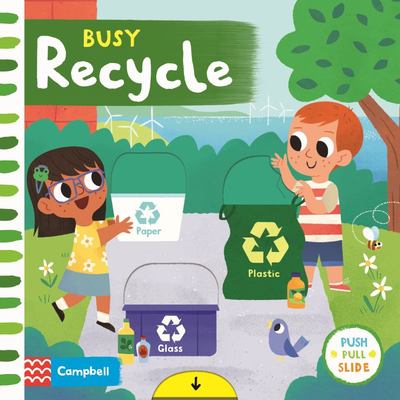 Busy Recycle
by Mel Matthews (Illustrator)
$9.99
AUD
Category: Board Books | Series: Busy Bks.
A first novelty board book about how to recycle at home, with push, pull and turning mechanisms.Push, pull and slide the tabs to help clean up the Earth in Busy Recycle. Watch the recycling truck do its work, reuse materials to make a rocket and recycle your waste in this fun book about helping the plan et.Children will love playing with this bright and colourful board book with gentle rhyming text and wonderful illustrations by Mel Matthews, which is part of the popular Busy Book series. ...Show more
$29.99
AUD
Category: Sustainability
Age range 9 to 12Perfect for home-schooling and virtual and blended learning, Palm Trees at the North Pole shares the science and history of climate change through awesome facts and detailed, colorful illustrations that will excite and draw kids into this important issue, helping them feel part of the s olution.With extraordinary facts about farting cows and cracking icebergs, tall windmills and fast electric cars, burly polar bears and cute little pikas, this approachable and creative guide encourages young climate activists to engage even more deeply with their chosen cause. It also helps kids new to the issue understand why and how climate change is happening, and what we can do about it!This clear, accessible, and often funny book about climate change explains everything kids need to know about our global environment and how it has changed throughout history — often as a result of our own actions. After reading this book, kids will become experts on climate change, and feel empowered to share their knowledge with the world!Accompanied by vivid illustrations that bring the story to life, Palm Trees at the North Pole features brave scientists, young activists like Greta Thunberg, and most importantly: science and facts about our planet. This wonderful book covers the history of our climate — starting with exploding volcanoes and extinct mammoths — and explains humans' role in climate change. It also shares information about environmental movements throughout history!Palm Trees at the North Pole explains the real consequences of climate change, such as rising tides, heat waves, and hurricanes, but never in a scary way. Above all, the book outlines actions kids can take to help combat climate change in their own communities, and equips kids with the knowledge to understand the most important issue facing our world today. Age range 9 to 12Perfect for home-schooling and virtual and blended learning, Palm Trees at the North Pole shares the science and history of climate change through awesome facts and detailed, colourful illustrations that will excite and draw kids into this important issue, helping them feel part of the solution.With extraordinary facts about farting cows and cracking icebergs, tall windmills and fast electric cars, burly polar bears and cute little pikas, this approachable and creative guide encourages young climate activists to engage even more deeply with their chosen cause. It also helps kids new to the issue understand why and how climate change is happening, and what we can do about it!This clear, accessible, and often funny book about climate change explains everything kids need to know about our global environment and how it has changed throughout history — often as a result of our own actions. After reading this book, kids will become experts on climate change, and feel empowered to share their knowledge with the world!Accompanied by vivid illustrations that bring the story to life, Palm Trees at the North Pole features brave scientists, young activists like Greta Thunberg, and most importantly: science and facts about our planet. This wonderful book covers the history of our climate — starting with exploding volcanoes and extinct mammoths — and explains humans' role in climate change. It also shares information about environmental movements throughout history!Palm Trees at the North Pole explains the real consequences of climate change, such as rising tides, heat waves, and hurricanes, but never in a scary way. Above all, the book outlines actions kids can take to help combat climate change in their own communities, and equips kids with the knowledge to understand the most important issue facing our world today. ...Show more
$27.99
AUD
Category: Sustainability
Discover the pollution crisis in our oceans through the eyes of one lost plastic duck in this engaging and stylish picture book based on a true story. When a shipping container filled with 28,000 plastic ducks spilled into the Pacific Ocean, where did all those ducks go? Based on a true story, this inn ovative take on the plastic pollution crisis follows one duck as it travels on ocean currents to meet sea life and discovers the rubbish from humans that endangers our oceans. A highly accessible and stylish picture book with a positive message about environmental issues, from the author-illustrator of Curiosity, which was shortlisted for the Royal Society Young People's Book Prize. ...Show more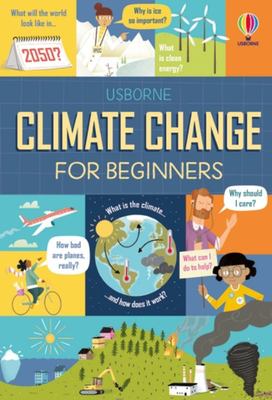 $19.99
AUD
Category: Sustainability
This book explains, in simple language and with clear illustrations, what the climate is, and how it is changing very rapidly at the moment, and the effects this is having on our planet. It tackles suggestions about what needs to change in the way people live, from power stations to farming, and explain s why it's so difficult to do. Along the way, it also talks about what individuals can do, including tips on how to keep a clear head and not get overwhelmed by bad news. Part of the award-winning 'for Beginners' series, which includes Politics for Beginners, Business for Beginners and Money for Beginners. Full-colour illustrations throughout, combining diagrams and graphs with humorous comic strips. Created in collaboration with Steve Smith, head of Climate Science at the UK government's Dept of Business, Energy and Industrial Strategy, also a fellow at Oxford University. ...Show more
$16.99
AUD
Category: Sustainability
Meet our superheroes: - Binky, aka The Monotreme! - Worried Norman, once bitten by a radioactive croissant and now Pastry Person! - Letitia, an occasionally bossy science-wombat and genius inventor!   Together, they are the EnviroTeens and they are about to get very, very angry. Singleuse Plastic Brend an may have an evil plan to destroy all the world's turtles with his dastardly tur-tele-pooter but, believe it or not, there is something even more sinister than an angry plastic bag on a garbage island in the middle of the ocean ... Climate change! Oh no! The EnviroTeens will do anything to stop this impending disaster: scale slippery volcanoes, scurry through forests full of poisonous armpit monsters, even meet Senator Ian, the Climate Denialist Potato. But can three teenagers and a chicken save the whole world? Why not, nobody else is! Maybe they are in with a chance? I can't look, it's too exciting! A hilarious graphic novel about a group of teens who are determined to clean the planet and clear the air. A proportion of the publisher's profits will be donated to School Strike 4 Climate Australia. ...Show more