$12.99
AUD
Category: Junior Fiction (5-9) | Series: Zola
Zola loves living on Boomerang Street with her mum and her nonna. Every day of the week is an adventure. But Zola has a problem. No matter how much she tries, she can't keep out of trouble! Seven stories in the series - one for every day of the week. From the bestselling author of Looking for Alibrand i. ...Show more
$19.99
AUD
Category: Picture Books
What colourful birds are in our backyards? From laughing kookaburras and prancing mudlarks to dancing willy wagtails and hungry galahs, this picture book is a vibrant adventure discovering the native birds around us.
$28.99
AUD
Category: Picture Books
A small child awakes to find blackened leaves falling from her bedroom ceiling, threatening to quietly overwhelm her. 'Sometimes you wake up with nothing to look forward to...' As she wanders around a world that is complex, puzzling and alienating, she is overtaken by a myriad of feelings. Just as it se ems all hope is lost, the girl returns to her bedroom to find that a tiny red seedling has grown to fill the room with warm light.  ...Show more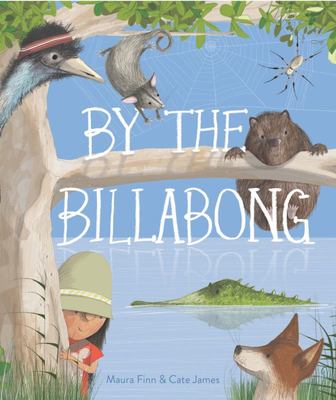 By the Billabong
by Maura Finn; Cate James (Illustrator)
$24.99
AUD
Category: Picture Books
A wisdom of wombats, A passel of possums, A cluster of spiders knitting socks... Who else might you meet on a trip to the billabong? From an exciting new picture-book partnership comes this delightful romp through a much-loved Australian landscape. But wait - is that a croc?!
$17.99
AUD
Category: Middle Fiction (8-12)
An explosive, suspenseful and utterly brilliant middle-grade mystery for fans of Louis Sachar's Holes.  Not-quite twelve year-old Pri Kohli knows the town of Dunn's Orchard better than anyone. After all, he was the first kid ever to live there. He knows its mysteries (none), its secrets (also none) a nd the best ways to have fun in it (climb a big tree and sit there). So why can't he answer newcomer Attica Stone's simple question: if the town's called Dunn's Orchard, where's the orchard? As Pri and Attica go in search of forbidden fruit, they uncover stranger mysteries: a robot caterpillar, a mayor with a murky past, a Possibly Real Actual Boogeyman and a house made of doors in a haunted wood. But what will Pri and Attica do when they discover the biggest secret of all - that something truly magical is about to be destroyed, and the only way to save it could be by destroying the town itself? Mat Larkin's stunning debut is a big-hearted, wildly surprising and deliciously well-plotted mystery for readers aged 8+ about the joy of discovery, and digging just that little bit deeper to uncover the truth. ...Show more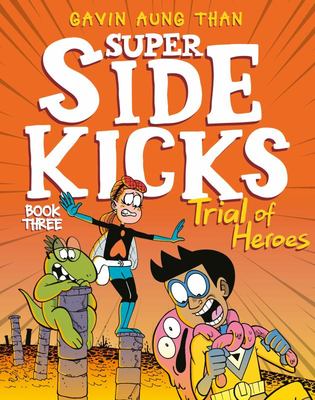 $14.99
AUD
Category: Action & Adventure
The Super Sidekicks just saved the world and now they've been invited to join H.E.R.O. - the Heroic Earth Righteousness Organisation - an exclusive club for the planet's most famous superheroes. But before they can become members, the team must pass the hardest challenge in the universe, a test so scary and difficult only the truly heroic can survive. The Super Sidekicks are back! Prepare for another amazing adventure from New York Times bestselling Australian author, Gavin Aung Than. ...Show more
$16.99
AUD
Category: Middle Fiction (8-12)
Frank doesn't know how to feel when Nick Underbridge rescues her from bullies one afternoon. No one likes Nick. He's big, he's weird and he smells - or so everyone in Frank's class thinks. And yet, there's something nice about Nick's house. There's strange music playing there, and it feels light and goo d and makes Frank feel happy for the first time in forever. But there's more to Nick, and to his house, than meets the eye, and soon Frank realises she isn't the only one keeping secrets. Or the only one who needs help ... A poignant, darkly comic and deeply moving story about the power of the extraordinary, and finding friendship where you least expect it. Written by the author of the critically acclaimed The Imaginary and illustrated by award-winning illustrator Levi Pinfold, this is perfect for fans of Roald Dahl and Neil Gaiman. ...Show more
I Love Me
by Sally Morgan; Ambelin Kwaymullina
$14.99
AUD
Category: Board Books
Acclaimed creators Sally Morgan and Ambelin Kwaymullina celebrate individuality and joyous self-esteem, in bouncy, rhythmic prose and riotous color.
$16.99
AUD
Category: Classics
THE WITCHES by Roald Dahl is the story of a detestable breed of Witches. BEWARE. Real witches dress in ordinary clothes and look like ordinary women. But they are not ordinary. They are always plotting and scheming with murderous, bloodthirsty thoughts - and they hate children. The Grand High Witch hat es children most of all and plans to make every single one of YOU disappear. Only one boy and his grandmother can stop her, but if their plan fails the Grand High Witch will frizzle them like fritters, and then what . . . ?   ...Show more

Shy Ones
by Simona Ciraolo
$27.99
AUD
Category: Picture Books
He's not the type to stand out. In fact, unless you were looking for him, you wouldn't know he was missing at all. But you know us, the shy ones, we can always spot one another.   This delicate picture book about a quiet little octopus that keeps to himself in a school of lively fish explores the topi c of shyness and friendship. Stunningly illustrated by bestselling creator of Hug Me, Simona Ciraolo, this book is sure to resonate with young children across the world, particularly those who are just starting school. ...Show more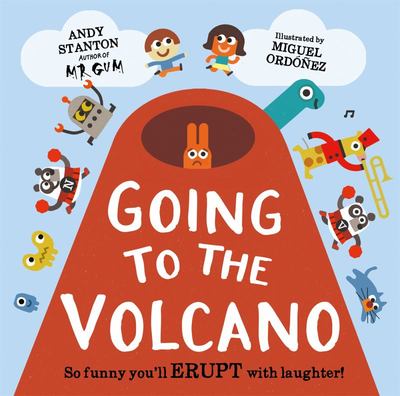 Going to the Volcano
by Andy Stanton; Miguel Ordonez (Illustrator)
$15.99
AUD
Category: Picture Books
Join two intrepid explorers on the perfect day out - visiting a volcano! A brilliantly funny rhyming story from multi-award-winning author Andy Stanton, who was shortlisted for the 2018 Laugh Out Loud Picture Book Award for Danny McGee Drinks the Sea. Buckle up and jump on board for the funniest, most E XPLOSIVE picture book of the year - you'll want to read it again and again-o! Join two intrepid explorers as they take a train-o, jump on a plane-o, ride a Great Dane-o (down the lane-o) on their way to look at the volcano. Nothing could possibly go wrong - could it?! A hilariously anarchic, brightly illustrated rhyming story from multi-award-winning author Andy Stanton. Andy has won a string of awards for his Mr Gum books, including the Red House Children's Book Award, the Roald Dahl Funny Prize, and the Blue Peter Book Award for Best Book With Pictures (twice). Miguel Ordonez is the illustrator of the New York Times bestselling Your Baby's First Word Will Be Dada, written by Jimmy Fallon, the Emmy and Grammy award-winning host of NBC's The Tonight Show. ...Show more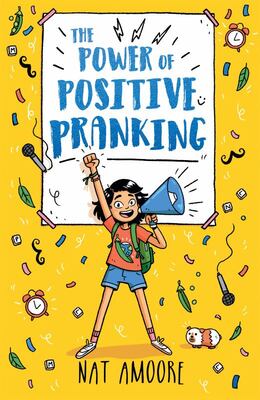 $14.99
AUD
Category: New Junior Fiction
Green Peas is our name and pranking's our game! A symphony of alarm clocks at assembly? Yep, that was us. A plague of fluffy guinea pigs? It's next on our agenda. But for me, Cookie and Zeke, it's about more than just fun. We're determined to make a difference. And when the adults won't listen, us k ids will find a way to be heard - as long as we can stay out of detention! No activist is too small, no prank too big... and things are about to get personal. ...Show more