$24.99
AUD
Category: Coding
Techy kids will getting to grips with Scratch 3.0 using this beginner's guide to coding. Difficult coding concepts become easy and fun to understand as budding programmers build their own projects using Scratch 3.0, the latest software from the world's most popular programming language for beginners. M ake a Dino Dance Party or create your own electronic birthday cards. Build games, simulations and mind-bending graphics as you discover the awesome things computer programmers can do with Scratch 3.0. Computer Coding Projects for Kids uses a visual step-by-step approach to split complicated code into manageable, easy-to-digest chunks, so that the most impressive projects become possible. Suitable for complete beginners, this book will give young readers a solid understanding of programming, preparing them to create their very own projects from scratch, and even move on to more complex programming languages like Python. ...Show more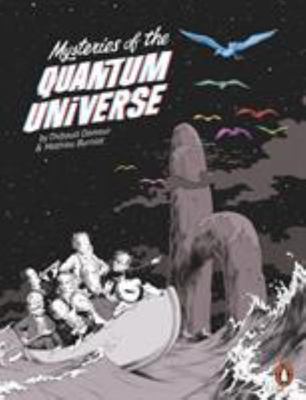 $24.99
AUD
Category: Science
The bestselling French graphic novel about the mind-bending world of quantum physics. Famous explorer Bob and his dog Rick have been around the world and even to the Moon, but their travels through the quantum universe show them the greatest wonders they've ever seen. As they follow their tour guide, t he giddy letter h (also known as the Planck constant), Bob and Rick discover that the universe is bouncy, have crepes with Max Planck, talk to Einstein about atoms, visit Louis de Broglie in his castle, and hang out with Heisenberg on Heligoland. On the way, we find out that a dog - much like a cat - can be both dead and alive, the gaze of a mouse can change the universe, and a comic book can actually make quantum physics fun, easy to understand and downright enchanting. 'Billed as "Tintin meets Brian Cox", the book was created by theoretical physicist Thibault Damour and illustrator Mathieu Burniat so it's as scientifically accurate as it is beautiful.' BBC Focus ...Show more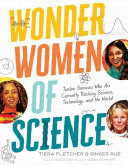 $37.99
AUD
Category: Science
What does it take to be a STEM genius? Check out these exciting, highly readable profiles of a dozen contemporary women who are on the cutting edge of scientific research. Searching the cosmos for a new Earth. Using math to fight human trafficking. Designing invisible (and safer) cars. Unlocking climate -change secrets. All of this groundbreaking science, and much more, is happening right now, spearheaded by the diverse female scientists and engineers profiled in this book. Meet award-winning aerospace engineer Tiera Fletcher and twelve other science superstars and hear them tell in their own words not only about their fascinating work, but also about their childhoods and the paths they traveled to get where they are--paths that often involved failures and unexpected changes in direction, but also persistence, serendipity, and brilliant insights. Their careers range from computer scientist to microbiologist to unique specialties that didn't exist before some amazing women profiled here created them. Here is a book to surprise and inspire not only die-hard science fans, but also those who don't (yet!) think of themselves as scientists. Back matter includes reading suggestions, an index, a glossary, and some surprising ideas for how to get involved in the world of STEM. ...Show more
$24.99
AUD
Category: Maths | Series: Big Fat Notebook Ser.
Everything You Need To Ace Math In One Big Fat Notebook covers everything to get a student over any math hump: fractions, decimals, and how to multiply and divide them; ratios, proportions, and percentages; geometry; statistics and probability; expressions and equations; and the coordinate plane and fun ctions.The Big Fat Notebook series is built on a simple and irresistible conceit -- borrowing the notes from the smartest kid in class. Each book in the series is the only book you need subjects taught from grades 7 to 9: Maths, Science, English, and World History. Inside the reader will find every subject's key concepts, easily digested and summarised: Critical ideas highlighted in marker colours. Definitions explained. Doodles that illuminate tricky concepts. Mnemonics for a memorable shortcut. And quizzes to recap it all. ...Show more
$19.99
AUD
Category: Technology
Engineering Marvels of Australia contains the stories of the design and construction of some of Australia's major feats of engineering. Some of Australia's bridges hydro-electric power stations railways and communications structures were built at times when much of the technology we take for granted tod ay was not available. Many represented the latest in design and technology when they were built. ...Show more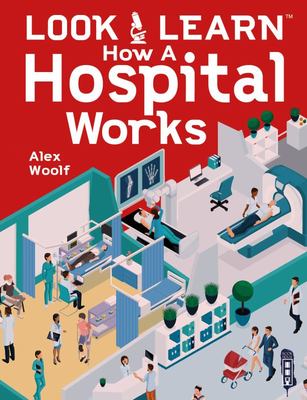 $18.99
AUD
Category: Technology | Series: Look and Learn Ser.
Each title in the Look and Learn series explores a man-made structure layer by layer, looking at how science, technology, engineering, art and mathematics (STEAM) have been employed to make them function. Each spread focuses in on one aspect of the structure, with stunning artwork, bite-sized text, pane ls, labels and diagrams providing multiple entry points into the subjects, making the books appealing and accessible for reluctant readers.How A Hospital Works looks at the scientific innovations that have helped hospitals to save lives and cure illness, including how hospitals process patients arriving in accident and emergency departments and some of the high-tech equipment used to diagnose and treat diseases. ...Show more
$49.99
AUD
Category: Technology
Take an action-packed flight through the history of aircraft and the intrepid pioneers who made a dream become reality.Featuring more than 800 of the greatest commercial and military aircraft ever made, this visual celebration of aeroplanes and aviation traces the history of flight over the past century .With examples of the latest aircraft from around the world, The Aircraft Book takes you on an action-packed ride through to the 21st century, from the first prototypes to today's supersonic jets. Explore stunning photographic galleries of planes, helicopters, and airships, each accompanied by its vital statistics. See inside legendary planes such as the Gipsy Moth, Spitfire, and Concorde, with virtual tours of each key model, from the exterior to the cockpit. Discover the details of aircraft engines from manufacturers such as Rolls-Royce and Rotax to see what powers a great aircraft's performance. And find out how famous marques such as Boeing and Lockheed came to be household names.Aviation enthusiasts of all stripes and ages will be captivated by DK's The Aircraft Book - a comprehensive and beautifully presented guide to the story of flight. ...Show more
$24.99
AUD
Category: Coding
Scratch 3.0 has landed, so stay ahead of the curve with this fully-updated guide for beginner coders. Kids will love the step-by-step, visual approach that makes even the most difficult coding concepts fun and easy to understand. Computer Coding Games for Kids blends coding theory with the practical tas k of creating exciting games. Children will learn the fundamentals of computer programming by showing them how to build their own games. Coding theory is taught through practical tasks, so young programmers don't just learn how computer code works, but also why it's done that way. Jumpy Monkey will show them how to simulate gravity in their games, or give Dog's Dinner a go to learn about collision detection. Once they've whizzed through the book, the possibilities are endless! ...Show more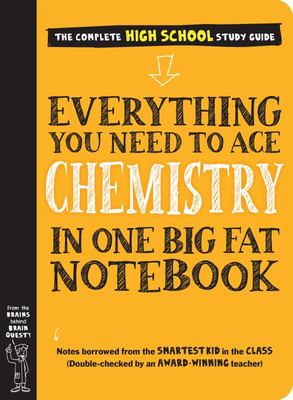 $24.99
AUD
Category: Science | Series: Big Fat Notebooks Ser.
The Big Fat Notebooks are going to high school! Published just four years ago, the Big Fat Notebooks--with nearly 4.6 million copies in print and sales escalating every year--revolutionized the study guide for middle schoolers. Now this lifesaving series is ready to graduate. Announcing the first two ti tles for high school students: Everything You Need to Ace Geometry in One Big Fat Notebook and Everything You Need to Ace Chemistry in One Big Fat Notebook. Designed as the natural next step for the savvy students (and stressed parents) who made Math (over 1 million copies in print) and Science (over 1 million copies in print) the bestselling titles in the middle school series, these books offer a world of help for two of the tougher classes facing most high school sophomores, geometry and chemistry. Using the same formula that made the middle school series so successful, these new high school titles tackle difficult subjects in a lively, memorable, intuitive way. Critical ideas are broken down and clearly explained. Doodles illuminate tricky concepts. There are mnemonics for memorable shortcuts, and quizzes to recap it all. Chemistry is one of the most feared subjects in high school, but fortunately National Science Teacher Award-winner Jennifer Swanson is here to break down this daunting subject into accessible and memorable units, from how to conduct an experiment to the Laws of Thermodynamics. Big Fat Notebooks are already helping millions of middle school students. Now high schoolers will enjoy and benefit from this kind of brilliant help--a set of notes, as if from the smartest kid in class, to help them study throughout the year, get ready for challenging exams, and know they have a source to turn to when they need to catch up on missed problems or understand the most difficult or confusing concepts.     ...Show more
$19.99
AUD
Category: Technology | Series: See Inside
A new addition to the See Inside series about how things - from the most mundane household objects to most complicated machines - work and operate. Lifting the flaps reveals the insides and machinations of machines and devices, explaining in simple, clear language exactly how they work. Machines includ e: diggers, cars, cranes, toilets, taps, microwave ovens and cinema projectors. Ages: 6+ ...Show more
$24.99
AUD
Category: Technology | Series: Lonely Planet Kids
Where does luggage go after check in? What happens in the control tower? How do planes actually fly? This interactive, lift-the-flap book takes you behind-the-scenes to uncover the hidden secrets of the airport - from a peek inside the cockpit to the hustle and bustle of departures. In this follow-up t o How Cities Work, we explore the earliest airports through to today's giant transport hubs and what airports could look like in the future. Packed with amazing facts and illustrations from James Gulliver Hancock, it'll surprise and delight readers young and old, ensuring they never look at air travel in the same way again.  Created in consultation with Tom Cornell, VP Airspace / Airfields, Americas at Landrum & Brown.     Contents include: Airports Through the Ages The Great Get-to-the-Airport Race Find Your Way Round the Airport The Maintenance Hangar In the Terminal Inside an Aircraft The Control Tower Sees All Preparing Planes Ship That Cargo The Incredible Luggage Journey Airports of the Future About Lonely Planet Kids: Come explore! Let's start an adventure. Lonely Planet Kids excites and educates children about the amazing world around them. Combining astonishing facts, quirky humour and eye-catching imagery, we ignite their curiosity and encourage them to discover more about our planet. Every book draws on our huge team of global experts to help share our continual fascination with what makes the world such a diverse and magnificent place - inspiring children at home and in school. ...Show more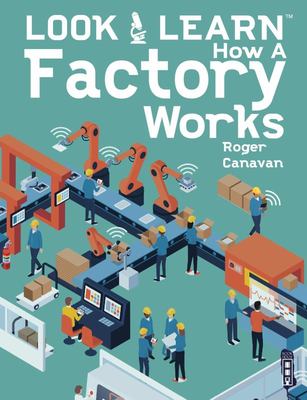 $18.99
AUD
Category: Technology | Series: Look and Learn Ser.
Each title in the Look and Learn series explores a man-made structure layer by layer, looking at how science, technology, engineering, art and mathematics (STEAM) have been employed to make them function. Each spread focuses in on one aspect of the structure, with stunning artwork, bite-sized text, pane ls, labels and diagrams providing multiple entry points into the subjects, making the books appealing and accessible for reluctant readers.How A Factory Works looks at the scientific innovations that have enabled factories to manufacture millions of products worldwide, including how assembly lines help to speed up production, how robots can perform dangerous or boring jobs and how factories are made safer working environments for employees. ...Show more