$27.99
AUD
Category: Science
An exciting picture book introduction to the fascinating (and cutting-edge) science of nanotechnology. Everything is made from something – but the way we make things, from the materials we use to the science and technology involved, is changing fast. Nano offers a fascinating narrative introduction to this cutting-edge area of STEM, better known by the name "nanotechnology". With words by Dr Jess Wade – a highly skilled physicist and trailblazing campaigner for diversity in STEM fields – and beautiful, dynamic pictures by award-winning artist Melissa Castrillón, this is the perfect book for budding young scientists and engineers: a way of stepping beyond their school textbooks to fascinating "real-world" science. ...Show more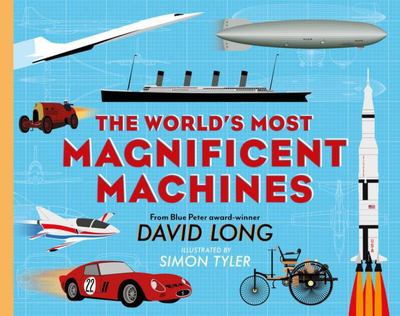 $39.99
AUD
Category: Science
Taking our lead from the travel posters of the 20s and 30s, a beautiful and thrilling round-up of 32 of the best Magnificent Machines from across history. The longest ship ever built, the heaviest digger and the largest aeroplane, the world's first working motorcar, and its most expensive one. What mach ines like these have in common is that they all say a lot about the inventiveness and imagination of the people who conceived and created them. Some of them are useful, others are just a bit of fun, but the best ones are truly magnificent, and fascinating to discover.Designed to drive faster, fly higher, carry more cargo or -in the case of space rockets - travel hundreds of thousands of miles to places no-one has ever been before, not every idea has worked but the best have been inspired and inspirational, and in a few cases they have gone on to change the world. It is the human stories and atmospheric art that make this a book to actually read and delight in. ...Show more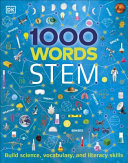 $19.99
AUD
Category: Science
This picture word book of 1000 first science words is the perfect STEM book for helping children learn.It introduces key scientific concepts while broadening children's vocabulary and strengthening their early reading and writing skills. Every picture-packed page is full of things such as sounds, light, senses, and machines,with words for each image.1000 Words- STEM clearly labels each picture, which encourages picture-and-word association and helps early reading. Each topic features questions that ask children to find things on the page or that stimulate thinking, talking, and early science skills. The words have been chosen with the help of a leading educational consultant, and include lots of useful nouns, plus some interesting adjectives, and common verbs.This fun and educational picture word book is a must-have first reference title for parents who are keen to develop their child's language, science, and literacy skills. ...Show more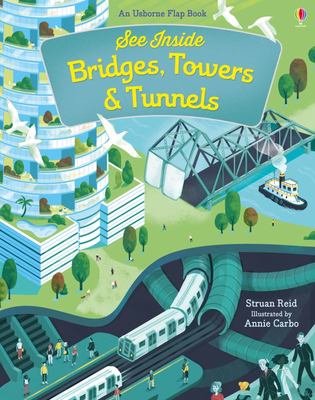 $19.99
AUD
Category: Technology | Series: See Inside
Delve behind the scenes to look inside bridges, tunnels and towers around the world. Lift the flaps to reveal the mechanics and engineering of constructions including the Channel Tunnel connecting England and France, the Burj Khalifa in Dubai, the tallest building in the world, and many more. Usborne ar e official partners of the Year of Engineering 2018, a UK government initiative to inspire the next generation of engineers. With beautiful full-colour illustrations and fascinating details to discover on every page. Lift the flaps on each illustration to reveal layers of further information. ...Show more
$19.99
AUD
Category: Technology | Series: Lift the Flap Ser.
This visually exciting lift-the-flap book charts the rise of an urban skyscraper, covering every stage of its construction - from safely demolishing its predecessor to hanging glass walls forty storeys up. With over 70 flaps to lift, revealing modern construction methods and showing how different tools and vehicles are used. Informative, fun and accessible lift-the-flap book which is a fantastic source of information for children interested in construction. An extra-large format and double gate-fold help convey the dramatic scale of modern building projects. Part of a collectable series full of science and engineering marvels, including Engineering, and the Periodic Table. ...Show more
$19.99
AUD
Category: Science | Series: BIG IDEAS That Changed the World Ser.
Award-winning author Don Brown explores the history of vaccines from smallpox to COVID-19 in this installment of the Big Ideas That Changed the World series   A Shot in the Arm! explores the history of vaccinations and the struggle to protect people from infectious diseases, from smallpox--perhaps human kind's greatest affliction to date--to the COVID-19 pandemic. Highlighting deadly diseases such as measles, polio, rabies, cholera, and influenza, Brown tackles the science behind how our immune systems work, the discovery of bacteria, the anti-vaccination movement, and major achievements from Lady Mary Wortley Montagu, who popularized inoculation in England, and from scientists like Louis Pasteur, Antonie van Leeuwenhoek, and Edward Jenner, the "father of immunology." Timely and fascinating, A Shot in the Arm! is a reminder of vaccines' contributions to public health so far, as well as the millions of lives they can still save.   Big Ideas That Changed the World is a graphic novel series that celebrates the hard-won succession of ideas that ultimately changed the world. Humor, drama, and art unite to tell the story of events, discoveries, and ingenuity over time that led humans to come up with a big idea and then make it come true.   ...Show more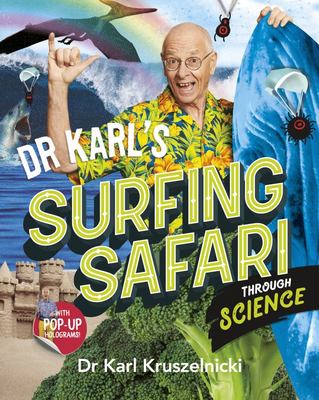 $35.00
AUD
Category: Science
Australia's favourite science guru returns with a new haul of extraordinary stories from our incredible Universe - includes pop-up Dr Karl holograms! Dr Karl is surfing the Universe for all that's gnarly, awesome, weird and wonderful.Why is sharpening a pencil in space a risky business?What makes a suns et red and not blue?How far would the Earth's viruses reach if you laid them end to end?Which animal grows an anus every time it needs to poo?Find out how spiders can fly and count, whether 5G networks are safe, why we're running out of sand, and the answer to the Question on Everyone's Lips - how to make the best coffee.Plus loads more, including pop-up Karl holograms!So take a surfing safari with Dr Karl and get ready to Hang Ten - or wipe out. ...Show more
$19.99
AUD
Category: Body
Min is a microbe. She is small.Very small. In fact, so small that you'd need to look through a microscope to see her. Or you can simply open this book and take Min on an adventure to amazing places she's never seen before--like the icy glaciers of your tooth or the twisted, tangled jungle of your shirt . Written by Idan Ben-Barak, with illustrations from Julian Frost, Do Not Lick This Book is perfect for anyone who wants to take a closer look at the world. ...Show more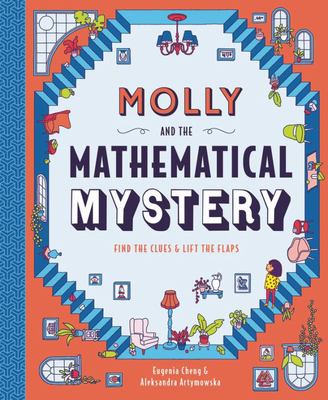 $32.99
AUD
Category: Maths
Find the clues and lift the flaps on this mathematical mystery! Join Molly as she ventures into a curious world where nothing is quite as it seems... A trail of clues lead from scene to scene, presenting Molly with a number of challenges. But who is leaving the clues and where will they lead? This int eractive mystery shows maths isn't just about numbers and sums - its about imagination! An explorative and creative approach to the sometimes daunting topic of maths. ...Show more
$24.99
AUD
Category: Science | Series: Big Fat Notebooks Ser.
The Big Fat Notebooks' big step up to high school continues! Announcing Biology, the third in the high school series. With over 5 million copies in print worldwide since 2016, and sales escalating every year, the Big Fat Notebooks series is revolutionising the middle and high school study guide. And Bio logy continues with the high school STEM concentration, following Chemistry and Geometry, which in turn followed in the footsteps of the middle school series' bestselling titles, Math (1.56 million copies in print) and Science (with 1.18 million copies in print). Wrapping its arms around a subject that covers everything from life at the molecular level to the entirety of an ecosystem, Biology tackles all the big ideas: biological classification and hierarchy, cell theory, genetics, the human body, evolution, and more. And it does so in that lively, useful, and intuitive way that makes the Big Fat Notebooks so singular and successful: Critical ideas are broken down and clearly explained; doodles illuminate tricky concepts; mnemonics provide memorable shortcuts; and quizzes recap it all. Plus, the author, Matthew Brown, a biomedical engineer and science communicator, has an easy, engaging way of bringing even the most complex scientific concepts to life. ...Show more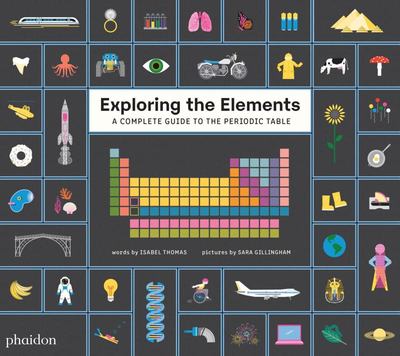 $34.95
AUD
Category: Science
Science meets design in this comprehensive introduction to the chemical elements that make up our universe This artful and accessible guide to the periodic table -- the ultimate reference tool for scientists worldwide -- names all 118 chemical elements and helps young readers understand the remarkable w ays we have learned to use them. Graphically stunning layouts feature each element's letter symbol and atomic number, exploring its attributes, characteristics, uses, and interesting stories behind its discovery. Complete with a comprehensive introduction, conclusion, and glossary, this is the perfect introduction to chemistry for inquisitive minds. Ages 8-14 ...Show more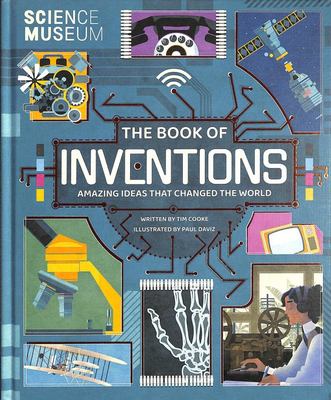 $35.00
AUD
Category: Science
Featuring over 40 inventions, from flushing toilets to drones, microscopes to MRI scanners, this brilliant STEM-themed read will get kids interested in the technology and gadgets that make the world go round.