Don't Forget
by Jane Godwin; Anna Walker (Illustrator)
$19.99
AUD
Category: Picture Books
Don't forget to make your bed, and wear socks that fit your feet... Don't forget to care, to play, To run, to laugh... Sometimes, we need to remember all the things we can do to be part of the world. Small things, like offering a smile. And bigger things, like hoping, dreaming, imagining...  
$19.99
AUD
Category: Picture Books | Series: Smiling Mind
Super-Me is the second book in the five-part mindfulness-informed series, developed in collaboration with Smiling Mind, Australia's leading not-for-profit organisation in the pre-emptive mental health space. Sonny's tutu is his most special thing. It makes him SUPER! On his first day of school, Sonny h as butterflies. He wants to wear his tutu so he feels super again, but nothing goes quite to plan. Will Sonny face his feelings and discover what really makes him super? This heartwarming picture book celebrates individuality and community, and shows the importance of acknowledging ALL our feelings. ...Show more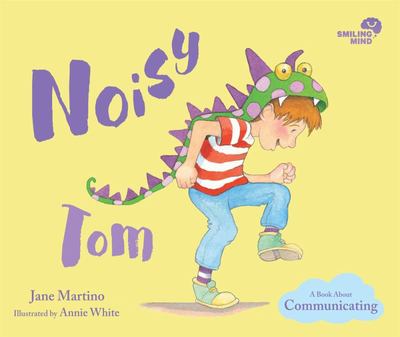 $19.99
AUD
Category: Feelings & Emotions
Noisy Tom is the third book in the five-part mindfulness-informed series, developed in collaboration with Smiling Mind, Australia's leading not-for-profit organisation in the pre-emptive mental health space. Tom is loud. Everything he does makes noise. At the park, Tom discovers different people have di fferent ways of playing - loud and quiet, fast and slow. Tom tries out all the different ways, but realises there's only one way to show his feelings . . . his way. This fun story celebrates all the different ways that people communicate their feelings. ...Show more
$24.95
AUD
Category: Resilience
If kids with anxiety could see their strengths, they would feel so much bigger than their anxiety. They would feel bigger than everything - as though a tiny, tip-toed stretch could have them touching the top of the world from where they are. This book is a reminder for all kids that everything they need to be brave, strong and brilliant is already in them. ...Show more
$16.99
AUD
Category: Everyday Life
El Deafo is a funny, deeply honest graphic novel memoir for middle graders. It chronicles the author's hearing loss at a young age and her subsequent experiences with a powerful and very awkward hearing aid called the Phonic Ear. It gives her the ability to hear--sometimes things she shouldn't--but also isolates her from her classmates. She really just wants to fit in and find a true friend, someone who appreciates her, Phonic Ear and all. Finally, she is able to harness the power of the Phonic Ear and become "El Deafo, Listener for All." And more importantly, declare a place for herself in the world and find the friend she's longed for. ...Show more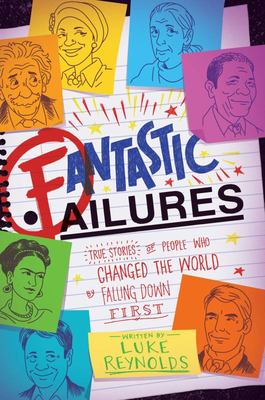 $19.99
AUD
Category: Biography
Even the most well-known people have struggled to succeed Find out what they learned and how they turned their failures into triumphs with this engaging and youthful guide on how to succeed long term.   There is a lot of pressure in today's society to succeed, but failing is a part of learning how to be a successful person. In his teaching career, Luke Reynolds saw the stress and anxiety his students suffered over grades, fitting in, and getting things right the first time. Fantastic Failures helps students learn that their mistakes and failures do not define their whole lives, but help them grow into their potential.   Kids will love learning about some of the well-known people who failed before succeeding and will come to understand that failure is a large component of success. With stories from people like J. K. Rowling, Albert Einstein, Rosa Parks, Sonia Sotomayor, Vincent Van Gogh, Julia Child, Steven Spielberg, and Betsy Johnson, each profile proves that the greatest mistakes and flops can turn into something amazing. Intermixed throughout the fun profiles, Reynolds spotlights great inventors and scientists who discovered and created some of the most important medicines, devices, and concepts of all time, including lifesaving vaccines and medicines that were stumbled upon by mistake. ...Show more
$14.99
AUD
Category: Resilience
From award-winning author Sharon Draper comes Out of My Mind, the story of a brilliant girl who cannot speak or write. Melody is not like most people. She cannot walk or talk, but she has a photographic memory; she can remember every detail of everything she has ever experienced. She is smarter than mo st of the adults who try to diagnose her and smarter than her classmates in her integrated classroom—the very same classmates who dismiss her as mentally challenged, because she cannot tell them otherwise. But Melody refuses to be defined by cerebral palsy. And she's determined to let everyone know it…somehow. In this breakthrough story, reminiscent of The Diving Bell and the Butterfly, from multiple Coretta Scott King Award-winner Sharon Draper, readers will come to know a brilliant mind and a brave spirit who will change forever how they look at anyone with a disability. ...Show more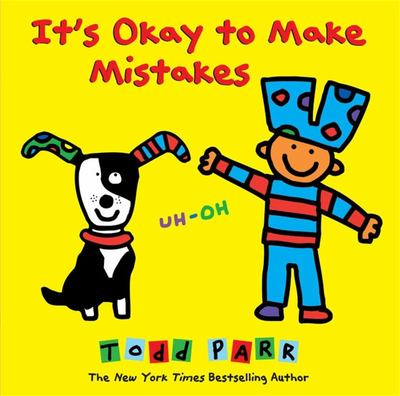 $24.99
AUD
Category: Picture Books
Todd Parr's bestselling books have reminded kids to embrace differences, to be thankful, to love one another, and to be themselves. It's Okay to Make Mistakes embraces life's happy accidents, the mistakes and mess-ups that can lead to self discovery. Todd Parr brings a timely theme to life with his sign ature bold, kid-friendly illustrations and a passion for making readers feel good about themselves, encouraging them to try new things, experiment, and dare to explore new paths. From coloring outside the lines and creating a unique piece of art to forgetting an umbrella but making a new friend, each page offers a kid-friendly take on the importance of taking chances, trying new things, and embracing life, mistakes and all. ...Show more
$26.99
AUD
Category: Picture Books
Tiger and Cat are the best of friends. So, when Tiger has to go away to Tiger camp to earn his stripes, not for a few hours, but for weeks, months, years maybe... Cat is left with an empty house and a lonely heart. As it turns out Tiger isn't very good at doing Tiger things. And, besides, he misses drin king tea with Cat. This is a story about finding where you belong and someone who likes your stripes just the way they are.   ...Show more
$14.99
AUD
Category: Picture Books
Mabel may be small but she has BIG plans . . . Introducing the marvellous Mabel - an adventurous fly who dreams of climbing mountains, much to the disbelief of her flying friends. From exciting new picture-book talent Kim Hillyard, this positive picture book will inspire readers big and small to follo w their hearts and face new challenges. ...Show more
$37.99
AUD
Category: Picture Books
A Story about the Endless Potential in All of UsWritten by Kobi Yamada / Illustrated by Gabriella BarouchYou are the only you there ever has been or ever will be. You are unique in all the universe. Just the odds of you being here at this exact place and this exact time are so great and so rare that it will never happen again.Written by the New York Times best-selling author of What Do You Do With an Idea?, this is a story for everything you will do and everything you can be — for who you are right now and all the magical, unbounded potential you hold inside.With rich, enchanting illustrations, it's a reminder that you were meant for incredible things.And maybe, just maybe, you will exceed your wildest dreams. ...Show more
$32.99
AUD
Category: Picture Books
This is the story of a persistent problem and the child who isn¿t so sure what to make of it. The longer he avoids the problem, the bigger it seems to get. But when the child finally musters up the courage to face it, the problem turns out to be something quite different indeed.
Items per page:
1 - 12 of 12