These are some of the upcoming titles that we're super excited about, and think you will be too!
If you use the 'Notify Me' function, we'll let you know when it arrives.
Alternatively, please feel free to email us at orders@littlebookroom.com.au to pre-order any other titles you want to get your hands on.
$15.99
AUD
Category: Mystery | Series: Friday Barnes
Friday Barnes is back with a new mystery to be solved. It's two years later . . . Friday steps out of prison, a shell of her former self. She's still wearing the same brown cardigan, but she swears she's never solving mysteries again! Yeah right – who is she kidding? She can't suppress her brilliant d eductive mind and is soon drawn back into the intrigues of Highcrest Academy. Then Uncle Bernie rings, pleading with Friday to fly to Italy and help him protect the Uffizi Galleries from a team of art thieves – and she can't say 'no' to family. Even if it means travelling to the city where Ian, her ex-boyfriend/nemesis is living. Will Friday be able to protect Italy's finest artworks? Will Melanie stay awake long enough to help her? And will Ian still be as gorgeous as a Greek god and twice as annoying? ...Show more
$17.99
AUD
Category: Comics, Graphic Novels and Manga
In the shadows, trouble is brewing... When Starflight is stolen by his own tribe, he hopes to at least discover some of the long-held NightWing secretswhat magical powers they really have, who theyre allied with in the war, and where theyve been living all this time. But the truth about Starflights trib e is more terrible than he ever imagined: Not only do the NightWings live in a dark, miserable place, but theyve imprisoned several innocent RainWings there, too. Stranded and alone, Starflight only wants to get back to his friends. But the fate of two kingdoms now rests in his talons, and with no one to save him, Starflight will have to find a way to be brave... before its too late. ...Show more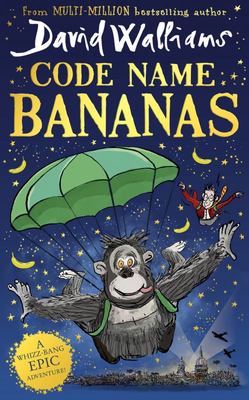 $22.99
AUD
Category: NEW Middle Grade
1940. Britain is at war with Nazi Germany. Eleven-year-old Eric spends his days at the place that makes him most happy: London Zoo. And there's one animal in particular he loves: Gertrude the gorilla. With bombs falling all over London, Eric must rescue Gertrude. Together with his Uncle Sid, a keeper at the zoo, the three go on the run. But while hiding out at the seaside they uncover a top-secret Nazi plot… Join David Walliams on this action-packed, laugh-out-loud adventure for all the family! ...Show more
$14.99
AUD
Category: Action & Adventure
Little Gem is settling into her life at Ellsworth Pining with the help of Ghost Henry and her other friends. Everyone is preparing for the Midsummer Festival and Little Gem is in charge of the special effect for the Midsummer play. But when Little Gem's magic starts to go wrong and she receives several mysterious letters, Gem is worried that the festival is going to be a disaster! Will Little Gem be able to work out who is sending the letters and regain her confidence before opening night?   ...Show more
$16.99
AUD
Category: Dragons (what to read after Wings of Fire) | Series: Wings of Fire
Snowfall didn't expect to be queen of the IceWings at such a young age, but now that she is, she's going to be the best queen ever. All she has to do is keep her tribe within IceWing territory, where its safewhile keeping every other tribe out, where they belong. It's a perfect and simple plan, backed u p by all the IceWing magic Snowfall can find. That is, until a storm of unidentified dragons arrives on her shore, looking for asylum. The foreigners are completely strange and, Snowfall is certain, utterly untrustworthy. But as she escorts the miserable new tribes out of her kingdom, Snowfall is forced to reconsider her plan. Maybe she can only keep her tribe safe... if she's willing to risk everything. ...Show more
$14.99
AUD
Category: Silly Stories
Without music, the world is just blah. That's my take on life, anyway. Mum says rock is the only music worth listening to, but I think everyone should find their own beat. When I hear that Principal Keiren plans to cut all of the arts classes at Watterson Primary, there's no way me and my new mate Fly nn are gonna let that happen. We're dragging our secret Broadway appreciation society into the spotlight. It's time for Watterson- The Musical!   ...Show more