$16.99
AUD
Category: Mystery | Series: The Violet Veil Mysteries
A breakout new detective series, from the author of the spine-tingling Scarlet and Ivy series, beautifully illustrated by Hannah Peck. Violet Veil wants nothing more than to prove her worth and become her father's apprentice at Veil & Sons Undertakers. And one rain-soaked night she gets her chance when she meets a boy, Oliver, who is wandering around the graveyard. Only, the last time Violet saw Oliver, he was indoors and very much dead, waiting to be buried. Victoria has just found her first case, and it doesn't get bigger than this: can she, with the help of her dog, Bones, help Oliver solve his own 'murder'? ...Show more
$17.99
AUD
Category: Mystery
The first middle-grade novel from award-winning author Nicki Greenberg, this book is a classic whodunnit mystery set aboard a grand ocean liner in the 1920s. For as long as she can remember, Pepper Stark has wanted one thing: to join her father, the Captain, aboard the magnificent RMS Aquitania on a vo yage to New York. She has never been allowed to set foot on her father's ship – until now. From the decadent food to the star-studded passenger list, travelling First Class on Aquitania is every bit as glamorous as Pepper had imagined. And most dazzling of all is American stage sensation Perdita West, wearing the world-famous Saffron Diamond around her neck. When the priceless jewel disappears mid-voyage, Pepper unexpectedly finds herself entangled in the crime. With the Captain's reputation at stake, Pepper and her new friends set out to solve the mystery. But finding a missing diamond isn't so easy on Aquitania, where everyone has something to hide … With first-class glitz and glamour and a deliciously plotted intrigue featuring an uppity stage star, a missing diamond, a leopard and a loveable cast of child sleuths, The Detective's Guide to Ocean Travel is an exciting romp on the high seas, perfect for fans of Murder Most Unladylike and The Good Thieves. ...Show more
$16.99
AUD
Category: Mystery | Series: Plum and Woo
A dazzling, whip-smart mystery series about two very different girls and a whole heap of danger …   Hannah Plum loves fashion, fun, and junk food. Patti Woo is obsessed with detective novels, lives in leggings, and is definitely not Hannah's friend. But the two girls are stuck at the beachside Heartbre ak Hotel together while Hannah's dad and Patti's mum are out birdwatching and – yuck! – falling in love.    When a hotel guest's beautiful pink wedding dress is stolen, Hannah is determined to get to the bottom of it. With a reluctant Patti in tow, the two girls are launched into an ever-deepening mystery. Why is a wedding planner sending secret signals to an unknown guest? Who's leaving creepy wet diving relics in the hotel rooms? And could some long-lost, famous pink pearls be at the heart of it all?   If Plum and Woo want to survive the summer, they'll need to solve this mystery in style. But first, they'll have to survive each other …   In every Plum & Woo instalment, Hannah and Patti will investigate a surprising and sinister fashion mystery while also navigating their newly blending family. Brimming with fun, danger and highly relatable tween angst, this series is perfect for 9+!      ...Show more
$16.99
AUD
Category: Mystery
Aidan disappeared for six days. Six agonising days of searches and police and questions and constant vigils. Then, just as suddenly as he vanished, Aidan reappears. Where has he been? The story he tells is simply...impossible. But it's the story Aidan is sticking to. His brother, Lucas, wants to believ e him. But Lucas is aware of what other people, including their parents, are saying- that Aidan is making it all up to disguise the fact that he ran away. When the kids in school hear Aidan's story, they taunt him. But still Aidan clings to his story. And as he becomes more of an outcast, Lucas becomes more and more concerned. Being on Aidan's side would mean believing in the impossible. But how can you believe in the impossible when everything and everybody is telling you not to? ...Show more
$14.99
AUD
Category: Mystery
April is one of five foster kids living at Winterborne Home, a sprawling mansion full of secrets. The biggest secret is that Gabriel Winterborne, their reclusive millionaire guardian, is actually The Sentinel, a masked vigilante tasked with protecting the city.When Gabriel goes missing, it's up to the k ids to find him before his enemies do.Full of adventure, gadgets and humour, the second book in the captivating new series from the bestselling author of Gallagher Girls will have you hooked!Praise for The Winterborne Home for Vengeance and Valour:'In her middle grade debut, Carter (Not If I Save You First) offers up mystery, intrigue, and swashbuckling action in a rollicking story of long-lost secrets and found family.' - Publishers Weekly'This is a wonderful, fast-paced story that is equal parts fun and mysterious. The characters are really enjoyable, and readers will love the unique talents that each one has!' - Lamont Books'Hand this one to those who enjoy action, mystery, and kick-butt characters.' - Booklist'Thrilling, on the edge of your seat reading, Winterborne Home For Vengeance and Valour is a gripping mystery with more twists and turns than a labyrinth ... This well-crafted, fast-paced novel demands a one-sitting read. Ally Carter has created an unstoppable heroine that blazes through the book accompanied by a fantastic supporting cast of characters. Action-filled pages keep the reader glued to their seat until the end. I loved it and can't wait for the next instalment.' - Anastasia Gonis, Kids Book Review ...Show more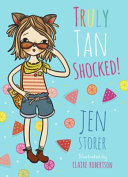 $16.99
AUD
Category: Mystery | Series: Truly Tan Ser.
Tan is cool, courageous and clever. But she's in for a shock! Dear DiaryI am writing to you with the aid of my Ballerina Panda pen. You know, the one that makes your words dance across the page.Guess who is number one on my Secret Spy Watch List? Go on. Guess! It's Miss Dragone. Miss Dragone has alway s been an ordinary, boring, Grade Four teacher with no surprises and a loud voice.But not anymore.These days she is acting weird, strange and highly suspicious.I've been watching her very closely. Conclusion: Miss Dragone is in danger.I just know it! TrulyTan   ...Show more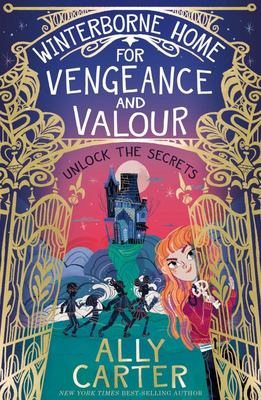 $14.99
AUD
Category: Mystery
 When 11-year-old April joins a group of kids living at Winterborne Home she doesn't expect to be there for very long. But she soon learns that this home isn't like any of the others - especially when she unearths the secret of the missing-and-presumed-dead billionaire, Gabriel Winterborne, who is neith er missing nor dead but is actually living in a basement lair, sharpening his swords and looking for vengeance. Now that April knows Gabriel Winterborne is alive, she must turn to the other orphans to keep him that way. As a looming new danger threatens to take Gabriel down once and for all, they must use their individual talents to find a way to make sure this home for misfits isn't lost to them for ever. Because at the Winterborne Home, nothing is what it seems, no one is who they say they are and nowhere is safe. And now a ragtag group of orphans must unravel the riddle of a missing heir, a supposed phantom and a secret key, all without alerting the adults of Winterborne House that trouble is afoot. The first book in a captivating new series from the bestselling author of Gallagher Girls.   ...Show more
$15.99
AUD
Category: Mystery | Series: Friday Barnes
Friday Barnes is being attacked on all fronts! When Friday Barnes gets involved in her frenemy Ian Wainscott's family dispute, it appears her knack for uncovering the truth may ruin their friendship once and for all. Highcrest Academy is no longer a fun place to be. Ian has declared war on Friday and she is thinking of leaving . . . for good. Meanwhile, there's two new teachers to contend with - a celebrity artist whose intentions are somewhat unclear, and an over-enthusiastic PE teacher on a fitness crusade. Between them and Ian, it's going to be one dangerous term. Can Friday repair her friendship with Ian, restore her perfect school-life balance and work out who is committing the blatant acts of vandalism around Highcrest? No one said high school would be easy! ...Show more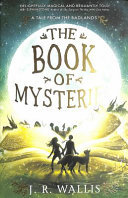 $14.99
AUD
Category: Mystery | Series: Tales from the Badlands Ser.
'Delightfully magical and brilliantly told' Abi Elphinstone, author of Sky Song on The Boy With One Name  Welcome to the Badlands ... a hidden part of our world full of creatures which most people think exist only in fairy tales and nightmares. Ruby is trying to change the future. Her fate is in the h ands of the council as they prepare to decide once and for all if girls can be Badlanders too. Jones is running from his past. He's determined to help Ruby fulfil her destiny, but first he will need to shake off the vengeful ghost of Maitland, the Master he betrayed.   Then they are challenged to solve a notoriously unsolvable case from The Book of Mysteries, and Ruby and Jones think it might just be the lifeline they need. But there's a reason no Badlander has ever returned from Great Walsingham, and the two friends will have to rely on more than magic if they want to survive... Dive into a world of magic in an adventure perfect for fans of Abi Elphinstone, Jonathan Stroud and J.K. Rowling. ...Show more
$15.99
AUD
Category: Mystery | Series: Friday Barnes
Friday Barnes is back with a new mystery to be solved. It's two years later . . . Friday steps out of prison, a shell of her former self. She's still wearing the same brown cardigan, but she swears she's never solving mysteries again! Yeah right – who is she kidding? She can't suppress her brilliant d eductive mind and is soon drawn back into the intrigues of Highcrest Academy. Then Uncle Bernie rings, pleading with Friday to fly to Italy and help him protect the Uffizi Galleries from a team of art thieves – and she can't say 'no' to family. Even if it means travelling to the city where Ian, her ex-boyfriend/nemesis is living. Will Friday be able to protect Italy's finest artworks? Will Melanie stay awake long enough to help her? And will Ian still be as gorgeous as a Greek god and twice as annoying? ...Show more
$15.99
AUD
Category: Mystery
Friday Barnes has a new case, and this time it?s personal!When Friday?s father turns up out of the blue, he brings his daughter some distressing news - Friday?s mother has been kidnapped! But who would want to kidnap a theoretical physicist? The Headmaster needs Friday?s help too, when Highcrest Academy is thrown into chaos by the arrival of a beautiful new student - Princess Ingrid of Norway. She?s rich, she?s royal and she?s got her eye on Ian Wainscott. Despite heightened security at the school, things start to go missing. It appears Highcrest Academy has been infiltrated by a master thief, The Pimpernel. Can Friday crack the case of her missing mother, reign in a royal brat and unmask the elusive Pimpernel? If it means she gets to ditch PE, then of course she can! ...Show more