$16.99
AUD
Category: Realism
Thirteen-year-old Clem deals with fitting in and falling out in this authentic story of friendship, from a beloved middle-grade author.Clem Timmins can't wait to see her best friends after being apart all summer holidays. But when they get back together, things have changed. Bridge is boy-crazy and acti ng like a different person. Ellie is wearing a bra and having a real-life romance. Clem feels left behind. When she makes friends with Tom, suddenly everyone's gossiping about whether they're going to be a couple. Clem's got no interest in having a boyfriend. Or does she?At school camp, Bridge crosses the line and Clem has to ask herself - can she keep growing up with her friends when they're growing apart? This story of fitting in and falling out perfectly captures how it feels to balance on the edge of who you are and who you want to be. ...Show more
$14.99
AUD
Category: Fun and Funny | Series: Awesome Friendly Kid
Scare yourself silly with Rowley Jefferson's Awesome Friendly Spooky Stories by Jeff Kinney, the #1 international bestselling author of Diary of a Wimpy Kid! Grab a flashlight, crawl under the covers, and dive into the twisted, unexpectedly hilarious world of Rowley Jefferson's imagination. You'll meet zombies, vampires, ghosts, and much more in these comically terrifying tales. Rowley's spooky stories might leave you laughing, but beware-you could end up sleeping with the lights on! And don't miss Rowley Jefferson's first two awesome friendly books, the instant #1 bestsellers Diary of an Awesome Friendly Kid- Rowley Jefferson's Journal and Rowley Jefferson's Awesome Friendly Adventure! ...Show more
$16.99
AUD
Category: NEW Middle Grade | Series: Murder Most Unladylike
The final novel in the number-one bestselling, award-winning Murder Most Unladylike series. Daisy Wells and Hazel Wong are in Egypt, where they are taking a cruise along the Nile. They are hoping to see some ancient temples and a mummy or two; what they get, instead, is murder. Also travelling on the SS Hatshepsut is a mysterious society called the Breath of Life: a group of genteel English ladies and gentlemen, who believe themselves to be reincarnations of the ancient pharaohs. Three days into the cruise their leader, Theodora Miller, is found dead in her cabin, stabbed during the night. It soon becomes clear to Daisy and Hazel that Theodora's timid daughter Hephzibah, who is prone to sleepwalking, is being framed. And within the society, everyone has a reason to want Theodora dead... Daisy and Hazel leap into action and begin to investigate their most difficult case yet. But there is danger all around, and only one of the Detective Society will make it home alive... ...Show more
$16.99
AUD
Category: Mystery | Series: The Violet Veil Mysteries
A breakout new detective series, from the author of the spine-tingling Scarlet and Ivy series, beautifully illustrated by Hannah Peck. Violet Veil wants nothing more than to prove her worth and become her father's apprentice at Veil & Sons Undertakers. And one rain-soaked night she gets her chance when she meets a boy, Oliver, who is wandering around the graveyard. Only, the last time Violet saw Oliver, he was indoors and very much dead, waiting to be buried. Victoria has just found her first case, and it doesn't get bigger than this: can she, with the help of her dog, Bones, help Oliver solve his own 'murder'? ...Show more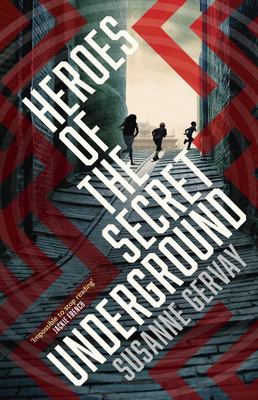 $16.99
AUD
Category: History
A timely and powerful time-slip story inspired by the author's family in Budapest during the Holocaust Louie lives with her brothers, Bert and Teddy, in a hotel run by their grandparents. It is one of Sydney's grand old buildings, rich in history ... and in secrets. When a rose-gold locket, once thoug ht lost, is uncovered, it sends Louie and her brothers spinning back in time. Back to a world at war: Budapest in the winter of 1944, where their grandparents are hiding secrets of their own ... From bestselling author Susanne Gervay comes a heart-racing timeslip story inspired by her own family's escape from Budapest during the Holocaust. ...Show more
$17.99
AUD
Category: Mystery
The first middle-grade novel from award-winning author Nicki Greenberg, this book is a classic whodunnit mystery set aboard a grand ocean liner in the 1920s. For as long as she can remember, Pepper Stark has wanted one thing: to join her father, the Captain, aboard the magnificent RMS Aquitania on a vo yage to New York. She has never been allowed to set foot on her father's ship – until now. From the decadent food to the star-studded passenger list, travelling First Class on Aquitania is every bit as glamorous as Pepper had imagined. And most dazzling of all is American stage sensation Perdita West, wearing the world-famous Saffron Diamond around her neck. When the priceless jewel disappears mid-voyage, Pepper unexpectedly finds herself entangled in the crime. With the Captain's reputation at stake, Pepper and her new friends set out to solve the mystery. But finding a missing diamond isn't so easy on Aquitania, where everyone has something to hide … With first-class glitz and glamour and a deliciously plotted intrigue featuring an uppity stage star, a missing diamond, a leopard and a loveable cast of child sleuths, The Detective's Guide to Ocean Travel is an exciting romp on the high seas, perfect for fans of Murder Most Unladylike and The Good Thieves. ...Show more
$16.99
AUD
Category: Mystery | Series: Plum and Woo
A dazzling, whip-smart mystery series about two very different girls and a whole heap of danger …   Hannah Plum loves fashion, fun, and junk food. Patti Woo is obsessed with detective novels, lives in leggings, and is definitely not Hannah's friend. But the two girls are stuck at the beachside Heartbre ak Hotel together while Hannah's dad and Patti's mum are out birdwatching and – yuck! – falling in love.    When a hotel guest's beautiful pink wedding dress is stolen, Hannah is determined to get to the bottom of it. With a reluctant Patti in tow, the two girls are launched into an ever-deepening mystery. Why is a wedding planner sending secret signals to an unknown guest? Who's leaving creepy wet diving relics in the hotel rooms? And could some long-lost, famous pink pearls be at the heart of it all?   If Plum and Woo want to survive the summer, they'll need to solve this mystery in style. But first, they'll have to survive each other …   In every Plum & Woo instalment, Hannah and Patti will investigate a surprising and sinister fashion mystery while also navigating their newly blending family. Brimming with fun, danger and highly relatable tween angst, this series is perfect for 9+!      ...Show more
$16.99
AUD
Category: Realism
What I feel most days is that nothing is ever going to change. That my life won't even start, and that I'll be stuck like this forever.Wen Zhou is the daughter and only child of Chinese immigrants whose move to the lucky country has proven to be not so lucky. Wen and her friend, Henry Xiao - whose mum a nd dad are also struggling immigrants - both dream of escape from their unhappy circumstances, and form a plan to sit an entrance exam to a selective high school far from home. But when tragedy strikes, it will take all of Wen's resilience and resourcefulness to get herself and Henry through the storm that follows.Tiger Daughter is a novel that will grab hold of you and not let go.'An unforgettable story of family, friendship and finding your voice. I adore this book.' - Nova Weetman'This gem of a book is packed with moments of unbearable tension and characters so complex and vivid they will stay with you long after it ends. At once heartbreaking and uplifting, Tiger Daughter is a testament to the strength of women and girls - and a terrific read. I couldn't put it down. Beautiful. Brutal. Brilliant.' - Ambelin Kwaymullina ...Show more
$16.95
AUD
Category: Middle Fiction (8-12)
Two very different Grade 6 girls meet in their school sick bay. Meg is a loner. Grieving over the death of her father, and struggling with changes at home, she wears slippers to school and hides out in sick bay to avoid other kids. New girl Riley, is a Type 1 diabetic and already popular. She doesn't want to go to sick bay, but sometimes she has to if she's having a high or a low. As Meg and Riley are forced to spend more and more time together in the cramped sick bay room, they start to uncover each other's secrets and find the courage to be who they really are. ...Show more
$17.99
AUD
Category: Fun and Funny | Series: Jack Heath Comedies Ser.
Levi is pretty sick of starring in Dad's stupid TV show, Kid Kablam. Because Levi is the kid who gets KABLAMMED! So far he's been knocked down, blown up, and attacked by wild animals. And Dad has one more scene planned-the most dangerous stunt so far. Can Levi survive this final stunt without seriously stacking it?   ...Show more
$16.99
AUD
Category: Adventure
Quests, treasure, sidekicks, sworn enemies, daring deeds, unbelievable escapes... and so much more!  Young editors, mentored by children's author Rebecca Lim and publishing industry professionals, have put together a collection of adventure-themed stories, unlike anything you've ever seen.  The collec tion includes 12 intrepid tales, comics, and poems written by young Australian writers between the ages of 8 and 12, alongside a contribution from a beloved children's author yet to be announced. This book was conceived and created by young authors through the Early Harvest publishing program at 100 Story Building. Previous books developed through this program have published the work of 116 young authors as well as original contributions from Andy Griffiths, Terry Denton, Shaun Tan, Alice Pung, Sally Rippin, Maxine Beneba Clarke, Andrew McDonald, Davina Bell, and Morris Gleitzman. ...Show more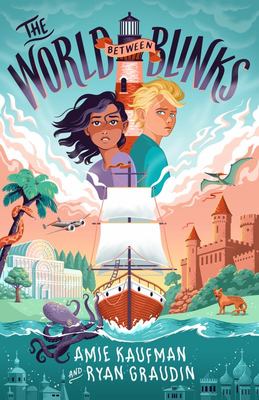 $16.99
AUD
Category: Fantasy & Magic | Series: The\World Between Blinks Ser.
Discover a magical world where lost things are found ... Whenever cousins Jake and Marisol get together, adventure follows. They have their late Nana to thank for that. Her epic trips and treasure hunts were the stuff of family legend. This summer, with the whole family reuniting for one last vacation at Nana's home, the cousins are in for a legendary trip of their own. Following a map Nana left behind, Jake and Marisol sneak out to a nearby lighthouse - then accidentally slip into another world ... The World Between Blinks is a magical place, where all kinds of lost things (and people!) end up. Everywhere they turn, the cousins find real mysteries from history - plus a few they thought were only myths. But the man who holds the key to Jake and Marisol's return journey doesn't want to be found ... and if the cousins don't catch him fast, they could end up lost in this world for good. PRAISE FOR THE WORLD BETWEEN BLINKS:' An inventive, heartwarming first book in a new middle-grade series.'- Kirkus 'A brilliant, heartwarming blend of history, mystery, and adventure. I raced through every page, afraid to blink and miss part of the wonder.'- Shannon Messenger, bestselling author of Keeper of the Lost Cities Series 'A fast-paced fantasy adventure that will appeal to genre fans and reluctant middle grade readers alike.'- School Library Journal, starred review '[an] incredibly inventive story, chock-full of delightful descriptions and fascinating tidbits ... [and] a charming crash course in a host of historical mysteries and figures. Readers will have enormous fun ... all while learning lessons on the power of love, the value of memories, and the wonders that the world holds.' - Booklist, starred review ...Show more