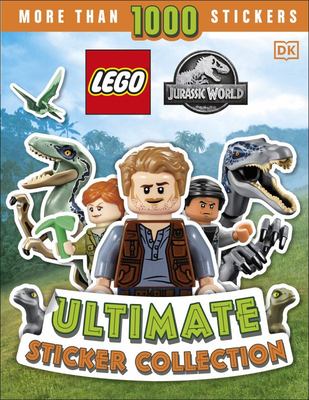 $14.99
AUD
Category: Lego
Enter the world of LEGO Jurassic WorldT with this exciting sticker collection, featuring more than 1,000 stickers of dinosaurs, characters, and vehicles. Travel to Isla Nublar and come eye to eye with amazing Ankylosauruses. Jump on your LEGO Jurassic World off-road truck and chase down a Triceratops. Rescue a Pteranodon with a net shooter, and run from a rampaging T. rex! This LEGO Jurassic World Ultimate Sticker Collection makes the perfect gift for fans of Jurassic World and LEGO bricks alike. 2020 The LEGO Group. 2020 Universal Studios. ...Show more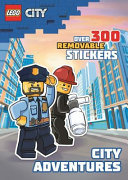 $5.99
AUD
Category: Lego | Series: LEGO City
Meet the heroes keeping LEGO City safe and clean for its citizens. Help this awesome team solve puzzles, spot trouble and complete activities with removable stickers. Every day is an adventure in LEGO City!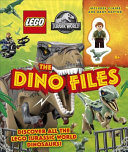 $24.99
AUD
Category: Lego
Enter Jurassic World and discover all your favourite LEGO Jurassic WorldT dinosaurs. Features a Claire minifigure and baby raptor!Join dinosaur trainer Owen Grady and dinosaur expert Claire Dearing to learn all about Jurassic World and its famous inhabitants. Guided by the two experts, discover everyth ing you need to know about your favourite dinosaurs on action-packed profile pages. Then see how dinosaurs compare on fun breakout spreads that pit dinosaur against dinosaur to find out who is the biggest, strongest, fastest, and fiercest! Finally, join Owen and Claire on an exclusive tour around the park. Visit the Hammond Creation Lab to learn how dinosaurs are made. Discover what keeps the world-famous Indominus Rex in its enclosure and hear about the time Owen captured an escaped Pteranodon. Learn what it's like to ride on a gyrosphere and how to distract a T. rex. Finish the day with a story of the epic battle between a T. rex and Dino-Mech. LEGO Jurassic World- The Dino Files comes with a Claire minifigure and baby raptor. 2020 The LEGO Group. 2020 Universal Studios. ...Show more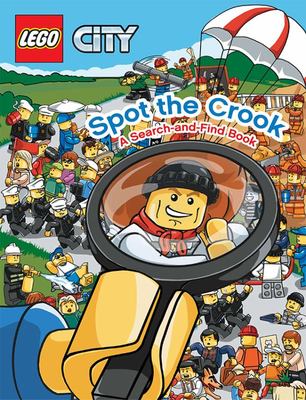 $16.99
AUD
Category: Lego | Series: LEGO City
Can you spot the crook? There's a crook hiding in the crowds in Lego City, and it's your job to find him! This search-and-find book is packed with amazing detailed scenes featuring all your favourite Lego City characters. Once you've found the Red Scarf Crook, there are loads of extra cool things to spo t for hours of Lego fun!   ...Show more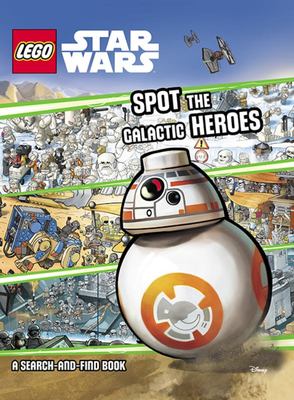 $16.99
AUD
Category: Star Wars | Series: LEGO Star Wars
Yikes! The galaxy's most important heroes have all gone missing! Can you join C-3PO and R2-D2 on this epic quest to find them, before the dark side of the Force takes control? 
$29.99
AUD
Category: Lego | Series: Klutz
Teach your bricks new tricks! In the Controlled Chaos Department of Klutz Labs, we're big fans of Rube Goldberg's amazing machines. What could be more Klutzy than a machine that accomplishes a simple task through an elaborate chain reaction? The answer, of course, is a wacky chain reaction built of LEG O bricks. A perfect companion to our best-selling LEGO Crazy Action Contraptions, this all-new book will blow the mind of anyone who enjoyed playing Mouse Trap or setting off a row of dominoes. To turn bricks from kids' own LEGO collection into ball-moving machines, all they need is LEGO Chain Reactions - along with the cardstock ramps and other punch-out parts, plastic LEGO balls, and 33 essential, hard-to-find LEGO pieces packed inside. A team of experts, educators, and 11-year-olds helped us invent machines that swing, bounce, and spring in ways that only LEGO bricks can. Follow our instructions to build the Flag-Waving Marble Kicker, the Barbell Spinner, and more. Kids will even learn solid building techniques and the physics behind the fun. Each machine forms one step in a customizable chain reaction. One thing leads to another, and another, and another, until at last you turn on the light, ring the dinner bell, flip a coin, or accomplish some other ordinary task in an extraordinary way. Rube Goldberg would be proud. Comes with: 80-page book of instructions, 33 LEGO pieces, instructions for 10 modules, 6 plastic balls, string, paper ramps and other components. ...Show more
$24.99
AUD
Category: Lego
Who will win this Super Hero vs super-villain showdown? With two fantastic LEGO minifigures, Batman and The Joker! The Joker and his fiendish friends are causing trouble, but Batman and his Super Hero allies are ready for battle. Which team will be the winner? Read about amazing Super Heroes and wick ed super-villains. Discover their awesome powers and accessories. Decide who comes out on top in each battle, including Batman vs Poison Ivy, The Flash vs Captain Cold, and Firestorm vs Firefly. ©2020 The LEGO Group.(tm) & © DC Comics. (s20) ...Show more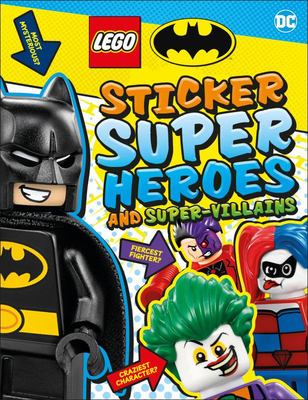 $6.99
AUD
Category: Lego
Who is the coolest Super Hero? Who has the best outfit? Who is the craziest super-villain? With this book, you decide! With more than 100 stickers, you get to create your own book and decide which characters go where. Is the Joker the greatest villain of all time, or does Bane beat him to the top spot? Does Batman wear the most awesome outfit, or does Harley Quinn win with her crazy colours? Read the descriptions of each character and decide where you think they should go in the LEGO Batman Sticker Super Heroes and Super-villainshall of fame. Featuring all your favourite heroes, villains, wacky weapons, and amazing gadgets and vehicles, this sticker book is perfect for young LEGO Batman fans! 2020 The LEGO Group. . & DC Comics. (s20) ...Show more
$19.99
AUD
Category: Lego
You're never too young to change the world. Discover 100 fun, practical ideas to be kind, be bold and make the world an awesome place - all while getting creative with your LEGO bricks. From making a neighbour a LEGO thank-you card to planting bee-friendly flowers, learn how to make little changes to help you, your family, your friends, and your community. Each idea encourages you to build with your LEGO bricks and minifigures - and to be inspired to make a difference in the real world around you. Build a LEGO tree for inspiration and then help plant a real tree. Create a LEGO emoji to make your friends smile. Gather up your family and play a LEGO game together. Make a LEGO desk pot to help keep your room tidy. Learn about endangered animals and build your favourite ones with LEGO bricks. How will you start to rebuild the world? 2020 The LEGO Group. ...Show more
$39.99
AUD
Category: Lego
Be inspired to create and build amazing models in LEGO® bricks! The LEGO Ideas Book is packed full of tips from expert LEGO builders on how to make jet planes reach new heights, create fantastic fortresses, swing through lush jungles, have fun on the farm and send space shuttles out of this world! This awesome book is divided into six themed chapters - transport, buildings, space, kingdoms, adventure and useful makes - to inspire every member of the family to get building. With over 500 models and ideas, this book is perfect for any LEGO fan - young or young at heart - who want to make their models cool, fun and imaginative. LEGO, the LEGO logo, the Brick and Knob configurations and the Minifigure are trademarks of the LEGO Group. ©2011 The LEGO Group. All rights reserved. Produced by DK Publishing under licence from the LEGO Group. ...Show more
$19.99
AUD
Category: Lego
Get ready to hack your life, LEGO style! This book is bursting with more than 50 smart ideas to streamline your life and accessorise your space. You'll find stationery hacks help you organise your desk, cool ideas to make the most of your tech, and gadgets to blitz your boring chores. From a speaker t hat amplifies your phone, a weekly planner made of LEGO bricks, and a catapult that flings paper into the wastepaper basket, these ideas will make your LEGO bricks work for you. Discover ways to personalise your living space, from photo frames to brick-built houseplants, plus smart ways to display your favourite LEGO builds and minifigures. These creative ideas will inspire you to use your LEGO bricks in awesome new ways. With amazing images, easy to follow step-by-step instructions and handy tips for further building, this book will take your building to the next level. ...Show more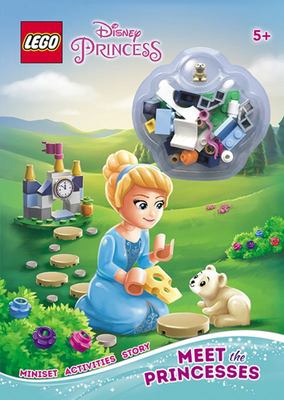 $12.99
AUD
Category: Lego | Series: LEGO Disney Princess Ser.
Join your favourite princesses in this enchanting LEGO® Disney Princess(tm) activity book. Build Cinderella's mouse friend a house, play hide-and-seek with Aurora, see Ariel sing, draw Rapunzel's self-portrait, discover Jasmine's lamp, find Belle's friends, and even help Mulan on her obstacle course. Filled with LEGO® Disney Princess(tm) comic, activities, and LEGO® elements for a read-and-play experience. Book contains: Engaging activities Funny story and comic from the LEGO® Disney Princess(tm) world. Buildable LEGO® Disney Princess(tm) miniset in a blister pack.   ...Show more