$8.99
AUD
Category: New Junior Fiction | Series: School of Monsters
You shouldn't bring a pet to school. But Mary's pet is super cool! You're not supposed to bring your pet to the School of Monsters if you haven't fed them yet. But Mary LOVES her little pet! Surely it will be OK to sneak him inside her hat just for the morning... Welcome to the School of Monsters: the f unniest, silliest and most accessible series for first readers!   Start by reading only the last word on every line and work your way up to reading the whole story. With tumbling rhymes and an infectious sense of humour, the weird and wonderful students at the School of Monsters are guaranteed to spark a love of reading!     ...Show more
$8.99
AUD
Category: New Junior Fiction | Series: School of Monsters
Some kids are good and some are not... Some look the same, like Deb and Dot! Deb and Dot are twins and complete opposites. Deb is friendly and everyone likes her - but Dot doesn't quite know how to play nicely with the other monsters! Can Teacher Ted help the twins out with a plan? Welcome to the Sc hool of Monsters: the funniest, silliest and most accessible series for first readers! Start by reading only the last word on every line and work your way up to reading the whole story. With tumbling rhymes and an infectious sense of humour, the weird and wonderful students at the School of Monsters are guaranteed to spark a love of reading!   ...Show more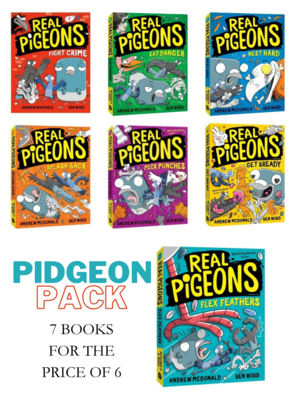 $90.00
AUD
$104.93
(14% off)
Category: Silly Stories
Get all 7 REAL PIGEONS books in one go with this Pigeon Pack! We'll even throw one in for free!   With over 200,000 books in print and legions of fans worldwide, the REAL PIGEONS series is perfect for fans of Bad Guys and Dog Man. Every book contains THREE hilarious, silly and engrossing mysteries! Sh ortlisted for the 2019 Readings Children's Book Prize and the 2019 & 2020 ABIA Book of the Year for Younger Children. ...Show more
$14.99
AUD
Category: Silly Stories | Series: Real Pigeons
Ever wonder why pigeons always act so weird? It's because they're out there chasing the bad guys and saving your butts! The REAL PIGEONS use PIGEON POWERS to fight crime, solve mysteries and help creatures in the city.    But when CONCRETE starts mysteriously MELTING in the city, a FEATHER-SNATCHER goe s on a plucking-spree and an EVIL HAT has a plan to CLONE the Real Pigeons, our feathered heroes are going to need more than just PIGEON POWERS to save the day! No-one can protect a city like Rock, Frillback, Tumbler, Homey and Grandpouter. Crime-fighting has never been so COO! Nickelodeon is developing an animated movie and TV series based on REAL PIGEONS FIGHT CRIME, to be produced by James Corden and Ben Winston! With over 200,000 books in print and legions of fans worldwide, the REAL PIGEONS series is perfect for fans of Bad Guys and Dog Man. Every book contains THREE hilarious, silly and engrossing mysteries! Shortlisted for the 2019 Readings Children's Book Prize and the 2019 & 2020 ABIA Book of the Year for Younger Children.   ...Show more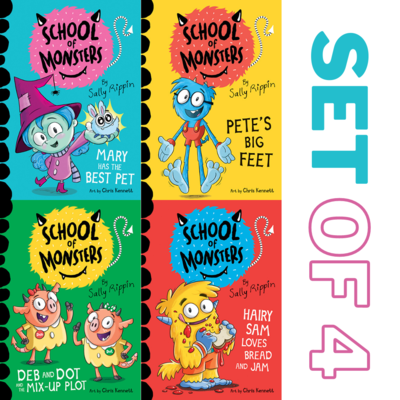 $30.00
AUD
$35.96
(16% off)
Category: Silly Stories | Series: School of Monsters
Welcome to the School of Monsters: the funniest, silliest and most accessible series for first readers! Start by reading only the last word on every line and work your way up to reading the whole story. With tumbling rhymes and an infectious sense of humour, the weird and wonderful students at the Scho ol of Monsters are guaranteed to spark a love of reading! - Deb and Dot are twins and complete opposites. Deb is friendly and everyone likes her – but Dot doesn't quite know how to play nicely with the other monsters! Can Teacher Ted help the twins out with a plan? - You're not supposed to bring your pet to the School of Monsters if you haven't fed them yet. But Mary LOVES her little pet! Surely it will be OK to sneak him inside her hat just for the morning... - Hairy Sam just can't help himself. He LOVES bread and jam! But what happens when he gets sticky jam all over the school and the other monsters? He'll have to figure out a way to save the day... - Ever since Pete tripped over his long legs and enormous feet, he refuses to run races with the other monsters. But what happens when Jamie Lee gets stuck in the mud down the well? It will take a special someone to help rescue her! ...Show more
$15.99
AUD
Category: Silly Stories
A MYSTERIOUS DOORWAY! (Sure, it's in a restaurant that serves poop, but that doesn't make it any less mysterious. OK?) Behold! What lies beyond?! An evil centipede? An alternate universe? A few decent explanations? VRRRING! NING! NING! NING! Hey, was that a CHAINSAW?! Let's see if you can read and run a t the same time... GO! It's the BAD GUYS EPISODE 13.   ...Show more
$15.99
AUD
Category: Action & Adventure | Series: Skydragon
May 2021 Release  Amber is back! The second book in the high-flying adventure series from Anh Do.   Amber held her arms out. Surround me. Locusts, beetles, bees and all manner of flying insects nestled together tightly. Shapes formed. Horns on her head, claws on her hands and feet. A thick, long tail. She was a dragon! Amber is on the run. What will happen when she and the Firefighter finally come face to face?   ...Show more
$8.99
AUD
Category: New Junior Fiction | Series: School of Monsters
Today it's sports day in the sun. But do you think that Pete can run?  Ever since Pete tripped over his long legs and enormous feet, he refuses to run races with the other monsters. But what happens when Jamie Lee gets stuck in the mud down the well? It will take a special someone to help rescue her! We lcome to the School of Monsters: the funniest, silliest and most accessible series for first readers!   Start by reading only the last word on every line and work your way up to reading the whole story. With tumbling rhymes and an infectious sense of humour, the weird and wonderful students at the School of Monsters are guaranteed to spark a love of reading!     ...Show more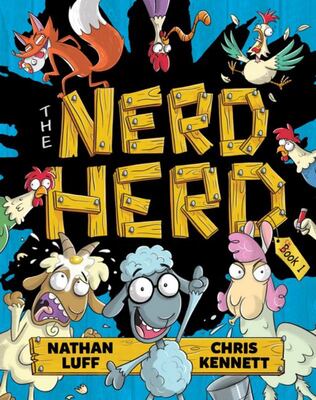 $14.99
AUD
Category: Silly Stories | Series: Nerd Herd
Barny the Lamb and his friends are sick of being picked on. So they decide to form a gang to show everyone that they are not as soft as they look. But how do three fluffy friends stand up to a cunning fox, a gigantic cat, and a bull with behavioural issues?
$12.99
AUD
Category: Real Life | Series: AFL Little Legends Ser.
Little Legends follows twins Oz and Ellie Little, star players for the Fresca Bay Falcons, on a series of hilarious and action-packed adventures that celebrate the great game of Australian Rules.   Oz and Ellie Little are footy fanatics. They can't wait to introduce Aussie Rules to their cousin Sanjay, who is moving back to Australia from overseas. 10-year-old Oz is the key playmaker for the Falcons (and happily says as much to anyone who'll listen!). Ellie is a talented full-forward and the leading goal scorer for the whole league. But when their cousin Sanjay tries footy for the first time, he's a natural. Suddenly, Sanjay is the Falcons' hot new recruit and Oz and Ellie have some competition! Perfect for fans of Tiny Timmy, Real Pigeons and Weirdo, Little Legends is the only official AFL junior fiction series. It's packed with fun and will entertain footy-mad kids for hours! ...Show more
$15.99
AUD
Category: New Junior Fiction | Series: The Bad Guys
Seriously WHAT is going on with Snake? Terrifying powers! Evil allies! Inter-dimensional doorways! WHAT IS HIS DEAL?! And that's not all! Why is Agent Fox suddenly so mysterious? Who IS she, exactly?! Dang it! We need answers! Wolf and the gang are back. And theyre even more confused than YOU. The Bad G uys EPISODE 12. IT WILL MELT YOUR BRAIN...     ...Show more
$12.99
AUD
Category: Real Life | Series: AFL Little Legends Ser.
Little Legends follows Oz, Ellie and Sanjay Little, star players for the Fresca Bay Falcons, on a series of hilarious and action-packed adventures that celebrate the great game of Australian Rules. Ellie is in a goal-kicking slump. She has a feeling her brand-new footy boots are to blame - that, or her brother Oz and all the annoying pranks he keeps playing on her! Is it possible that without her lucky routine, Ellie just isn't that good at footy? Or is footy about more than just luck? Perfect for fans of Tiny Timmy, Real Pigeons and Weirdo, Little Legends is the only official AFL junior fiction series. It's packed with fun and will entertain footy-mad kids for hours! ...Show more