$16.99
AUD
Category: Environment
A stunning anthology that blends poetry and information about the sea, from an award-winning team. From Nicola Davies and Emily Sutton, the multi award-winning team behind Tiny and Lots, comes a spellbinding collection of poems about the oceans of the world and their shores. With this book, children can swim alongside dolphins and flying fish, pore over rockpools and sail from pole to pole and back, learning about everything from phosphorescence and plankton to manta rays and puffins - all in the comfort of their bedroom. Emily Sutton's exquisite watercolours capture the breathless excitement of a child's first glimpse of the sea, the majesty of ancient trading ships and the sheer, staggering wonder of the humpback whale. The perfect companion to international bestsellers A First Book of Nature and A First Book of Animals, this book is sure to enthral and inspire readers of all ages. ...Show more
$29.99
AUD
Category: Gardening | Series: What's Inside
From the creator of the New York Times bestseller Women in Science, comes a new nonfiction picture book series ready to grow young scientists by nurturing their curiosity about the natural world--starting with what's inside a flower. Budding backyard scientists can start exploring their world with this stunning introduction to these flowery show-stoppers--from seeds to roots to blooms. Learning how flowers grow gives kids beautiful building blocks of science and inquiry. Rachel Ignotofsky's distinctive art style and engaging, informative text clearly answers any questions a child (or adult) could have about flowers. ...Show more
$19.99
AUD
Category: Geography | Series: And Other Big Questions
What does it mean for people to have to leave their homes, and what happens when they seek entry to another country? This book explores the history of refugees and migration around the world and the effects on people of never-ending war and conflict. It compares the effects on society of diversity and interculturalism with historical attempts to create a racially 'pure' culture. It takes an international perspective, and offers a range of views from people who have personal experience of migration, including the campaigners Meltem Avcil and Muzoon Almellehan, the comedian and actor Omid Djalili and the poet Benjamin Zephaniah. Aimed at young people aged 10 and upwards, the book encourages readers to think for themselves about the issues involved. There is also a role-play activity asking readers to imagine themselves in the situation of having to decide whether to leave their homes and seek refuge in a new country. Part of the groundbreaking and important 'And Other Big Questions' series, which offers balanced and considered views on the big issues we face in the world we live in today. ...Show more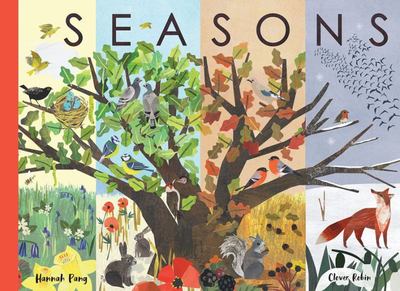 Seasons
by Hannah Pang
$24.99
AUD
Category: Environment
Watch six breathtaking landscapes from around the world transform in front of your eyes, in this beautifully illustrated book. With simple facts about the wildlife and plants that change through every season, this is the perfect book for all nature lovers.
$29.99
AUD
Category: Environment
Journey to the planet's most magnificent places with this thought-provoking portrait of our world. See it as you've never seen it before and renew your relationship with the place we call home. The images in this book will take you to places far and wide, the kinds of places that you might never visit but that you can perhaps put on that "If " list we all have tucked away. These places are surprising, remarkable, remote, familiar... dive in and marvel over the undeniable fact; it is a beautiful world. The photography in Beautiful World is divided into ten themes: Origins Nourish Untamed Community Celebration Transformation Space Harmony Monumental Eternal  ...Show more
$32.99
AUD
Category: Geography
A collection of vivid and powerful stories drawn on the front lines of migration by award-winning artist George Butler. For thousands of years humans have moved around the world, to seek a better life, to flee disaster or to escape war. Migration is a fact of life – and one of the most pressing issues of our time. In striking and intimate illustrations, award-winning artist George Butler introduces us to the people behind the headlines. Drawings made on front lines, in refugee camps and on the move vividly capture stories of leaving home, travelling into the unknown and trying to make a new life. These powerful portraits of migration are a timely reminder of the humanity we all share and our universal need to seek safety and a better life. A stunning, illuminating and sensitive look at stories that deserve to be told. ...Show more
$29.99
AUD
Category: Environment
Enter the world of oceans and the animals that live in them. Swim with jellyfish, wonder at the busy life of a seagrass meadow, and fence with narwhals. Fish, sharks, whales, and invertebrates swim through the pages of this colourful ocean book, which combines gorgeous illustrations and photos to help young enthusiasts learn all about the world's oceans. From glowing jellyfish to deep sea dwellers, they'll discover the incredible secret world of life under the sea. They'll also find out how they can help take care of the ocean themselves. Earth's Incredible Oceans, written by animal expert Jess French and illustrated by Claire McElfatrick, takes children on a fascinating underwater journey, showing them just how amazing oceans are, what plants and animals live in them, and how we can help them. It includes all sorts of ocean life, plus amazing facts on how ocean animals have fun, look after their young, and interact with each other. ...Show more
$16.99
AUD
Category: Sustainability
* Be inspired by 10 children from around the world taking action against climate change in this non-fiction picture book * Read their stories, and discover how they became campaigners for the future of our planet* Meet 11-year-old Shalise from Australia, the world's youngest ocean activist; or 9 year ol d Fink Feinbeiner, a rainforest activist from Germany* Features practical back matter on how to save the planet at home and at school ...Show more
$24.99
AUD
Category: Environment
The Australia Survival Guide is jam-packed with facts, stories and life-saving information about Australia's most dangerous things - snakes, spiders, sharks, bushfires, floods, cyclones and more. There's also a few cute and cuddly animals that might surprise you and some mythical creatures to consider. But this is no boring textbook, it's written as if you were playing the ultimate survival game. Only in this game, you can't respawn, there's no multi-player, no one to save you . . . it's do or die. Perfect for fans of Guinness World Records, The Zombie Survival Guide or Ripley's Believe it or Not! ...Show more
$24.99
AUD
Category: Jigsaws
This 252-piece Australia map puzzle is perfect for adults and kids alike. The beautifully illustrated map and accompanying 12-page booklet showcases more than 300 illustrations of flora, fauna, landmarks, attractions and other Australiana, with details that will keep anyone enthralled for hours. Fact bu bbles and keys for the various illustrations of flora, fauna, attractions, shipwrecks and Indigenous rock-art sites will also help you learn more about this country. The 12-page booklet has a page dedicated to each state and territory with additional facts and figures to further enrich your knowledge of Australia's states and territories. The puzzle comes in a durable box for easy storage, and the booklet is attached directly to the front of the box, ensuring the puzzle and information booklet will all stay together.  ...Show more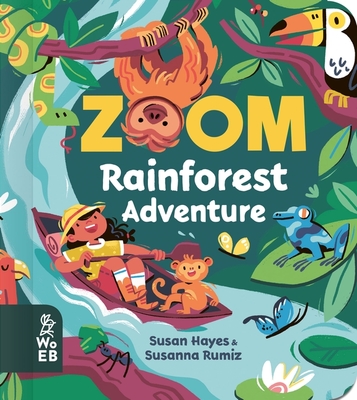 $25.99
AUD
Category: Environment
Join Lin as she treks through the rainforest on an animal-packed adventure, with die-cuts, a pop-up and surprises throughout! Join Lin on a trek into the Amazon rainforest. Die cut pages and one surprise pop-up make every page an interactive experience as you discover mischievous monkeys, slithery snak es, smiling sloths, hovering hummingbirds and delightful dolphins in one of the most exciting places on Earth. ...Show more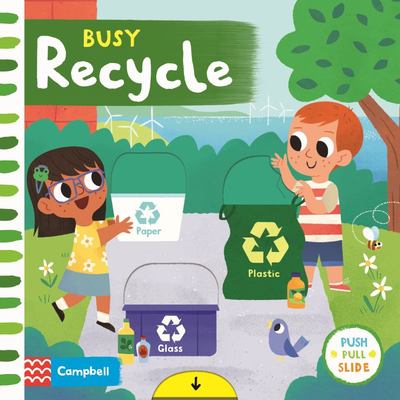 Busy Recycle
by Mel Matthews (Illustrator)
$9.99
AUD
Category: Board Books | Series: Busy Bks.
A first novelty board book about how to recycle at home, with push, pull and turning mechanisms.Push, pull and slide the tabs to help clean up the Earth in Busy Recycle. Watch the recycling truck do its work, reuse materials to make a rocket and recycle your waste in this fun book about helping the plan et.Children will love playing with this bright and colourful board book with gentle rhyming text and wonderful illustrations by Mel Matthews, which is part of the popular Busy Book series. ...Show more