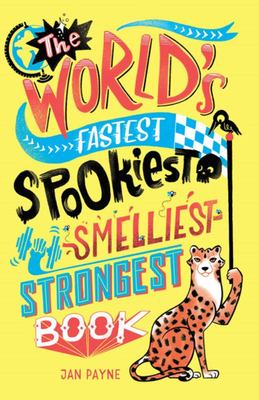 $16.99
AUD
Category: General Knowledge
This book is stuffed with the fastest, brightest, longest, funniest, weirdest, wildest, wettest, saddest, brainiest, and fascinating-est things in the world. It will amuse, entertain and amaze you with the most excellent, outstanding and, quite simply, best things on our planet and beyond. For instance, did you know the oldest skyscraper in the world is in Chicago and was built in 1885? Or, that the most extraordinary fireworks display was the one that closed the Olympic Games in Sydney, Australia, in 2000? Or that the world's most expensive painting is 'The Scream' by Edvard Munch, sold in 2012 for $119.9 million? From the highest peaks to the murkiest depths, the fastest man to the slowest sloth, the oldest lake to the most venomous snake and much, much more. ...Show more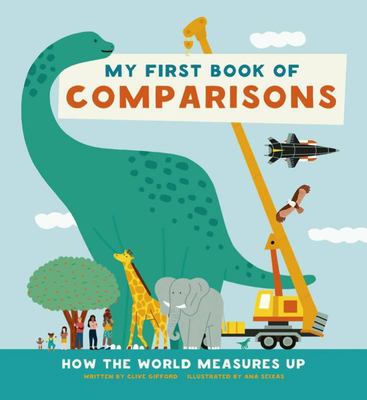 $24.99
AUD
Category: General Knowledge
Packed full of facts this wonderfully illustrated book measures and compares everything from animals, space and dinosaurs to machines, sports, and people, and will captivate children-and parents too!   Did you know that a blue whale weighs about as much as 20 T-Rex dinosaurs? Or that a guinea pig is 70% water? This exciting picture book is full of these and many more fascinating fact nuggets. Turn the pages and compare the fastest machines, the tallest buildings, the biggest animals, the world's highest fliers, and much, much more. You can trace the journey lines to discover which animal travels farthest, read the clues to match the fossil print to the dinosaur, or count up the construction workers to see how many humans it takes to measure the height of a mighty tunneling machine.   Using striking visual comparisons, counting questions, and bite-sized facts, this book, aimed at children aged 5 and older, builds math skills and helps readers develop their understanding of the world around them. Children will be amazed at what they discover and will have plenty of unforgettable facts to dazzle their friends and family with. ...Show more
$19.99
AUD
Category: General Knowledge
Professor Terry Denton talks you through all you need to know about Earth, Life, the Universe and EVERYTHING (almost). Sure to engage anyone from the ages of 8 to 80 (and beyond), this is a funny, fascinating whistle-stop tour of the history and science of the universe, life on Earth, the ins and outs of biology, geography, geology and the weather, how life evolved and how it works, and how people use the forces of nature around us to create amazing things. There's even a chapter on time! Get ready to laugh and be amazed at the world around you and within you. ...Show more
$19.99
AUD
Category: General Knowledge | Series: Usborne Look Inside
What is the earth made of and what goes on beneath the surface? This non-fiction lift-the-flap book features bold illustrations, simple explanations to complex questions and over 60 flaps to lift. An introduction to geology and geography for young children.
$19.99
AUD
Category: General Knowledge | Series: Lift the Flap
A dynamic, visual collection of the biggest, tallest, fastest, strongest, highest, deepest, longest and furthest things in the world - and beyond. Simple facts are coupled with eye-popping visuals that show off the sheer scale of each superlative. Bright colours and stylish artwork throughout. Over 100 basic answers to playground wonderings about which things really are the biggest, fasest etc. Part of Usborne's lift-the-flap information series, which includes titles on the periodic table, engineering, world atlas and more. ...Show more
$59.99
AUD
Category: General Knowledge
Science and technology, nature, geography, culture, sports and hobbies, and history all combine in this mind-blowing visual encyclopedia. From incredible insects and musical instruments to spacecraft and prehistoric life, and from art and earthquakes to American football and dogs, Picturepedia gives you a world of information on every page. Did you know that more than half of the human body's weight is water, and that a koi carp can live for more than 200 years? Or how about there being more than 20,000 islands in the Pacific Ocean, or that Turkey eats the most bread, with each person getting through 104.6 kg (230.5 lb) of it per year? First published in 2015, Picturepedia has been revamped into a more thrilling edition that will take you on a visual odyssey. This brilliant book is crammed with stunning photographs, gripping information, and explanatory diagrams that allow for fascinating discoveries. New and updated and jam-packed with thousands of pictures and fascinating facts about science, nature, culture, sports, and history, Picturepedia is the ultimate visual encyclopedia. ...Show more
Good News!
by Rashmi Sirdeshpande
$19.99
AUD
Category: General Knowledge
*A positive, reassuring and anxiety-eliminating book helping children change the way they think about the world* Pandemics, war, terror, natural disasters - the world seems to be full of bad news and it can all feel, well, a little bit scary. But this is just part of the story. There are in fact tons o f great things happening, from robots improving health care and trees healing the planet, to everyday people helping their community with acts of kindness and the businesses fighting for good in the world. In Good News, children will learn to become fake news detectives, sussing out what's real and what isn't. They'll discover the good news - the amazing anecdotes, case studies and figures around the globe that are making a difference. And they'll learn that if we all continue to work together, things can only keep getting better and better. Empowering, reassuring and confidence-boosting, this book is a positive antidote for testing times. ...Show more