$16.99
AUD
Category: Non-Fiction
From the co-creator of the viral 'Tea Consent' video, this is the perfect introduction to consent for kids and families everywhere. Your body belongs to you and you get to set your own rules, so that you may have boundaries for different people and sometimes they might change. Like when you hi-five you r friends and kiss your kitten, but not the other way round! But consent doesn't need to be confusing. From setting boundaries, to reflecting on your own behaviour and learning how to be an awesome bystander, this book will have you feeling confident, respected, and 100% in charge of yourself and your body. Brought to life with funny and informative illustrations, this is the smart, playful and empowering book on consent that everyone has been waiting for. ...Show more
$27.99
AUD
Category: Picture Books
A charming new story from the author of Guess How Much I Love You, with an original take on the subject of childhood anxiety. Once there was a girl called Mindi, who was afraid of something that no one else could see. This thing that she was afraid of, this thing that no one else could see, was a big go ose. It came into her room as quietly as a thought comes into your head, and it stayed there for as long as it wanted to... So begins a new story by Sam McBratney, author of publishing phenomenon Guess How Much I Love You – the book which captured the hearts of children and parents all over the world. In Mindi a little girl and her devoted father try everything they can think of to drive away the "big goose", which only she can see. A sensitive exploration of childhood anxiety, the story is told with charm, wit and a touch of whimsy, and is paired with Linda Ólafsdóttir's delicate illustrations. The end result has the feel of a modern fairy tale and is sure to become a bedtime favourite.   ...Show more
$14.99
AUD
Category: Picture Books
With 400,000 copies sold, this accessible, bestselling picture book phenomenon about the unbreakable connections between loved ones has healed a generation of readers--children and adults alike--and has been updated with new illustrations and an afterword from the author. Now available in paperback for the first time.Parents, educators, therapists, and social workers alike have declared The Invisible String the perfect tool for coping with all kinds of separation anxiety, loss, and grief. In this relatable and reassuring contemporary classic, a mother tells her two children that they're all connected by an invisible string. "That's impossible " the children insist, but still they want to know more: "What kind of string?" The answer is the simple truth that binds us all: An Invisible String made of love. Even though you can't see it with your eyes, you can feel it deep in your heart, and know that you are always connected to the ones you love. Does everybody have an Invisible String? How far does it reach? Does it ever go away? This heartwarming picture book for all ages explores questions about the intangible yet unbreakable connections between us, and opens up deeper conversations about love. Recommended and adopted by parenting blogs, bereavement support groups, hospice centers, foster care and social service agencies, military library services, church groups, and educators, The Invisible String offers a very simple approach to overcoming loneliness, separation, or loss with an imaginative twist that children easily understand and embrace, and delivers a particularly compelling message in today's uncertain times. This special paperback edition includes includes vibrant new illustrations and an introduction from the author. "This book is a beautiful way to begin to try, as parents, to instill in children the impenetrable power of the heart, the energy of love, and the flow that can be felt from the grace in every moment." --Tony Robbins ...Show more

$18.99
AUD
Category: Board Books
Take a turn on this busy bus to discover what everyone is feeling. Spin the wheel to match the feeling to the scene, then sing along with the familiar song in this creative introduction to emotions. A fun, updated take on the classic children's song, this novelty board book shaped like a stylishly moder n bus will have kids acting and singing along - and reflecting on their own varied emotions. ...Show more
$15.99
AUD
Category: Feelings & Emotions | Series: Feelings
The talent show is on today. Zebra has been practising hard all week. But when Zebras turn comes, he is nowhere to be found. Can Zebra overcome his shyness and perform for his friends?
$14.99
AUD
Category: Board Books | Series: Baby Touch
Baby Touch- Feelings is part of Ladybird's best-selling Baby Touchseries, designed to help stimulate a baby's senses from birth. Encouraging interaction and play, the Baby Touchbooks are lots of fun for the very youngest babies, as well as toddlers. With touch-and-feel areas on every double page and hig h-contrast colours, Baby Touch- Feelings stimulates your baby's senses while introducing them to different feelings and emotions. ...Show more
$14.99
AUD
Category: Feelings & Emotions | Series: Being You Ser.
BEING WILDLY KIND is an infectious, fun and hope-filled book packed full of ideas to build empathy and compassion in kids of all ages.Why just be kind when you can BE WILDLY KIND? BE WILDLY KIND to people! BE WILDLY KIND to animals! BE WILDLY KIND to the planet! Being wildly kind is a magical power that can help change the world in big and small ways. ...Show more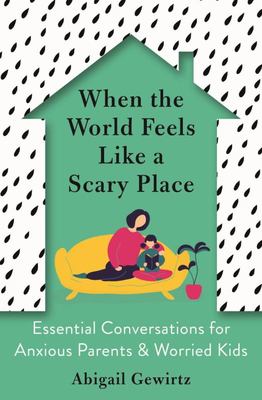 $29.99
AUD
Category: Feelings & Emotions
A timely guide to talking to our kids about the things that worry them. An urgent and necessary book by prominent child psychologist Dr Abi Gewirtz, When the World Feels Like a Scary Place brings solutions to a problem that is only going to get worse - how bad things happening in the world affect our c hildren, and how we can raise engaged and confident kids in spite of them.To say we live in an age of anxiety is an understatement. The myriad problems in the world are almost impossible to tune out. The problem is, most children can't put these issues in perspective, and parents (who are often anxious themselves) can have a hard time talking to their kids without making it worse. Dr Gewirtz offers clear and practical advice for having the kind of tough conversation with your kids that really helps.Through conversation scripts, talking points, prompts and insightful asides, When the World Feels Like a Scary Place is an indispensable guide to talking to our kids about the big things that worry them - making us calmer parents with more resilient children. ...Show more
$17.99
AUD
Category: Feelings & Emotions
A sweet and quirky story about a child who is stuck carrying around an elephant, wondering if they will ever feel light and free again . . . A story full of humour and heart about having the blues, in the form of a big heavy elephant. One day an elephant came and sat on my chest. I found it hard to g et up or move around, to breathe or talk. "I'm Blue," the elephant said. "Can you please move, Blue?" I asked. "I don't want to move. This is a good spot for me to sit." "You're crushing me," I said. "Yet I find you very comfortable," said Blue. Mum read every book about elephants she could get her hands on, while Dad phoned an elephant specialist someone recommended. They all tried pushing, and pulling, and persuading. But would anyone - or anything - be able to shift Blue? Warm, empathetic, hopeful and often funny, with the ability to be read on different levels, My Elephant is Blue is the perfect story to help children explore and understand the experience of living under the weight of a big sadness. ...Show more
$24.99
AUD
Category: Picture Books
My Dad has a shadow that's blue as can be, and there's nothing but blue in my whole family tree. But mine is quite different, it's not what you think. For mine is not blue... My shadow is PINK! An uplifiting book about daring to be different and having thecourage to be true to yourself. My Shadow is Pink is a beautifully written rhyming story that touches on the subjects of gender identity, self acceptance, equality and diversity. Inspired by the author's own little boy, 'Shadow's' main character likes princesses, fairies and things 'not for boys'...he soon learns (through the support of his dad) that everyone has a shadow that they sometimes feel they need to hide. This is an important book for a new generation of children (and adults alike) which exemplifies the concepts of unconditional love, respect and positive parenting. ...Show more
$16.99
AUD
Category: Non-Fiction
This is a book for people who worry (so, yeah-everyone!) We all have a mixture of fun and not-so fun feelings. And everyone feels worried sometimes. But too much anxiety can get in the way. So this book is here to help you identify your anxiety, understand why it's just part of that thing we call life , and equip you with all the tools you need to find calm again. Playfully presented, packed with fun and helpful illustrations, and expertly vetted, author-artist Rachel Brian (co-creator of the viral Tea Consent video) delivers a must-have book for anyone who wonders why they worry and what they can do about it. From recognising when you're feeling anxious, to taking charge, training your brain and using awesome techniques to help you feel good again, this book will have you worrying less and living more. ...Show more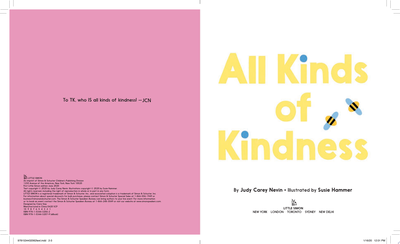 All Kinds of Kindness
by Judy Carey Nevin; Susie Hammer (Illustrator)
$14.99
AUD
Category: Board Books
From the irrepressible team behind All Kids Are Good Kids comes a board book that celebrates different types of kindnesses in the world. Plant a seed, push a swing. Kindness makes your heart sing. There is so much kindness in the world and this sweet board book celebrates those special differences that make kind acts both individual and similar. Judy Carey Nevin's bouncing text paired with Susie Hammer's bright, brilliant art showcases a creative look at how important kindness can be. From optimistic ideas of hope to small acts of goodwill, each scene shares the heart of the story: kindness makes our world a better place. ...Show more