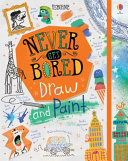 $19.99
AUD
Category: Drawing | Series: Never Get Bored
An imaginative compendium of drawing and painting ideas to delight all readers and dispel boredom forever. Discover how to doodle a sloth, turn pencil shavings into pictures and draw in ways you never imagined. Then try printing, spattering paints and painting with dots. There are ideas for portraits, p atterns, optical illusions and more, so you'll soon have enough artworks for your own exhibition -- and this book will show you how to stage one too. Suitable for all artistic abilities, with carefully-written steps and cleverly-designed illustrations that are easy to follow. With tricks and tips to impress, drawing games to entertain and patterns and doodles to calm busy minds. ...Show more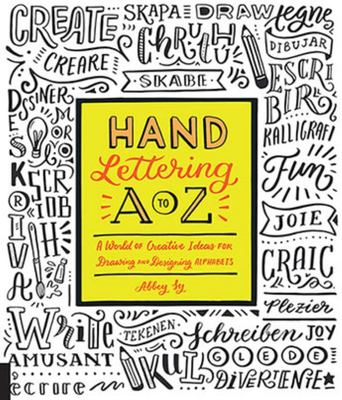 $27.99
AUD
Category: Drawing
Create an alphabet all your own with a helping hand from Hand Lettering A to Z and its team of international artists here to help you get started. Your hand lettering contains a little bit of you Hand lettering not only expresses what you have to say, but also demonstrates the creativity in your communi cations. In Hand Lettering A to Z, artist and author Abbey Sy has invited four international artists--Meg Hyland, Joao Neves, Tessa Go, and Lisa Lorek--to join her in designing all new alphabets for you to draw and use in many different languages. You don't have to be a trained artist to master the art of hand lettering. These alphabets are for every skill level, and will suits any taste. Do you want colorful script full of bombast? Maybe an austere black and white script? Whether you're going for classic or just plain fun, Hand Lettering A to Z has direction for you. So why wait to get creative? Grab some supplies and customize twenty-six letters of your own ...Show more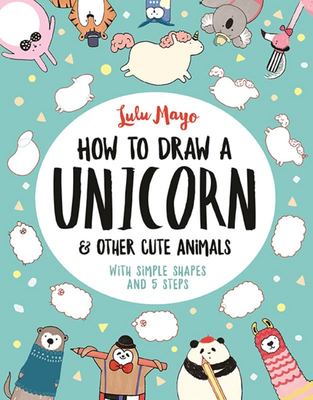 $14.99
AUD
Category: Drawing | Series: How to Draw Really Cute Creatures
Learn to draw unicorns and a whole host of cute animal characters in Lulu Mayo's unique and quirky style, using simple shapes and 5 easy-to-follow steps. From a cuddly panda and a jolly llama to a chilled-out sloth and a unique unicorn, there are 30 drawing exercises to complete.This book will show the reader how to draw quirky, cute animals in a wonderfully easy and inspiring way. Step-by-step, illustrator Lulu Mayo will explain how to draw various creatures by using simple shapes, such as circles, ovals, rectangles and triangles, and how to add adorable details. The book contains 30 of these doodling exercises, featuring animals such as rabbits, owls, foxes - not forgetting unicorns! Its easiness, simplicity, and quirkiness will resonate with animal lovers, artists and doodle enthusiasts of all skill levels and ages. Absorbing and fun, it will ignite doodler's curiosity and inspire them to experiment creatively. ...Show more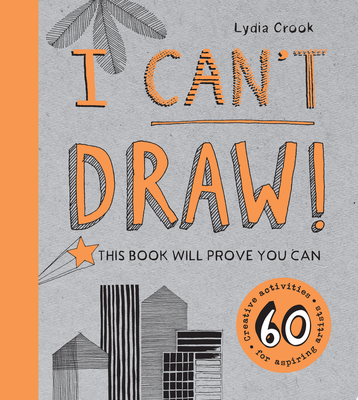 $24.99
AUD
Category: Drawing
I Can't Draw: This Book Will Prove You Can is a fun and interactive workbook for all ages that teaches the basic elements of drawing. Illustrator Lydia Crook provides beginners with 60 quirky art activities to teach you how to draw. These include lessons on: Continuous line drawing Drawing with dot s Hatching Making patterns Creating 3-D objects Contouring and shading Drawing perspective and movement . . . and more surprising activities such as drawing with cotton wool and other unusual mark makers! With simple instructions, prompts and starting points for each activity it is suitable for non-artists of all ages. The delightful illustrations and beautiful neon ink make it an inspiring workbook that will have you reaching for a pen, pencil or marker ready to get started. Whilst working through the pages you will soon be excited about the endless possibilities of a fresh blank page. An activity book that is designed to help you learn new ways of looking, noticing, doodling, and squiggling, this book will have you saying 'I can draw' in no time.  If you like this, you might also be interested in My Year in Small Drawings . . . ...Show more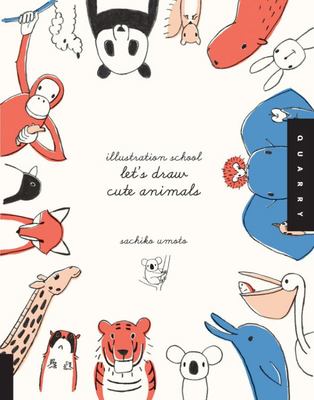 $19.99
AUD
Category: Drawing | Series: Illustration School
Created by one of Japan's most popular artists, this book provides detailed and complete instruction for illustrating fun and appealing characters and elements that celebrate life.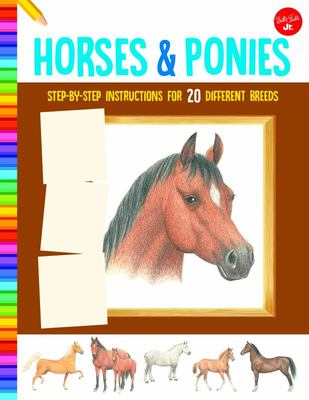 $9.99
AUD
Category: Drawing | Series: Learn to Draw
With How to Draw Horses & Ponies, young artists learn to bring these sweet and majestic animals to life, guided by realistic illustrations and step-by-step instructions for 20 different breeds. Simple instructions make it fun and easy to draw lifelike horses and ponies. Each drawing lesson begins wi th a basic shape and progresses, step by step, to a finished piece of artwork, making it easy to follow along. Information about the breeds and fun facts provide inspiration and additional learning opportunities. The breeds include: Hanoverian foal Pinto Welsh Mountain Pony Clydesdale Arabian American Saddlebred Thoroughbred Friesian Shetland Pony Andalusian And more Just start with a few ovals, circles, and triangles and follow the illustrated steps--you'll be creating you own amazing masterpieces in no time at all ...Show more
$16.99
AUD
Category: Drawing | Series: Kawaii Doodle Ser.
Prepare for the cutest world tour ever with this miniature, portable, and even cuter version of Kawaii Doodle Cuties YouTube celebrity artist Pic Candle shows you how to draw kawaii characters from every stop on the map The Japanese word kawaii translates to "cute," and this how-to book is chock-full o f super-adorable images from your favorite spots around the globe. With doodles of food, nature, animals, architecture, fashion, and more, you will learn to draw cute artwork from countries all over the world Learn how to draw a darling Eiffel Tower, macaron, and beret from France. Or master how to draw precious natural wonders like Australia's Great Barrier Reef and enchanting architecture like India's Taj Mahal. Or sketch fashion fun like a K-pop skirt from South Korea and charming transportation like a tuk tuk from Vietnam. Mini Kawaii Doodle Cutiesfeatures over 100 lovable, huggable characters and includes simple step-by-step illustrations and instructions, search-and-find puzzle patterns that you can color, and inspiration pages. Thanks to this adorable crash course in doodling all things kawaii, you'll soon be enhancing your notebooks, stationery, artwork, and everything with unbelievably adorable illustrations ...Show more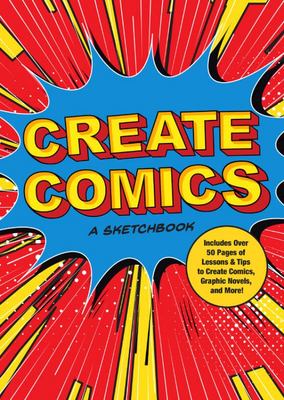 $16.99
AUD
Category: Drawing | Series: Creative Keepsakes Ser.
Part instruction manual, part sketchbook, Create Comics has everything you need to get started drawing your own comic world. Drawing your own comics has never been easier! Create Comics gives you all the tools to get started creating your own comic world by combining helpful tips and tricks with sketchb ook pages with panels. Whether you prefer to draw single-panel comics or a graphic novel, the 58 pages of helpful instruction in the front of this sketchbook covers all the comic-making basics, including: • Creating Characters • Bodies in Motion • Villains • Battles • Adding Speech • Some Dos & Don'ts • Sound Effects • Inking Techniques • How Does it End? • Creating Your Own Comic Book Then, get right into planning and drawing your comic with the 144 blank pages in the back of the book that have panels outlined for you. The layflat format lets you focus on your drawing. So, are you ready to become a storyteller? This is just the beginning of something big! With so much of our lives and contact going digital, the Creative Keepsakes journals offer an intimate way to nurture your connection with yourself and the people around you. An entertaining way to get off your screen, these guided and free-form journals are great for writers and artists alike. Each journal offers content around a different theme, including silly prompts for a laugh, random yet thoughtful questions, inspiration for art and composition, interactive prompts to learn about your heritage, and blank interiors on high-quality paper stock to use as your creative canvas. Beautifully designed and full of mindful prompts, channel your inspiration as you put pen (or pencil, or marker, or crayon!) to paper to learn more about yourself, your talents, and the people you love. Also in this Series: 3,001 Questions All About Me, 301 Things to Draw, 301 Writing Ideas, Inner Me, Internet Password Book, My Fathers Life, My Grandmothers Life, My Life Story, My Mothers Life, 3,001 This or That Questions, My Grandfathers Life, Create the Poem, Complete the Drawing Journal, Mom and Me Journal, Why I Love You Journal, Create the Story, and Destroy & Design. ...Show more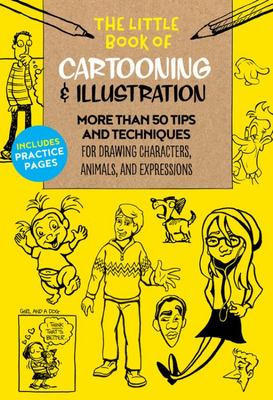 $19.99
AUD
Category: Drawing | Series: The\Little Book Of ... Ser.
In The Little Book of Cartooning & Illustration, beginning cartoonists, animators, and illustrators will discover key concepts associated with learning the art of traditional cartooning and animation. With this guide, dozens of tips from the pros will help you find the materials and tools you need to develop your own unique style. A combination of creative step-by-step projects and open practice areas offer encouragement and invite participation for those artists who want to put their newfound skills to immediate use. You'll learn all the cartooning and animation tricks of the trade, including: The squash and stretch principle Exaggerating details Rendering faces and expressions Anthropomorphizing inanimate objects Creating original characters Mastering body shapes and movement Writing gags and jokes With so many tools at your disposal, why wait any longer to start animating? Get started, get drawing The Little Book of ...series focuses on delivering fun, approachable, and interesting art instruction in a fresh, portable format. With its contemporary design, open practice pages, creative exercises, and prompts that encourage interactivity, beginning artists learn the fundamentals of their craft, often with immediate results. ...Show more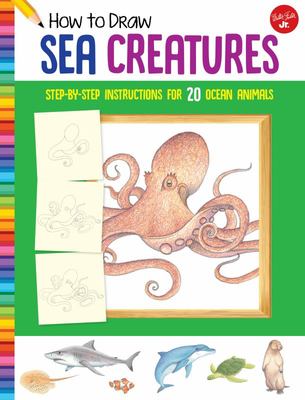 $9.99
AUD
Category: Drawing | Series: Learn to Draw
Few artistic subjects can compete with the vibrant, colorful splendor of the ocean and its inhabitants. Now kids can learn to re-create their own underwater world with How to Draw Sea Creatures, where they'll find easy-to-follow, step-by-step instructions for drawing 20 different aquatic creatures of a ll shapes and sizes. Starting with basic shapes and following through, step by step, to finished illustrations, kids will learn to draw a variety of ocean animals, including: Octopus Sea horse Dolphin Shark Puffer fish Sea star Humpback Whale Sea otter Clown fish and many more Fascinating facts about the featured animals provide additional inspiration and learning opportunities along the way. With How to Draw Sea Creatures, kids will soon be rendering their own astounding aquatic world ...Show more
$19.99
AUD
Category: Drawing
Draw your own collection of fantastical creatures in the cutest style ever!
$29.99
AUD
Category: Drawing | Series: Draw 62 Ser.
Build your imagination and drawing design skills while following the step-by-step instructions of Draw 62 Characters and Make Them Cute in this third book in the quirky illustration series Draw 62 (following Animals and Magical Creatures). Beloved illustrator and Instagrammer Heegyum Kim takes you on a fun journey to expand your character-building skills as she shows you how to draw 62 creative, imaginary characters and make them cute On the left-hand page, follow along with the steps as each character is built, from simple shapes to identifying marks. On the right-hand page, you will find several other clever options for varying your character design. Your character may have particular personality traits, or perhaps an interesting career. Your character may be part cat and part kangaroo Discover the pleasure of dreaming up, mashing up, and lighting up the pages with your wonderful imaginary characters. Grab your pen and use the open spaces throughout the book to create your own versions and variations of each one. Whether it's an elephant plumber, a catopotamus, or a furry superhero--you will delight in the charm of this cute character collection. Fresh, modern, and with a dash of silly humor, you won't find a more enjoyable way to practice your illustration and expand your imagination. ...Show more