One-Osaurus, Two-osaurus
by Kim Norman; Pierre Collet-Derby (Illustrator)
$27.99
AUD
Category: Picture Books
Part counting game, part dinosaur celebration, this energetic romp is a numbers concept book for the ages.   One-osaurus, two-osaurus, three-osaurus, four   Look there, in a child's bedroom, where some prehistoric pals are gathered in a counting game. Nine dinosaurs are playing a sing-song renditio n of hide-and-seek--but something isn't adding up. Where is number ten? Stomp, stomp, stomp CHOMP, CHOMP, CHOMP Ready or not, here he comes, and he sounds . . . big With big, bold numerals, an array of dinosaurs in comical poses, and a humorous twist at the end, this tribute to a child's imagination makes learning numbers a gigantic treat. ...Show more
$9.99
AUD
Category: Activity Books | Series: Snap Cards
Dinosaur Snap provides a new theme to this much-loved children's card game. Children will learn the names of all the dinosaurs as they match them up in this easy and fun game. These large, colourful cards make a great gift for young children.
$17.99
AUD
Category: Board Books | Series: Axel Scheffler's Flip Flap
What do you get if you cross a mighty Tyrannosaurus rex with a fearsome Triceratops? It's a Tyrannotops, of course! And how about a giant Diplodocus with a soaring Pterodactyl? Why, that's a Diplodactyl! With over 121 possible prehistoric creations, silly names and strange noises to make you giggle, thi s new Flip Flap book is perfect for preschoolers and ideal for dinosaur fans. With a hilarious rhyming text and brilliant illustrations from Axel Scheffler, simply flip the pages to create some seriously silly mixed-up dinosaurs. ...Show more
$14.99
AUD
Category: Dinosaurs | Series: Where's The...
Where's the Dinosaur? Is full of the most amazing facts about the colossal prehistoric animals that used to roam the Earth, with dinosaurs and other creatures to search and find on every page.  

$24.99
AUD
Category: New Picture Books
A counting story that goes wrong when one hungry little T-Rex can't help himself from gobbling up the other dinosaurs!Let's count dinosaurs! Rex the T-Rex is 1. Add Patty the Diplodocus, that's 2. And here's comes Brian the Anklyosaurus to make 3. But wait, where's Brian gone? Rex? Rex! You didn't EAT h im, did you? Oh NAUGHTY Rex! The truth is, you just CAN'T count on dinosaurs.In this counting book with a difference, Philip Ardagh and Elissa Elwick bring prehistoric chaos and trouble-making dinosaurs to every page for a truly fun, interactive way to learn how to count to 10. ...Show more
$12.99
AUD
Category: Activity Books | Series: Peppa Pig
Peppa and George love dinosaurs, especially George! Grrr! Explore the world of dinosaurs with Peppa and George in this big sticker scenes book as they visit the dinosaur room at the museum, take a trip to Dinosaur Park and much more! With twelve sticker scenes for little hands to decorate, it's the perf ect book to keep Peppa and dinosaur fans busy. Includes over 250 stickers for roarsome sticker fun! ...Show more
$39.99
AUD
Category: Dinosaurs
A spectacular new pop-up masterpiece about dinosaurs from two best-selling creators Featuring more than 35 stunning pop-ups and including fascinating, up-to-the-minute information about more than 50 different species, this is an awe-inspiring tribute to the world's most celebrated extinct animals and th eir 180-million-year reign of our planet.;With an array of fiendishly intricate pop-ups (large and small), this book is a work of inventive genius.;With expertly researched material, this title is both fun and educational. ...Show more
$9.99
AUD
Category: Activity Books | Series: Little First Stickers
Add stickers to bring the prehistoric scenes to life: show T-rex pursuing its prey, and gentle giants munching their leafy lunch, meet some reptiles of sea and sky, and discover what may have happened on the day that sealed the dinosaurs' doom. This book is ideal for keeping children entertained at week ends, on journeys, or in the holidays. ...Show more
$16.99
AUD
Category: Picture Books
Goldilocks and the Three Dinosaurs is a new take on the fairy-tale classic Goldilocks and the Three Bears, so funny and so original--it could only come from the brilliant mind of Mo Willems, the author/illustrator of Don't Let the Pigeon Drive the Bus and the Elephant and Piggie series. Once upon a tim e, there were three hungry Dinosaurs: Papa Dinosaur, Mama Dinosaur . . . and a Dinosaur who happened to be visiting from Norway. One day--for no particular reason--they decided to tidy up their house, make the beds, and prepare pudding of varying temperatures. And then--for no particular reason--they decided to go . . . someplace else. They were definitely not setting a trap for some succulent, unsupervised little girl. Definitely not! This hilarious story is perfect for fans of the Stinky Cheese Man and Other Fairly Stupid Tales and The True Story of the Three Little Pigs. ...Show more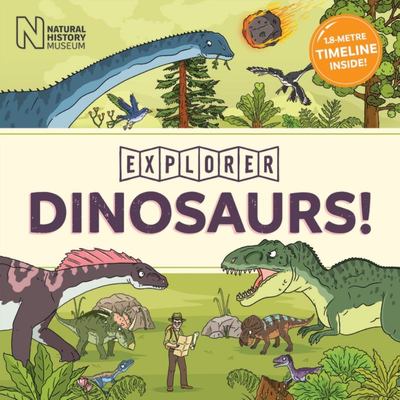 $22.99
AUD
Category: Dinosaurs | Series: Explorer
Unfold an epic 2m-long timeline featuring more than 100 dinosaurs from their first appearance about 230 million years-ago through to their living descendants, the birds, today.
$19.99
AUD
Category: Pop-ups
Stylish artwork by award winner Owen Davey makes this 3-D introduction to dinosaurs a standout. Watch long-extinct creatures spring to life in a striking first pop-up book for budding paleontologists. Showcased are fifteen dinosaurs and prehistoric reptiles, from Ankylosaurus to Velociraptor, each one accompanied by its name and pronunciation. At once simple and sophisticated, Owen Davey's striking pop-ups, with their geometric patterns of spiky scales, dramatic splotches, and dotted feathers, are sure to mesmerize dinosaur aficionados of all ages. ...Show more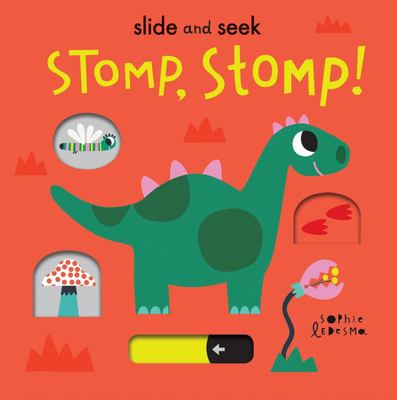 Stomp, Stomp!
by Sophie Ledesma (Illustrator); Isabel Otter
$14.99
AUD
Category: Board Books | Series: Slide and Seek Ser.
Where will Little Dino play today? Flip the flaps and slide the sliders in this quirky board book that's all about dinosaurs!