$22.99
AUD
Category: Comics, Graphic Novels and Manga
Lora wants to stay a kid forever, and she'll do anything to make that happen... including befriending Alexa, the ghost who haunts her house. A middle-grade graphic novel about growing up that's perfect for fans of Ghosts. Growing up sounds terrible. No one has time to do anything fun, or play outside , or use their imagination. Everything is suddenly so serious. People are more interested in their looks and what others think about them than having fun adventures. Who wants that? Not Lora. After watching her circle of friends seemingly fade away, Lora is determined to still have fun on her own. A tea party with a twist leaves Lora to re-discovering Alexa, the ghost that haunts her house -- and Lora's old imaginary friend! Lora and Alexa are thrilled to meet kindred spirits and they become best friends . . . but unfortunately, not everything can last forever. Reimena Yee brings to life a story about growing up, childhood, and what it means to let go. A fantastical story following lovable characters as they each realize what it means to be who you are. ...Show more
$16.99
AUD
Category: Fantasy/Sci Fi | Series: Animorphs Graphic Novel
Sometimes weird things happen to people. Ask Jake. He could tell you about the night he and his friends saw a strange light in the sky that seemed to be heading right for them. That was the night five normal kids learned that humanity is under a silent attack -- and were given the power to fight back.No w Jake, Rachel, Cassie, Tobias, and Marco can transform into some of the most dangerous creatures on Earth. And they must use that power to outsmart an evil greater than anything the world has ever seen. . . . ...Show more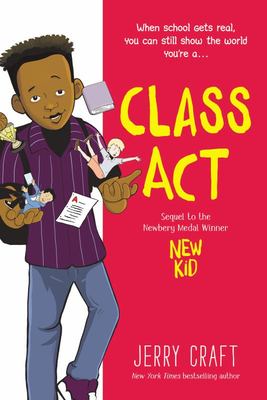 $24.99
AUD
Category: Comics, Graphic Novels and Manga
New York Times bestselling author Jerry Craft returns with a companion book to New Kid, winner of the 2020 Newbery Medal, the Coretta Scott King Author Award, and the Kirkus Prize. This time, it's Jordan's friend Drew who takes center stage in another laugh-out-loud funny, powerful, and important story about being one of the few kids of color in a prestigious private school. Eighth grader Drew Ellis is no stranger to the saying "You have to work twice as hard to be just as good." His grandmother has reminded him his entire life. But what if he works ten times as hard and still isn't afforded the same opportunities that his privileged classmates at the Riverdale Academy Day School take for granted? To make matters worse, Drew begins to feel as if his good friend Liam might be one of those privileged kids. He wants to pretend like everything is fine, but it's hard not to withdraw, and even their mutual friend Jordan doesn't know how to keep the group together. As the pressures mount, will Drew find a way to bridge the divide so he and his friends can truly accept each other? And most important, will he finally be able to accept himself? New Kid, the first graphic novel to win the Newbery Medal, is now joined by Jerry Craft's powerful Class Act. ...Show more
$19.99
AUD
Category: Tintin | Series: Adventures of Tintin
This adventure, was the first story published in TINTIN magazine when it was launched on 26th September 1946, and heralded the opportunity for the continuation of an adventure which had been interrupted two years earlier. Tintin, Snowy and Captain Haddock fly to Peru in search of Professor Calculus, who has involuntarily committed sacrilege, and has been condemned to suffer the ultimate punishment. ...Show more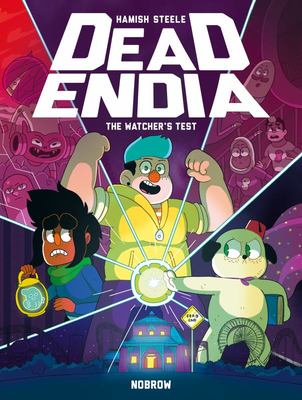 $24.99
AUD
Category: Fantasy/Sci Fi
Barney and his best friend Norma are just trying to get by and keep their jobs, but working at the Dead End theme park also means battling demonic forces, time traveling wizards, and scariest of all--their love lives   Follow the lives of this diverse group of employees of a haunted house, which may or may not also serve as a portal to hell, in this hilarious and moving graphic novel, complete with talking pugs, vengeful ghosts and LBGTQIA love ...Show more
$19.99
AUD
Category: Fantasy/Sci Fi | Series: Lightfall
For fans of Amulet and middle grade readers who love sweeping worlds like Star Wars, the first book of the Lightfall series introduces Bea and Cad, two unlikely friends who get swept up in an epic quest to save their world from falling into eternal darkness. Deep in the heart of the planet Irpa stands the Salty Pig's House of Tonics & Tinctures, home of the wise Pig Wizard and his adopted granddaughter, Bea. As keepers of the Endless Flame, they live a quiet and peaceful life, crafting medicines and potions for the people of their once-prosperous world. All that changes one day when, while walking through the woods, Bea meets Cad, a member of the Galdurians, an ancient race thought to be long-extinct. Cad believes that if anyone can help him find his missing people, it's the Pig Wizard. But when the two arrive home, the Pig Wizard is nowhere to be found-all that's left is the Jar of Endless Flame and a mysterious note. Fearing for the Pig Wizard's safety, Bea and Cad set out across Irpa to find him, while danger fights its way out of the shadows and into the light. Will these two unexpected friends find the beloved Pig Wizard and prevent eternal darkness from blanketing their world? Or has Irpa truly seen its last sunrise? ...Show more
$19.99
AUD
Category: Tintin | Series: Tintin (Paperback)
The world's most famous travelling reporter discovers that Professor Calculus is building a space rocket. Tintin and Captain Haddock are amazed to find that Professor Calculus is planning a top-secret project from the Sprodj Atomic Research Centre in Syldavia. And before our intrepid hero knows it, the next stop on this adventure is ...Space. Join the most iconic character in comics as he embarks on an extraordinary adventure spanning historical and political events, and thrilling mysteries. Still selling over 100,000 copies every year in the UK and having been adapted for the silver screen by Steven Spielberg and Peter Jackson in 2011. The Adventures of Tintin continue to charm more than 80 years after they first found their way into publication. Since then an estimated 230 million copies have been sold, proving that comic books have the same power to entertain children and adults in the 21st century as they did in the early 20th. ...Show more
$19.99
AUD
Category: Tintin | Series: Adventures of Tintin
The classic graphic novel. Car engines have started spontaneously exploding all over the country . . . someone's been tampering with the oil! Tintin, with Thompson and Thompson at his side, sails on an oil tanker to the Middle East to track down the source of the faulty oil.
$19.99
AUD
Category: Tintin | Series: Adventures of Tintin
The tomb of Rascar Capac has been unearthed But one by one, the finders fall into a terrifying coma. Can this be the curse of the Inca gods? Tintin must somehow fathom out the meaning behind his only clue: the shattered crystal ball lying beside each of the victims...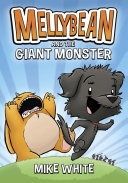 $22.99
AUD
Category: Fantasy/Sci Fi | Series: Mellybean Ser.
"Mike White hits a heartwarming hat trick with this cute, funny, and action-packed adventure. Mellybean will bounce off the page and into your heart." --Mo O'Hara, New York Times bestselling author of the My Big Fat Zombie Goldfish series The Secret Life of Pets meets The Wizard of Oz in this debut grap hic novel about a spunky pup who gets trapped in a world filled with magic, adventure, and one giant, grumpy monster.   Melly loves to play games. All her feline friends want to do, though, is take a nap. So when she doesn't leave them alone, the cats trick her into burying a shoe in the backyard. But the small prank turns into a big problem when Melly falls down the hole . . . and is magically transports her to another world Melly lands smack-dab in the middle of a scuffle between a group of knights and a huge monster. But Melly soon befriends the grumpy giant, learning he isn't as scary as he seems. He's being hunted by a greedy king. One who has also been stealing from his people and locking them up in the dungeons. So although Melly is desperate to find a way back home to Mama and Papa (her human owners), she makes it her mission to help her new friend and the kingdom. But how could someone so tiny defeat such a powerful king? It may just take a game that only Melly can win. ...Show more
$25.99
AUD
Category: Fantasy/Sci Fi
A feel-good story about a superhero whose superpower is her kindness. Bea loves helping friends and really wants to be a superhero, but none of the costumes she tries on are quite right. What makes an outfit super? A cape? A mask? They're just not her. Even her dog Woofs agrees. It's not until Bea resc ues and returns an injured bunny that she discovers the super suit that fits her personality. Bea is Bunnygirl! And she and Woofs are ready to help.   ...Show more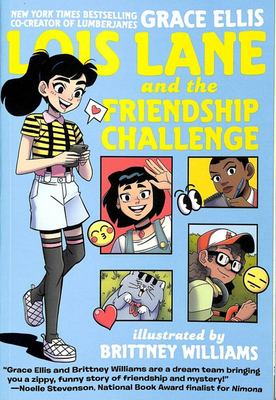 $15.99
AUD
Category: Comics, Graphic Novels and Manga
From New York Times bestselling author Grace Ellis (Lumberjanes) and artist Brittney Williams (Goldie Vance) comes a new story about 13-year-old Lois Lane as she navigates the confusing worlds of social media and friendship. It's the first day of summer break in the sleepy town of Liberty View, and you ng Lois Lane bursts onto the scene with what she knows is a sure-to-go-viral video channel. Okay, maybe her platform only receives two views a week (thanks, Mom), and maybe her best friend, Kristen, isn't quite as enthusiastic about social media, but when Lois sets her mind on something, there's no turning back. At the end of the week, the big neighborhood barbecue and bike race will be the perfect backdrop to Lois and Kristen's #friendshipchallenge video. But when the girls find out the annual fireworks are missing, Lois doubles down on her efforts for fame, testing her friendship in ways she couldn't imagine. With Kristen leaving for sleepaway camp after the barbeque and a new girl on the block taking all of Kristen's attention, will Lois be able to find the missing fireworks, celebrate the summer, and post the best #friendshipchallenge the internet has ever seen? Or will she have to face her challenges IRL? ...Show more