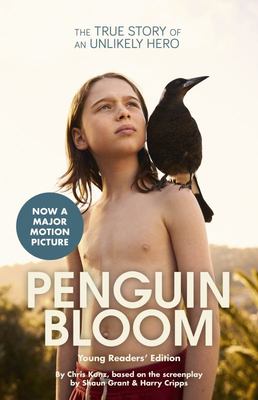 $14.99
AUD
Category: Biography
Available Feb 2021. Inspired by the true story of an unlikely hero, and adapted from the major motion picture starring Naomi Watts, Andrew Lincoln and Jacki Weaver I guess we all kinda knew our life was perfect and that we wouldn't change a thing.But sometimes you don't get that choice, do you? Sometim es stuff happens that you would do anything to try to avoid. But you can't. And that's what happened to us.Penguin Bloom tells the true story of Sam Bloom, a young mother whose world is turned upside down after a near-fatal accident leaves her unable to walk. Sam's husband, her three young boys and her mother are struggling to adjust to their new situation when an unlikely ally enters their world in the form of an injured baby magpie they name Penguin. The bird's arrival is a welcome distraction for the Bloom family, eventually making a profound difference in the family's life.This young readers' edition, adapted from the major Australian motion picture starring Naomi Watts, tells their story through the eyes of Noah, one of the three Bloom boys. ...Show more
$17.99
AUD
Category: History
Since its publication in 1987, Sally Morgan's My Place has sold more than half a million copies in Australia, been translated and read all over the world, and been reprinted dozens of times. Sally's rich, zesty and moving work is perhaps the best loved biography of Aboriginal Australia ever written. My Place for Younger Readers is an abridged edition that retains all the charm and power of the original. ...Show more
$29.95
AUD
Category: Biography | Series: Goodnight Stories for Rebel Girls
From the creators of the sensational book series Good Night Stories for Rebel Girls, comes an exciting new title: I Am a Rebel Girl: A Journal to Start Revolutions. Designed for girls of all ages looking to explore and train their rebel spirit, I Am a Rebel Girl is filled with activities that challeng e perspective, induce thought, and prompt action. Write love notes to your favorite body parts, draw yourself climbing a mountain, write a letter to an elected representative and interact with the beautiful, original artwork developed by the female artists who illustrated the iconic Rebel Girls books. I Am a Rebel Girl is the perfect companion to the book series. It is an action plan that creates space for BIG ideas and it helps girls develop the tools they need to lead the revolution of our time. With a stunning cover that begs to be personalized, fun stickers and an extraordinary print quality, I Am a Rebel Girl is a captivating object, sure to excite the millions of fans Rebel Girls has gained all around the world and to open up the Rebel Girls' universe to new audiences. With original artwork by the female artists who illustrated the iconic Good Night Stories for Rebel Girls books,  I Am a Rebel Girl will help all the rebel girls in your life embrace their own potential with joy and determination and become agents of change. ...Show more
$26.99
AUD
Category: Biography
Now in paperback featuring a new introduction by Michelle Obama, a letter from the author to her younger self, and a book club guide with 20 discussion questions and a 5-question Q&A, the intimate, powerful, and inspiring memoir by the former First Lady of the United StatesThe No. 1 BestsellerBritis h Book Awards, Non-Fiction Book of the YearThe Sunday Times, Memoir of the YearBooks of the Year- The Times, Observer, Guardian, Evenings StandardIn her memoir, a work of deep reflection and mesmerizing storytelling, Michelle Obama invites readers into her world, chronicling the experiences that have shaped her - from her childhood on the South Side of Chicago to her years as an executive balancing the demands of motherhood and work, to her time spent at the world's most famous address. With unerring honesty and lively wit, she describes her triumphs and her disappointments, both public and private, telling her full story as she has lived it - in her own words and on her own terms.Warm, wise, and revelatory, Becoming is the deeply personal reckoning of a woman of soul and substance who has steadily defied expectations - and whose story inspires us to do the same. ...Show more
$19.99
AUD
Category: Biography
What do you think of when you hear the word 'hero'? Is it the wall-climbing, cape-wearing, villain-fighter you see in comics and films? Heroes can actually come in all forms, shapes and sizes. Some cook for the hungry. Some nurse the poorly back to health. Others raise money for important causes. From small acts of kindness to inventions that have saved the lives of hundreds of people, every person in this book has found their passion - or their superpower. No matter how big or small it might be, your power can be used to change the world for the better too. So put away the cape, climb down from that wall and discover how ordinary people can still do extraordinary things and become heroes. Written by Ben Brooks, the bestselling author of the Dare to Be Different books, and paired with vibrant comic-style illustrations throughout, this is the perfect guide for the budding superhero in your life!   ...Show more
$16.99
AUD
Category: Biography
From the author of the bestselling Hatchet comes a true story of high-stakes wilderness survival! If not for his eight-hundred-mile journey from the busy Chicago city to a captivating Minnesotan farm aged five, there never would have been a Hatchet. Without the encouragement of the librarian who handed him his first book aged thirteen, he may never have become a reader. And without his daring teenage enlistment in the army, he might not have discovered his true calling as a storyteller. Gone to the Woods: A True Story of Growing Up in the Wild is the entrancing true story of Gary Paulsen's childhood, of grit and growing up, and is the acclaimed author at his rawest and most real. ...Show more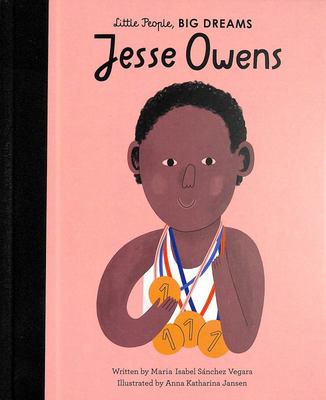 $19.99
AUD
Category: Biography | Series: Little People, Big Dreams
In this book from the critically acclaimed, multimillion-copy best-selling Little People, BIG DREAMS series, discover the life of Jesse Owens, the great track and field star. The youngest of ten children, Jesse grew up working in the cotton fields of Alabama. Discovered by his high school track and fiel d coach, Jesse quickly rose to fame as an athlete. He went on the challenge racism on the world stage at the 1936 Berlin Olympics and made new world records. This moving book features stylish and quirky illustrations and extra facts at the back, including a biographical timeline with historical photos and a detailed profile of the athlete and activist's life. Little People, BIG DREAMS is a best-selling series of books and educational games that explore the lives of outstanding people, from designers and artists to scientists and activists. All of them achieved incredible things, yet each began life as a child with a dream. This empowering series offers inspiring messages to children of all ages, in a range of formats. The board books are told in simple sentences, perfect for reading aloud to babies and toddlers. The hardcover versions present expanded stories for beginning readers. Boxed gift sets allow you to collect a selection of the books by theme. Paper dolls, learning cards, matching games, and other fun learning tools provide even more ways to make the lives of these role models accessible to children. Inspire the next generation of outstanding people who will change the world with Little People, BIG DREAMS! ...Show more
$34.99
AUD
Category: Biography
30 true stories of danger and intrigue, written by a real-life female adventurer. Packed with near escapes and inspirational, re-live jaw-dropping moments from some of history's most intrepid adventurers in this book that will have young readers counting down the hours until bedtime.
$19.99
AUD
Category: Biography
Mike Amon is a regular teenager. All he wants is to fit in. He wants to sit at the cool bench. He wants to be a star athlete. He wants his first kiss.He also wants his mum to survive.When his mum is suddenly diagnosed with advanced breast and brain cancer, Mike knows it's a long shot, but if he manages to achieve his dreams, maybe it'll give his mum enough strength to beat an incurable disease.In the meantime, he has to live with his African dad whom he doesn't really know, a man who has strange foreign ways - and who Mike doesn't really feel comfortable sharing his teenage desires and deepest fears with. He doesn't even want to think about what it might mean if his mum never comes home from the hospital.Based on his award-winning stand-up show, and the loss of his own mother when he was 12, Matt Okine's coming-of-age novel, Being Black n Chicken and Chips, is a funny, heart-warming, and sometimes surreal look at how young people deal with grief, the loss of loved ones, and becoming an adult - all whilst desperately trying to fit in with the other kids.'Intimate and affecting' - Claudia Karvan'Hilarious, heartfelt, and utterly ridiculous in all the right ways' - Alex Dyson ...Show more
$29.99
AUD
Category: Biography
Meg Lowman was always fascinated by the natural world above her head. The colors, the branches, and, most of all, the leaves and mysterious organisms living there. As a scientist, Meg set out to climb up and investigate the rain forest tree canopies-and to be the first scientist to do so. But she encoun tered challenge after challenge. Male teachers would not let her into their classrooms, the high canopy was difficult to get to, and worst of all, people were logging and clearing the forests. Meg never gave up or gave in. She studied, invented, and persevered, not only creating a future for herself as a scientist, but making sure that the rainforests had a future as well. Working closely with Meg Lowman, author Heather Lang and artist Jana Christy beautifully capture Meg's world in the treetops. ...Show more
$14.99
AUD
Category: Biography | Series: Little People, BIG DREAMS Ser.
Part of the bestselling Little People, Big Dreams series, this board book version of Dolly Parton tells the inspiring story of this extraordinary singer-songwriter and businesswoman.
$29.99
AUD
Category: Biography
Let's give a shout-out to 50 awesome Australian women with these easy-to-read biographies of their incredible achievements. From Cathy Freeman to Turia Pitt, Edith Cowan to Julia Gillard, Cate Blanchett to Olivia Newton-John, plus rally car drivers, molecular biologists, and more, this book is a celebra tion of women in all fields, from all walks of life, and from Australia's past and present. Brought to life by colorful illustrations from female artists, Shout Out to the Girls is the ultimate inspirational read for young and old. ...Show more