$14.99
AUD
Category: Board Books
How hard can it be to find a bit of peace and quiet? Wombat is tired and just wants to rest. But it's hard to sleep during the day when a bunch of noisy birds want to sing and play. The magpies keep whistling, the fairy wrens are flitting about and don't even talk about the kookaburras. Poor tired wom bat. Will he ever get to sleep? One Very Tired Wombat is a charming counting book featuring some very cheeky Australian animals. ...Show more
$14.99
AUD
Category: Board Books
There are red sheep and blue sheep, wind sheep and wave sheep, scared sheep and brave sheep, but where is the green sheep?   The search is on in this cozy, sheep-filled story from acclaimed author Mem Fox and popular Australian cartoonist Judy Horacek. Complete with sleepy rhymes and bright illustration s, this book is sure to delight children of all ages, from the very young to those just beginning to read.     ...Show more
$19.99
AUD
Category: Picture Books
Part poem, part lullaby, this gentle story celebrates a baby's wonder at our beautiful world. From Australia's favourite picture-book creator Alison Lester comes a timeless book to share and to treasure. 
$14.99
AUD
Category: Picture Books | Series: Picture Puffin Ser.
There was once a baby koala, so soft and round that all who saw her loved her. Her name was Koala Lou.Koala Lou is the first born in a large family. She feels sad because her mother seems too busy to pay her any attention. Perhaps if she wins the tree-climbing at the Bush Olympics her mother might notic e her again . . . Koala Lou starts her training right away!An Australian classic by the author and illustrator of Hunwick's Egg. ...Show more
$14.99
AUD
Category: zzz1
On an ordinary summer's afternoon, Alice tumbles down a hole and an extraordinary adventure begins. In a strange world with even stranger characters, she meets a rabbit with a pocket watch, joins a Mad Hatter's Tea Party, and plays croquet with the Queen! Lost in this fantasy land, Alice finds herself g rowing more and more curious by the minute . . .   With a wonderfully inspiring introduction by Chris Riddell, Alice's Adventures in Wonderland is one of the twelve brilliant classic stories being relaunched in Puffin Classics in March 2008. ...Show more
$17.99
AUD
Category: Picture Books
One night Max puts on his wolf suit and makes mischief of one kind and another, so his mother calls him 'Wild Thing' and sends him to bed without his supper. That night a forest begins to grow in Max's room and an ocean rushes by with a boat to take Max to the place where the wild things are. Max tames the wild things and crowns himself as their king, and then the wild rumpus begins. But when Max has sent the monsters to bed, and everything is quiet, he starts to feel lonely and realises it is time to sail home to the place where someone loves him best of all." ...Show more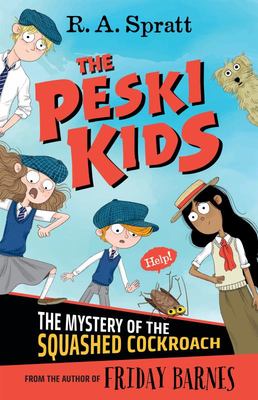 $16.99
AUD
Category: Middle Fiction (8-12) | Series: The Peski Kids
Life is hard enough without having to spend time with your siblings. But there is no other way for Joe, Fin and April Peski to solve the mystery of the cockroach catastrophes that is rocking their new home town of Currawong. Along with Loretta, their stunningly beautiful yet sociopathic next-door neighb our, and Pumpkin, the world's worst trained dog, they set out to catch the culprit. Together they are The Peski Kids. ...Show more
$14.99
AUD
Category: Picture Books
'My daddy says there's a hole in our roof. I know why there's a hole. There's a hippopotamus on our roof eating cake.' This classic story about one of the largest and most famous imaginary friends has been delighting children around the world now for 30 years.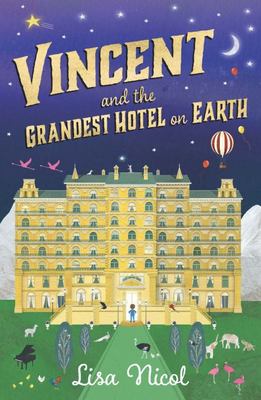 $16.99
AUD
Category: Middle Fiction (8-12)
Vincent is an ordinary boy - he lives in an ordinary house in an ordinary town. But Vincent's life changes dramatically when he meets young Florence from The Grandest Hotel on Earth. From shining shoes next to a dirty train station, to working in a hotel where your wildest dreams can come true, Vincent 's world is turned upside down. But of course, dreams have a funny way of taking strange and surprising corners and, before long, Vincent is torn between right and wrong, friendship and family and the most enticing of desires - to see into the future . . . From ordinary to extraordinary, Vincent and The Grandest Hotel on Earth is a marvellous ride that will delight readers of all ages. ...Show more
$14.99
AUD
Category: Board Books | Series: Hairy Maclary and Friends
The classic story in a new, larger format. Hairy Maclary goes off for a walk with a few of his friends - and comes up against a nasty surprise in the shape of Scarface Claw!
$16.99
AUD
Category: Classics
"A true genius . . . Roald Dahl is my hero" - David Walliams "So Matilda's strong young mind continued to grow, nurtured by the voices of all those authors who had sent their books out into the world like ships on the sea. These books gave Matilda a hopeful and comforting message: You are not alone." Ma tilda is the world's most famous bookworm, no thanks to her ghastly parents. Her father thinks she's a little scab. Her mother spends all afternoon playing bingo. And her headmistress, Miss Trunchbull? She's the worst of all. She's a big bully, who thinks all her pupils are rotten and locks them in the dreaded Chokey. Despite these beastly grownups trying to push her down, Matilda is an extraordinary girl with a magical mind. And she's had enough. So all the terrible adults had better watch out, because she's going to teach them a lesson they'll never forget Now you can listen to MATILDA and other Roald Dahl audiobooks read by some very famous voices, including Kate Winslet, David Walliams and Steven Fry - plus there are added squelchy soundeffects from Pinewood Studios ...Show more